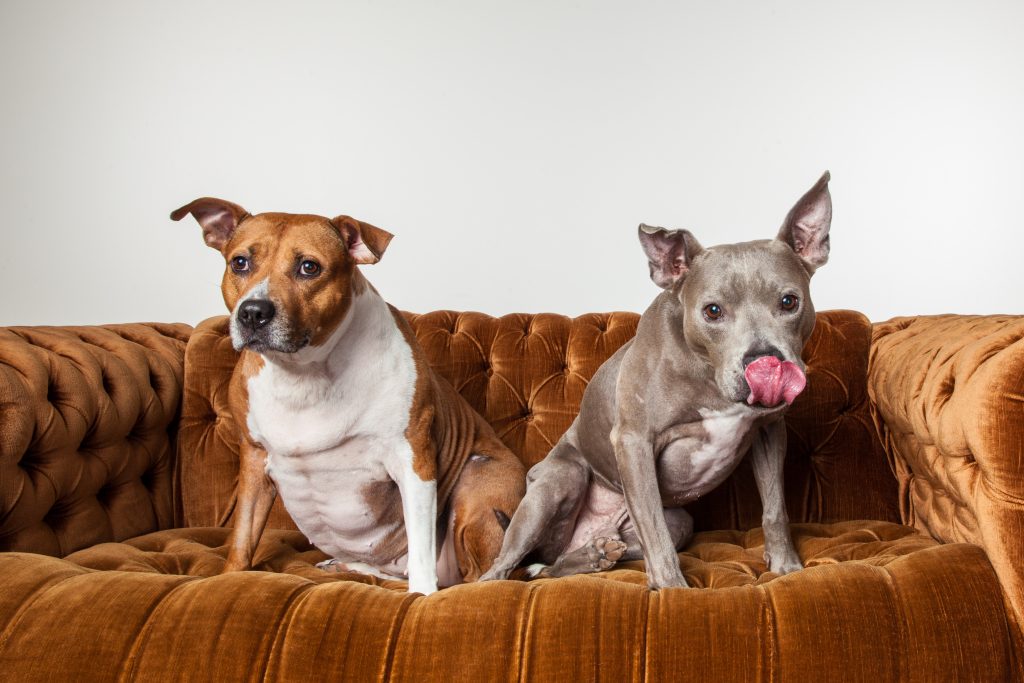 BY BESSIE DAVID
Looking for a snuggle buddy? Creating want-ads for Bully Dogs was not the picture-perfect solution to newly single mom, Michelle Boswell. Michelle decided to volunteer walking dogs for Pasadena Animal Shelter. Working both a full-time and part-time job to provide a good life for her children, she was ready to hand over the car keys to her youngest daughter. Michelle finally had some "me" time.
Soon she was helping at the shelter with feeding, bathing, and finding homes for these abandoned animals. It was heart-breaking to hear about the need to euthanize animals at the shelter due to overcrowding or anti-social behavior. Experience had taught her these dogs can be trained into family pets with the right amount of love and care. They just needed someone to understand the personality beneath the exquisite square jaw and the strong, sturdy physique.
Michelle is especially fond of helping Bully Dogs. Sounds like a play on words but the term "Bully" breed has been around since the 1800s. It has nothing to do with the dog's temperament or behavior and everything to do with its origin and history. On the contrary, a bully breed is a descendant of ancient bulldogs and a variety of terriers. Thanks to Michelle and all the volunteers Pit Bull dog breeds are becoming loving members of families around the world.
In 2017, Michelle was assisting with rescues for mostly Bully Dogs, training them to be adoptable and finding foster care. With so many left in shelters, Michelle knew these couch-potato, family-loving dogs had a bad rap. The Bully Dogs needed more advocates. Michelle and her friends Amy Asdel and Michelle Manocchio formed PAAW. Attaching themselves to an organization has increased visibility and volunteerism for the animals in the shelter. Pasadena Advocates at Work (PAAW) is a nonprofit organization that supports the adoption, foster, and rescue of homeless domestic pets, primarily those located in the Animal Shelter at the City of Pasadena, Texas.
The use of Pit Bulls for dogfighting competition catapulted into the American psyche in 2007 when Atlanta Falcons quarterback Michael Vick was sentenced to prison for running a "cruel and inhumane" dogfighting ring. People became suddenly fearful of any dog with a mix of Pit. The frenzy of stories reporting injuries and deaths from Pit Bull attacks gave the public a false impression of this breed of dogs. In 2010, the American Pit Bull Foundation came to fruition and began to approach the problems of abuse, neglect, abandonment, and overpopulation.
Michelle and PAAW volunteers work directly with the Pasadena Shelter workers helping identify dogs who are desperately struggling to survive the shelter and those who have remained in the shelter for 30 days or more. The list of services the PAAW volunteers offer includes heart worm treatment, crates, food, and foster support. They host playgroups to help identify which dogs are more social and can be placed into a home quickly. Networking and social media are essential tools in helping Michelle connect with people throughout the United States who are looking to foster or adopt a dog. She helps transport these dogs to and from their home.
Michelle has been honored with the Community Superhero award from the Pasadena Chamber of Commerce. "The work I do has changed my life in so many ways. A dog on a leash became my friend," she said. Please contact PAAW if you are interested in volunteer hours in helping with street rescues, fostering, adoptions, and transporting. Recommended Reading – The Lost Dogs: Michael Vick's Dogs and Their Tale of Rescue and Redemption by Jim Gorant
Pasadena Animal Advocates at Work – PAAW
facebook.com/PAAWTexas
@pasadenaanimaladvocates
[email protected]