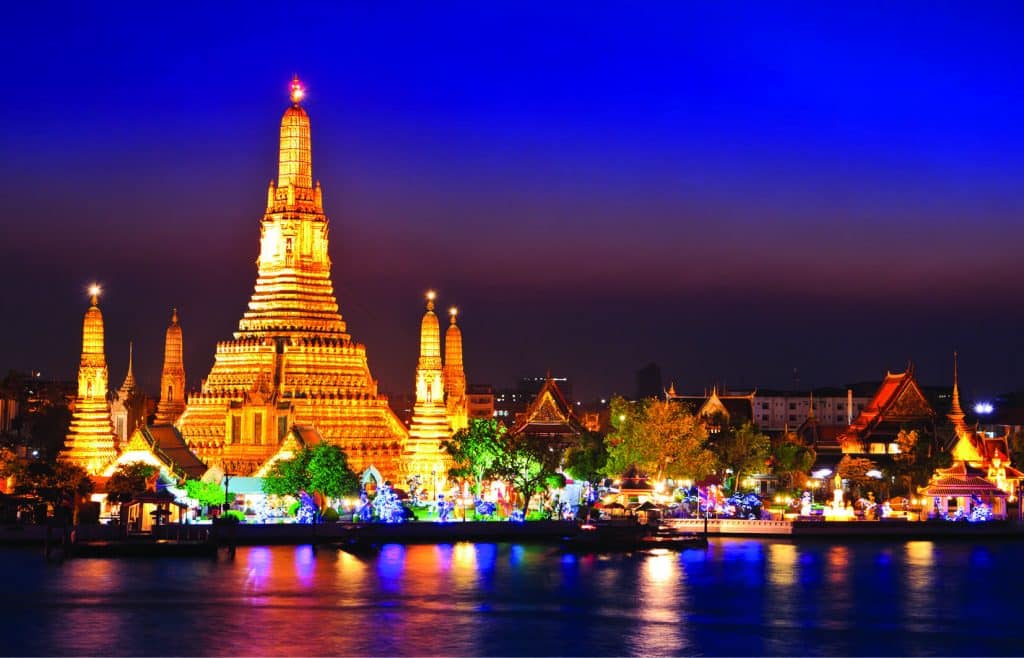 Watching The King and I made me do it—a trip to Bangkok, Thailand on a whim. Thailand (once called Siam) captivated me throughout childhood thanks to this movie. Exotic and colorful, to me it was a land of inspiration. So when I found myself in Singapore on business with a few free days on my hands, I booked a ticket to Bangkok and a room at the Mandarin Oriental Hotel—a lone woman on an adventure. Little did I know what a powerful and lasting impression this surprisingly modern, sophisticated, exciting city would make on me, or anticipate the constant yearning I now feel to return.
"Venice of the East"
The posh room at The Mandarin came with an eagle-eye view of the comings and goings of long-tail boats, river taxis, express boats, and ferries along the Chao Phraya River. A central artery of life in Bangkok, the river, along with its web of adjoining canals, presents an impressionable contrast to the skyscrapers of Bangkok City. A private boat ride was in order!
Stepping into a brightly colored long-tail boat at the Mandarin's dock was a step back in time. And once we entered the crisscrossing canals (called khlongs), the stress of my corporate executive job melted away. I felt light and free as we slowly chugged along the narrow waterways lined with old weathered teak houses. The atmosphere hearkened back to a simpler, sweeter time, evoking the romance of the Orient, Bangkok-style. I caught glimpses of families simply living life—scrubbing clothes, sleeping, and preparing food—and they didn't seem to mind the intrusion, often smiling and waving.
A handful of cafés and quaint open air markets dotted the canals, but my favorite attraction—a bit of a hidden gem—was the over 200-year-old Artist's House. I was thrilled to catch a rare traditional Thai puppet show, performed with delicately crafted puppets by a talented troupe of dancers and puppeteers. It was especially fun when the major characters wandered through the audience and interacted in a remarkably realistic fashion.
Temples on the "River of Kings"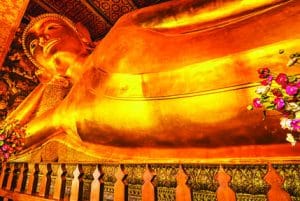 Staying at a hotel on the banks of the Chao Phraya offered another benefit—easy ferry access to two of the most iconic temples (wats) in Bangkok. The main feature of Wat Arun, built in the 17th century, is its porcelain-encrusted 282-foot tower. Often ironically called the Temple of Dawn, this wat is absolutely stunning viewed from the river after dark, when it is lit up.
Wat Pho dates back to the 16th century. It shelters an awe-inspiring 141-foot long reclining Buddha covered with dazzling gold leaf. Despite the many tourists, Wat Pho's deep serenity touched my soul and whisked me away from the clatter and materialism of our modern civilization. I felt humbled and at peace in this temple inhabited by saffron-robed monks.
Tip: Wear appropriate attire when visiting a wat. Shorts, short skirts, and bare shoulders are frowned upon, and may get you turned away.
Foodie Heaven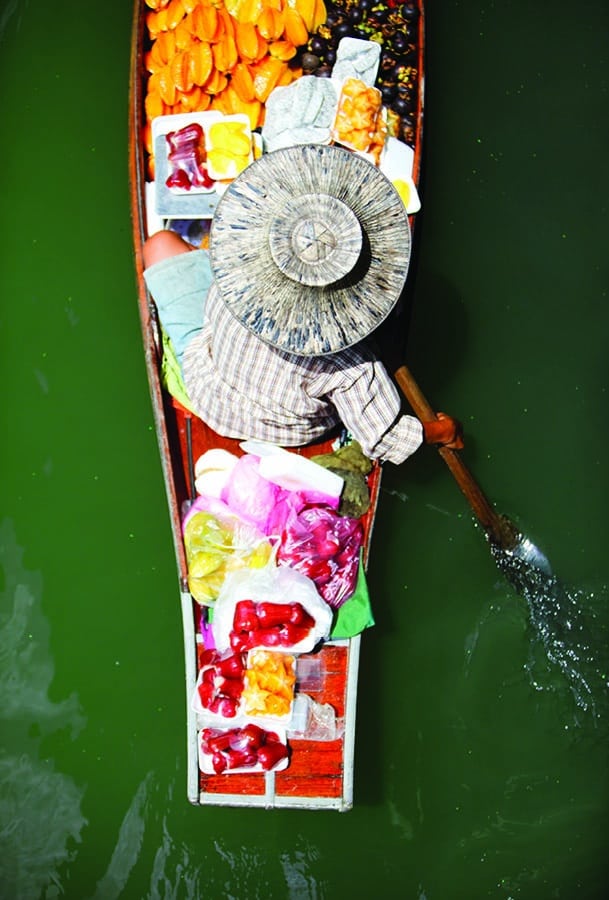 Having explored the waterways and a few temples, I set my sights on Bangkok's famous street food. From a collection of stalls in a local market to a traditional shophouse that had tables spilling out onto the pavement, it's a dining experience everyone should try at least once.
Although street food is found all over Bangkok, there are a few hot spots. I heard one of the best places for a full-on street food adventure is Yaowarat, the bustling main thoroughfare in Bangkok's Chinatown. The food scene comes alive around sunset and the atmosphere is electric, with lots of people milling around, exotic smells, and brilliant displays of color.
Wandering down the small sois (side streets) of Yaowarat brought seemingly endless eating options. Everywhere I turned, there were noodle soup stalls, grills lined with pork and chicken satay skewers, and sizzling woks. If you like fresh fish, the seafood places at the entrance of Soi Phadung Dao, called Sois Texas by locals, are a must try. The steamed sea bass in lime juice at T&K restaurant offered a light mélange of flavors that included garlic, chilies, and lemongrass. The amberjack fish cooked in pandan leaf at R&L restaurant was equally delicious. Pandan leaves have a naturally sweet taste and soft aroma. After tasting it once, you will never forget the flavor.
After nibbling on fish I headed for Thonglor neighborhood on Soi 38, craving authentic pad Thai. Near the entrance to Soi 38 is an extremely popular stall known as "Pad Thai Fire Look." Although it might not seem like much, the older gentleman at the stall is considered one of the best pad Thai cooks in the city. I can confirm that his reputation is well-earned!
Tip: Eat at busy places as the ingredients will be fresh.
Shop, Dine, Relax
Bangkok's fascinating fusion of local culture and Thai glamour blend together effortlessly, providing plenty of luxe options to choose from. Below are three favorites.
Shop: High-end shopping is taken to a new level at Siam Paragon Mall. The sparkling interior is home to everything from Lamborghinis and Prada handbags to Jimmy Choo shoes. Complementing the abundance of luxury goods is a wealth of lavish foods on the ground floor.
Dine: A futuristic glass sky bridge guides you into Breeze, an exquisite riverside rooftop restaurant perched high above Bangkok on the 51st and 52nd floors of Tower Club at Lebua. Here, stunning design, superb Pan-Asian cuisine infused with subtle local influences, and service come together for an evening unlike any other. Alfresco dining doesn't get any more breathtaking or memorable than this!
Relax: Restore your inner harmony with a world-class pampering experience. The Spa at The Peninsula Bangkok incorporates therapies derived from Thai, Ayurvedic, and European traditions and techniques. Following an 18.5-hour flight from Dallas, I tried the Jet Lag Reviver. After a wrap, massage, and a skin brightening facial, I emerged refreshed and ready to explore the "City of Smiles."
Local Customs, National Pride
It's illegal to make disparaging remarks about Thailand's king, or to laugh at a picture of him.

A short tribute clip to the king is played before a movie starts in the cinemas and everyone is expected stand and pay respect. Likewise, always stand when the king's anthem is played before concerts and sporting events.

The national anthem, announced by a chime, is broadcast twice daily. Everyone is required to stop or stand whenever this song is played.

Don't point, especially at monks or pictures of the king or royal family. To call a taxi or a person, signal them with a palm down, hand waving action.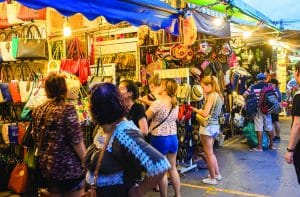 Haggling Dos and Don'ts
Bargaining is a way of life for Thai people. Don't be shy. It's fun once you get the hang of it.

Do bargain in markets, small shops set up along the streets, and in MBK (Mah Boon Krong) Center—a mall that is beehive of activity and packed with 2,000 shops.

Don't haggle in up-scale department stores and shops.

Don't bargain with food vendors on the street. Find out the price before you order food. The same goes for taxis, and make sure the driver starts the meter.

Negotiate the price with a smile, without being rude or demanding.
A Few Safety Tips
Just as you would in any big city, keep your wits about you in Bangkok.
Be cautious of any stranger who approaches you with advice, assistance, or questions, regardless of their nationality or how well-dressed they are. Encounters such as these can potentially involve a scam or con artist.

Don't be fooled by people on the streets hawking admission tickets, which can be fake or a higher price than you will find at the gate.

Watch out for "the place is closed" scam. For instance, if you're told (en route) that The Grand Palace is closed and the driver recommends another place where he/she gets a kickback, ask to be taken to the Palace so you can see for yourself.

Tuk-tuk drivers try to make extra money by taking you to a business where they get a commission. (Tuk-tuks are three-wheeled motorized rickshaws). Stick with your plans and don't let them tempt you with suggestions or offers for special deals.

Beware of fakes. Gems, jewelry, handbags, watches, scarves, electronics—everything is fair game. Shop for luxury items at well-known, reputable stores.
By Annette Brooks