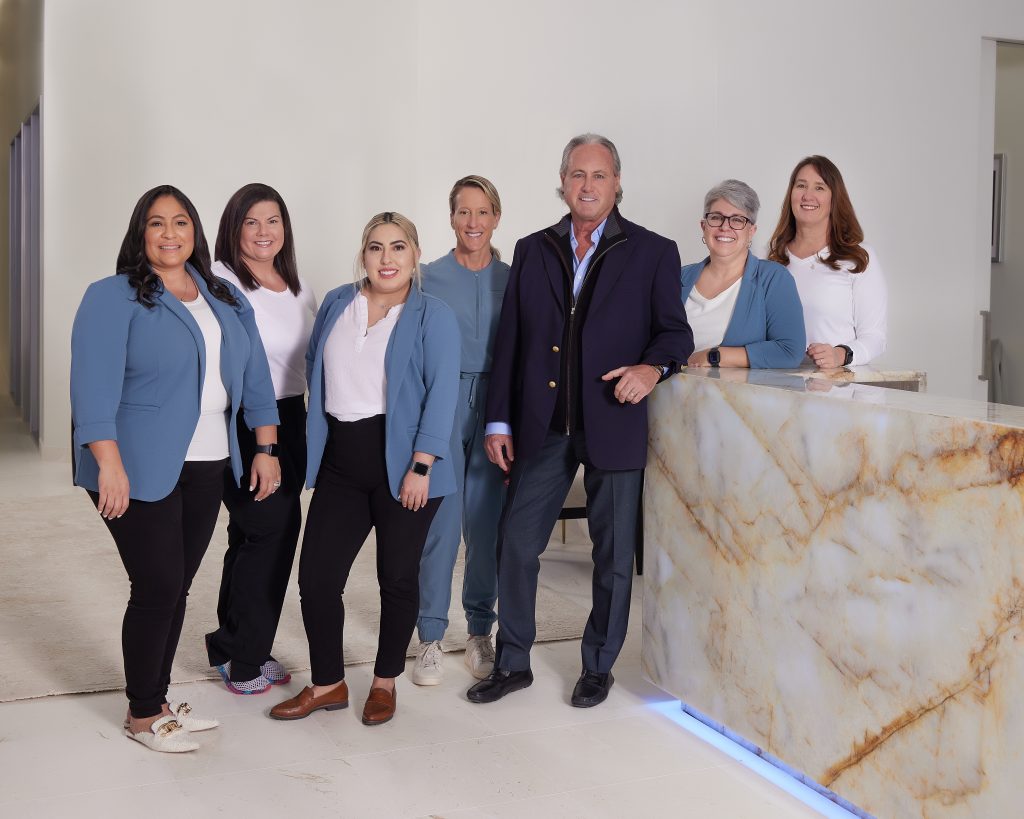 Photo by
Scott Peek Photography
---
Dr. Beougher's smile makeover is an easy sell. Celebrity clients like Chuck and Gena Norris are living proof of the results. The rejuvenating Smile Lift procedure supports the lower face muscles, whitening, straightening, and perfecting teeth for a beaming superstar smile. Other A-list clients include football stars Darren Woodson and Tony Dorsett for good reason.
"If you have crooked teeth, we can make them straight in one day," said Dr. Beougher. His practice, Smile Maker, is back in Plano just one block from his old Castle at Willow Bend office, where he worked for 30 years.
"If you have discolored teeth, we can pick a new color. We can make the smile appear bigger, brighter, and fuller," he said. "White teeth make the eyes look bigger because they complement the whites of the eyes. As people age, they grind teeth and wear teeth down. The lip drops and the facial muscles drop, so we rebuild the smile and give them a facelift. No stitches required."
Wielding the power to transform a patient's health, look, and confidence, Dr. Beougher saw business soar. Over 3,000 Smile Maker clients hailed from Texas and beyond, flying in from as far as Italy, Germany, Spain, and more. But blockbuster success presented hidden challenges. The doctor went from spending most of his time in direct service to large office management. To increase job satisfaction, he scaled back to boutique size.
"I had four 20-year staff come in and say, 'Remember when we had a small staff of seven or eight and we were all still family?'"
Dr. Beougher puts his money where his mouth is with this new modern practice. He, his wife, daughter, and three sons all sport smile makeovers.
Close family and community ties animate Dr. Beougher, who shares his skills and knowledge generously. He's traveled across the United States to instruct in cosmetic dentistry at NYU and Palm Beach College for many years, but he holds local client stories near his heart.
"Fifteen years ago, a 16-year-old girl came in from Oklahoma," he said. "She was a barrel racing champion, and we fixed her smile." When the rodeo star came back to his office recently, she had since grown up, graduated from Oklahoma University, and become a pharmacist. She also married and had a child, bringing both into the office. Dr. Beougher and his staff laughed as this patient said, "With this smile, I can get anything I want!"
Now in his new high-tech boutique practice, patients can find anything from basic general dentistry and cleanings to fillings, crowns, extractions, and beyond. Amenities like heated massage chairs underscore the focus on patient comfort.
"We get to take all the knowledge we had over 30 years and build the perfect practice," he said. He and his staff are excited to share the makeover in their own new, modern office.
---
CONTACT
6201 Dallas Parkway
Suite 220
Plano, Texas 75024
(972) 787-0902
SmileMakerTX.com