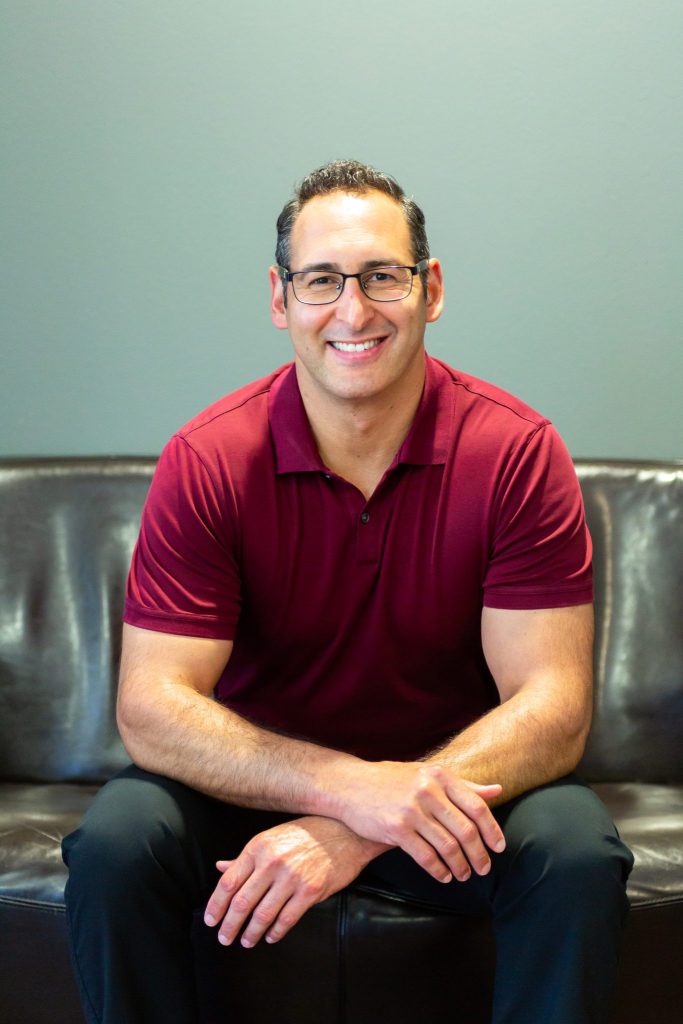 By
Meredith Knight
| Photo by
Lauren Medean
---
In this day of big-box corporate medical practices, family-owned and operated Back 2 Wellness Chiropractic offers know-you-by-name care and leading-edge chiropractic science under one roof. With a special interest in sports medicine, Dr. Michael Bank places an emphasis on patient empowerment and education, taking his time to get to know each patient, listening, advising, and offering them a partner on their optimum wellness journey.
Because he believes an informed patient is a healthier patient, Dr. Bank invites patients to become an active part of their own care. Here's what some of his grateful patients had to say.
"Definitely a five-star business. Great, friendly, welcoming staff. Dr Bank is definitely a master at his craft. I have total trust in him." – Johnny B.
"I come in once a week for e-stem, adjustment, and decompression. My herniated disk has shown almost complete healing on my most recent MRI. I truly believe Dr. Banks has kept me off the surgical table." – Kristin H.
"No one makes spinal manipulations as consistent and thorough as Dr. Banks. He takes detailed notes, spends the time to explain his adjustments, treatment plan, whatever you may need. I left my appointment thinking, '"Oh, wow! This must be what it's like to have a normal, healthy back." – Patrick S.
"This is not a rush-you-in and rush-you-out place. They take their time with each patient and the staff is very friendly.
– Dustin E.
Dr. Bank
Michael Bank first became interested in chiropractic when he worked as a school athletic trainer alongside the team doctor who was a chiropractor. "He invited me work with him over the summer," Dr. Bank said. "I saw people come in hurt and leave happy. But it wasn't until I got injured myself, separating a rib from my spine causing excruciating pain, that I had my first adjustment. With the relief it gave me, I knew chiropractic is what I wanted to do for a living."
He went on to earn a bachelors and a masters degree, as well as his doctorate in chiropractic and post graduate certification in brain traumatology and whiplash injuries from the Spine Research Institute of San Diego.
"I want to do everything humanly possible to make my patients feel better and allow them to live life to the fullest," Dr. Banks said. "I'm blessed with a team who shares that vision. I'm also blessed that team includes my wife, two sisters-in-law, and a staff that's become like family to me. They make the office warm and welcoming and take the same obsessive approach I do to making sure our patients get well and enjoy an amazing chiropractic experience," he said.
When not on the job, Dr. Bank enjoys working out, spending time with his family, and volunteering as a YMCA coach. If you're new to chiropractic and want to learn more, call Back 2 Wellness at (817) 453-9339 to receive personalized answers to your questions from their friendly team.
---
CONTACT
8011 South Cooper Street, Suite 101
Arlington, Texas 76001
(817) 453-9339
www.bankchiropractic.com