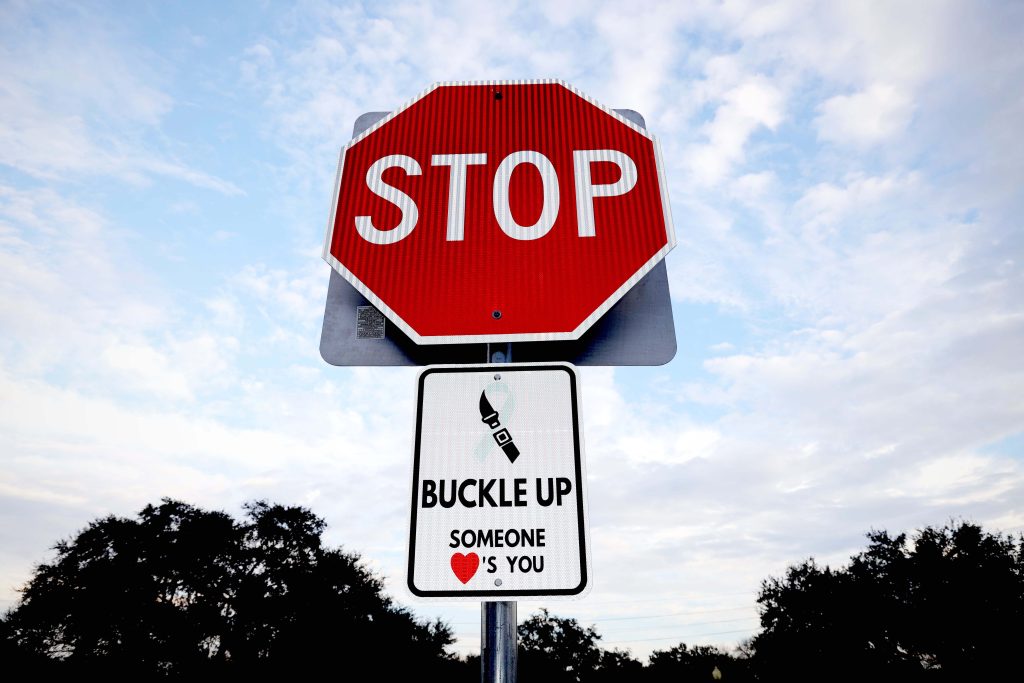 The Kailee Mills Foundation, leading advocate for seat belt safety awareness, is proud to announce grant funding from State Farm Insurance to be allocated towards the installation of 100 Seat Belt Safety Road Signs across Houston area school parking lot exits.
Fatalities and injuries continue to rise on Houston roads as non-seat belt use continues to be an issue, especially for teens. These startling statistics drive the daily mission of the Kailee Mills Foundation:
• Teens have the highest rate of non- seat belt safety use in the United States and are 3x more likely to die in a vehicle crash than any other age group. (IIHS)
• 1 in 10 people admit they do not wear their seat belts. (Value Penguin)
• From 2020 to 2021 Houston traffic crashes increased by 14% and fatalities increased by 20%. (City of Houston VISION ZERO Annual Report)
• In 2022 there were 560 traffic deaths across Harris County. That is 560 too many. (TXDOT)
"State Farm has a long history of advocating auto safety," said Felicia Hutchins, Corporate Responsibility for State Farm Insurance. "Seat belt usage is a key factor in keeping drivers and passengers safe. A Crash can happen anytime, anywhere. Whether you're going around the corner or are practicing driving on the highway, your seat belt should always be worn. The same for your passengers."
The Kailee Mills Foundation Seat Belt Safety Road Signs are installed at parking lot exits underneath the stop signs and serve as a continual reminder to "Buckle Up Someone Loves You" every rider every time. The impact of this permanent parking lot exit messaging is reinforced with staff, teachers, parents, students, and visitors for years to come.
Executive Director of the Kailee Mills Foundation, Briana McCulloch shared, "My 16-year-old niece Kailee took her seatbelt off for just a second and as a result of letting her guard down for this brief moment in time, our lives will never be the same and we miss her every day. Our personal story drives the Kailee Mills Foundation mission, and we are proud to align with a partner organization with shared values like State Farm Insurance. Together we will save lives."