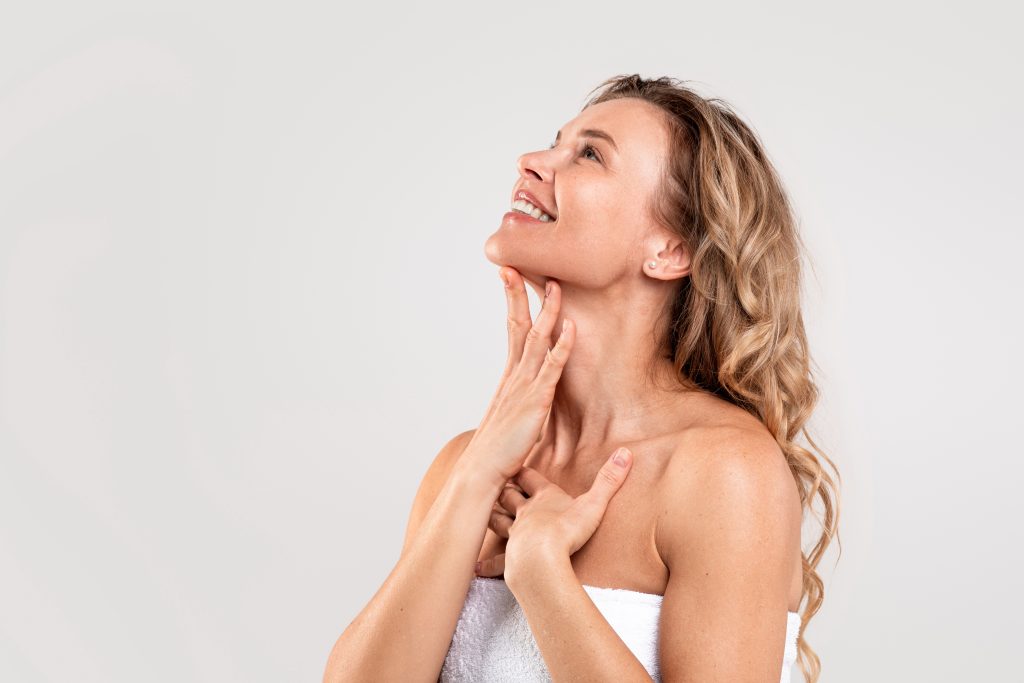 By Annette Brooks
---
Let's talk turkey. Sun exposure, weight fluctuation, and especially age can cause our necks to develop an unflattering turkey wattle appearance with droopy, wrinkled skin. The main culprits behind the dreaded turkey neck include weakened muscles and loss of skin elasticity and support. Sometimes the skin becomes so lax that folds appear.
Luckily, a growing number of cosmetic procedures designed to improve the appearance of a turkey neck are widely available. Noninvasive treatments usually produce noticeable yet more subtle results than a neck lift performed by a plastic surgeon. Choosing the procedure that's right for you depends on several factors, including age, skin type, the severity of the condition, and the amount of downtime you can handle.
Non-invasive Neck Rejuvenation
Nonsurgical treatments can help you proactively maintain a youthful, ageless appearance. Talk candidly with your provider about what concerns you most about your neck so they can recommend a treatment or create a combination of services tailored to help fulfill your cosmetic goals.
Noninvasive procedures involve using technologies that harness the energy of light, ultrasound, and radiofrequency (RF) to lift, tighten, and restructure the skin by stimulating collagen and elastin production. Some also address excess fat. While technology can make a difference, remember that it's only as good as the provider. There's no substitute for the skill and expertise of a highly experienced physician or licensed aesthetician.
Light Power
Laser neck rejuvenation with fractional CO2 and non-ablative Nd: YAG lasers, and more, treat skin laxity, texture, and pigmentation. Some platforms combine different laser wavelengths to optimize results. Depending on your goals, BBL (broadband light), which is not a laser but a type of intense pulsed light (IPL), is used to improve the appearance of a turkey neck.
Ultrasound Makes Waves in Cosmetic Services
Ultherapy targets ultrasound energy deep within skin layers. The waves give off heat that prompts collagen and elastin production. Improvements are typically gradual, taking about three to six months for optimal results to appear. Another technology — Synchronous Ultrasound Parallel Beam (SUPERB) — utilizes ultrasound energy to lift the area beneath the chin and tighten lax neck tissue.
Radiofrequency to the Rescue
We've seen an explosion of devices that use RF to address sagging skin in the lower face and neck. They include Morpheus8, one of the newer, customizable, deep fractional RF treatments designed to reduce fat and stimulate skin rejuvenation by boosting elastin and collagen. Other RF technologies used to treat the lower face and neck include, but aren't limited to, FaceTite, Evoke Neck, and Thermage FLX.
Dramatic, Longer-lasting Results
If you want more pronounced results, an elegant neck contour that typically lasts for years, and can spare a little more downtime, consult with a plastic surgeon about getting a neck lift. This highly customized and nuanced surgery involves carefully removing excess skin and fat. Platysma muscle bands — vertical cords that appear in the neck with aging — may also be addressed during a neck lift.
Although there's no "perfect" age for a neck lift, most people don't develop significant signs of aging in their neck until around age 40 and up.
A Stitch in Time
Minimally invasive, nonsurgical PDO thread lifts use fine, strong, dissolvable PDO (polydioxanone) threads to gently lift, reposition, tighten, and smooth sagging skin in the neck area. The temporary threads (sutures), which come in a variety of sizes and are either smooth or barbed, are carefully injected into dermal or subdermal tissues. The number of threads required to create the best results depends on your unique situation and goals. Keep in mind that the thread placement and angle matter, which is why choosing an experienced, well-trained PDO thread lift provider is essential.
After treatment, you'll see an immediate lift in the area. Over time, collagen and elastin are generated as part of the body's natural healing mechanism as the threads, which act like temporary scaffolding, dissolve. Results can last one to three years before retreatment is required to help maintain a more youthful-looking neck.