By Christina Garcia | Photos: Christina Garcia and Luke Faulkner, Joshua J. Cotten on Unsplash
---
Distinct for being so closely located to one another, San Antonio's Spanish colonial missions make up the state's only UNESCO World Heritage site, and a paved, bikeable path connects them. Built or relocated to the area in the 1700s, the missions are a reminder of early encounters between Franciscan priests and the area's diverse native people, collectively called Coahuiltecans by Europeans, who would assimilate into the Catholic faith and culture. Anchors for Franciscan priests and neophyte native groups, the sites feature still visible frescos, restored architecture, old Spanish aqueducts, and much more. The missions even serve as sites for worship today.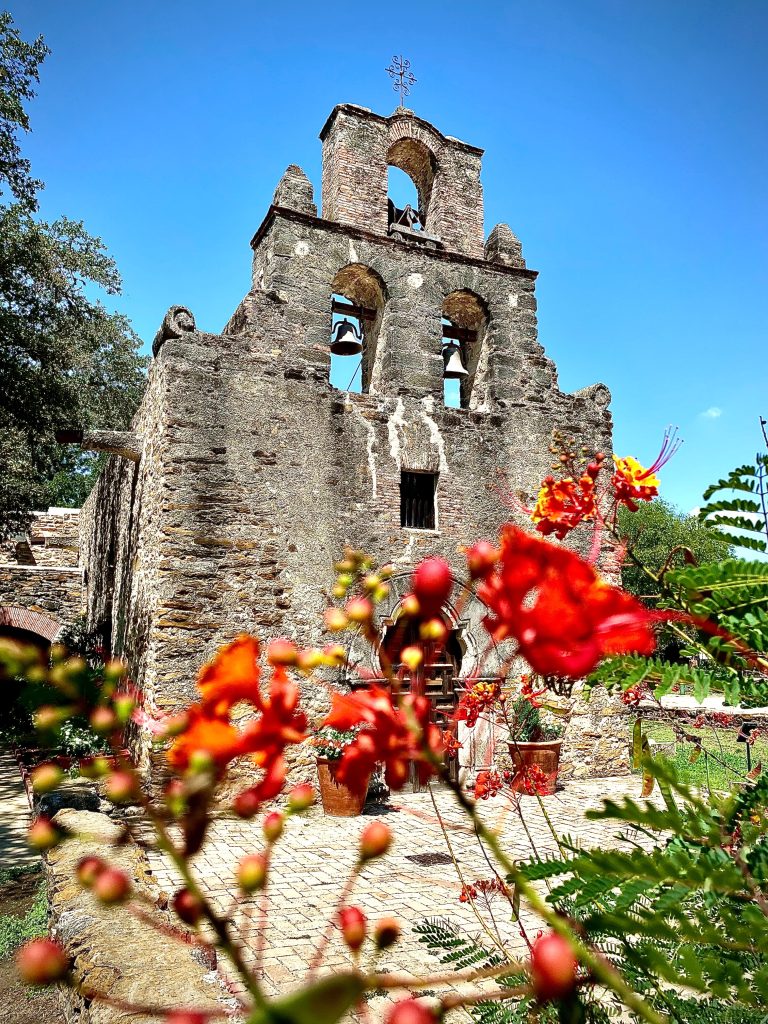 On a trail paved along the banks of the San Antonio River, a free, public path offers a sunny Texas bike ride for those ready to adventure. Connected to the Alamo by the Mission Reach arm of the River Walk, the bikeable trail of about 14 miles moves south to four missions, Mission Nuestra Señora de la Purísima Concepción de Acuña, Mission San José y San Miguel de Aguayo, Mission San Juan Capistrano, and Mission San Francisco de la Espada, known by their abbreviated names, Concepción, San José, San Juan, and Espada, respectively.
The Ride
Riders already familiar with the Alamo mission might start their bike tour near the Blue Star Arts Complex in the historic King William Historic District, where restaurants and eateries offer a great place to fuel up and cool down just nine minutes from Mission Concepción. Though the trail ride is often described as a loop, the National Park Service specifies that it is an out-and-back path of nearly 14 miles, but there is no wrong place to start or end your customizable route. Just remember to bring sunscreen and plenty of water, as the trail is often unshaded.
San Antonio's BCycle offers electric bikes for rent at each mission on the trail, with pay-as-you-ride options starting at $5 for half an hour. Those looking for a short ride might enjoy the four-mile round-trip trek between San Juan and Espada. (Mat-Tx.com/bike-tours)
Part of the National Park Service, each mission has working bathrooms open to the public and free parking. You'll also find rangers stationed at each site's visitor center with a trove of information on the points of interest hidden in plain sight from casual tourists. Find the main visitor center at Mission San José and be sure to visit the baroque Rose Window.
Each mission's outside grounds are open from sunrise to sunset, with morning mass still held throughout the week, often on weekends. Some afternoon and evening masses gather, with Mariachi Mass also drawing crowds.
Plan Ahead
The annual Pilgrimage of San Juan Diego, usually in the first week in December, is a prayer dance featuring hundreds of matachines, or native dancers, from Mission San Juan to Mission San José. Often beginning just as the sun rises at 7 AM, the dance features worshipers moving to offer prayers and intentions of both the dancers themselves and their family members or community. According to Nicky Mata, Program Manager for El Camino de San Antonio Missions, the dance is part of the Native American traditions new pilgrimage program through the Roman Catholic Archdiocese of San Antonio to encourage visitors arriving for the spiritual experience of the Mission Trails.
"Their dance is a prayer to Our Lady of Guadalupe," she said, adding that the dancers will perform in front of and inside each church as well as near the statues of the Virgin Mary at what she described as a moving event.
The matachine pilgrimage happens closest to the Saturday of the feast day of Our Lady of Guadalupe, which falls on Saturday, December 9 of this year. Visitors are invited to participate by following behind the dancers or can arrive to see the dancers leave Mission San Juan and then drive over to Mission San José and see them arrive.
Biking during the pilgrimage may be slightly more challenging than on other days when runners and dog walkers share the path in smaller numbers.
Mass at the Missions
Concepción – Sunday at 10 AM and Mariachi Mass at noon
San José – Saturday at 5 PM, Sunday at 9 AM, and
Mariachi Mass at 12:30 PM
San Juan – Sunday at 9 AM under the trees
Espada – Monday 9 AM in Spanish and Saturday 5 PM in English
For additional and updated times, visit:
nps.gov/saan/planyourvisit/churchinfo.htm