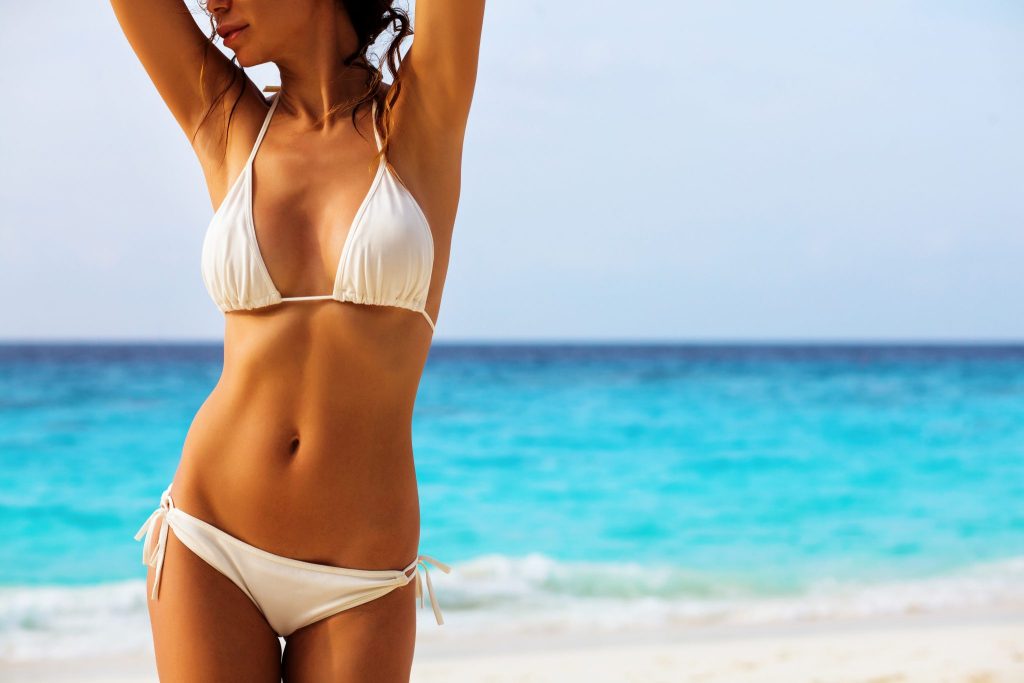 By
Annette Brooks
---
Are you ready to wear a trendy bikini or sexy one-piece cutout this summer with confidence? Now is the ideal time to get started with cosmetic services that will help you reach your goal. Below are a few of the most popular services to consider.
Bye-bye, Stubborn Body Fat
Most of us have a few places that collect diet and exercise-resistant body fat. Luckily, there are effective treatment options that can reduce unwanted fat in time for swimsuit season. CoolScuplting, for example, freezes fat cells that die and are naturally flushed from the body. Technologies like truScuplt and BodyTite involve controlled radiofrequency that melts fat cells. ScuptSure destroys fat using a laser and a specific wavelength of energy designed to pass through the skin without being absorbed and specifically targets fat tissue. Other systems use ultrasound (high-frequency sound waves) to liquefy the fat.
Liposuction is another option. During this time-tested body-sculpting procedure, your plastic surgeon removes excess body fat by suction using special surgical equipment. Although liposuction requires a more extended recovery period than noninvasive fat reduction, results can be dramatic.
Consult with experienced providers who will compare and contrast treatment options and recommend those designed to deliver the results you desire.
Less Cellulite, More Confidence
Some topical products may diminish the appearance of cellulite, but thanks to technological breakthroughs, it's possible to achieve superior results. Minimal and noninvasive treatments use different types of energy to reduce cellulite, including Cellulase, VelaShape, Zimmer Z Wave, and ThermiSmooth body. Cellfina is an automated mechanical cellulite reduction treatment. You may also be interested in QWO, an injectable that's FDA-cleared to treat moderate to severe cellulite.
Breast Boost
Imagine filling out a swimsuit top or a strappy sundress and feeling more confident about your breast size and shape. Breast augmentation is a customized procedure tailored to your unique needs and physique. In addition to saline-filled implants, new-generation silicone gel breast implants are available in various shapes and have a more natural look and feel. Implant placement techniques vary and include virtually scarless procedures. Another option is "natural" breast enhancement using injected fat extracted from other areas of your body via liposuction.
Flab to Fab Tummy
Pregnancy and weight gain and loss can permanently stretch abdominal skin and muscles to the point where dieting or exercise alone won't restore a sleek silhouette. Tummy tuck surgery, a flagship Mommy Makeover procedure, flattens and reshapes the abdomen by removing excess skin and fat and tightening the abdominal wall muscles. Each tummy tuck is custom-tailored to the patient, and other procedures may be included, such as liposuction, for beautifully
sculpted results.
Begone Body Hair
Tired of shaving, waxing, and using chemical depilatories? Keeping unwanted body hair at bay is a constant battle, not to mention dealing with stubble, bumps, and unsightly and painful ingrown hairs. Now for some good news! Professional laser hair removal treatments have come a long way since the process was first commercially available in the mid-90s. Treatments can now effectively reduce hair growth and work on nearly any part of your body. Some technologies are touted as being effective for almost all skin types and tones.
Because your hair grows in many cycles, multiple sessions will be required. Most people achieve desired results in four to six treatments spread from four to six weeks apart. Periodic maintenance treatments are recommended to maintain your results.
Schedule a consultation with a laser hair removal specialist and see if you're a good candidate.