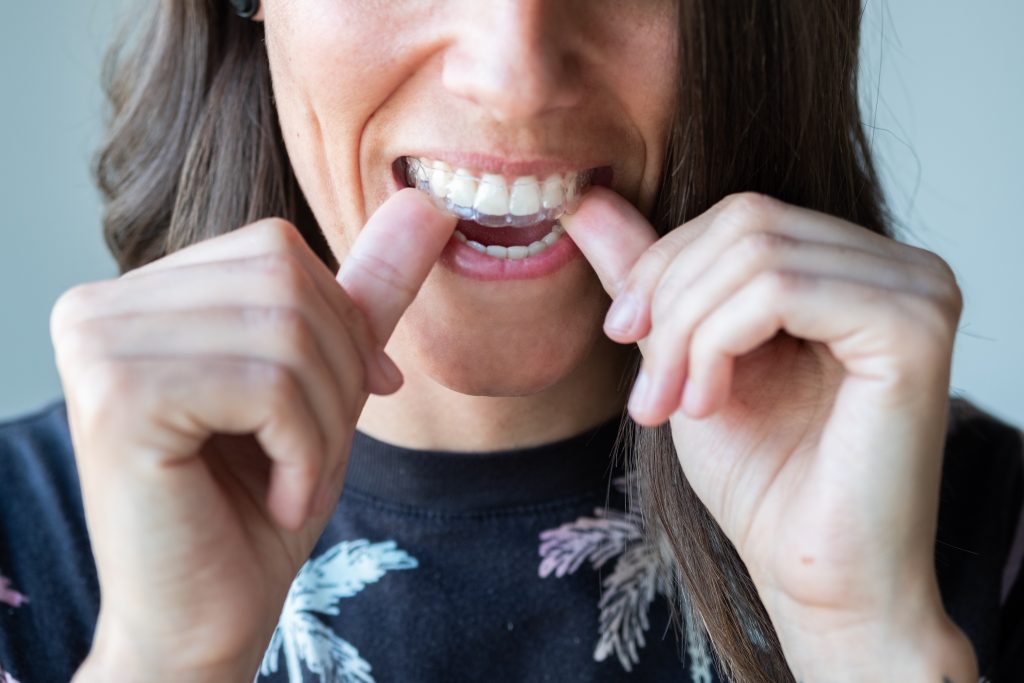 BY DAVID BUICE
If you're an adult with a less than perfect smile and considering the possibility of braces, you shouldn't hesitate. Whatever your age, you're never too old to have that perfect smile you've always wanted, and if you're considering braces, you are by no means alone. Some orthodontists (dentists who specialize in straightening teeth) report that up to half the patients they're seeing are adults.
In deciding as an adult to get braces, modern dentistry offers you the choice of several paths forward.
Traditional Braces
In the early years of orthodontics, braces consisted of a metal band placed around just about every tooth in your mouth, all connected with wires. But that's no longer the case. In today's dental world, braces hold wires with just a single bracket cemented to the front of the tooth, and a few bands anchor the wires on the teeth in the back of the mouth.
Ceramic Braces
Similar to traditional braces, the main difference is the use of clear or tooth-colored brackets instead of the conventional metallic silver or gray brackets. Some choose ceramic braces over traditional braces simply because they're less noticeable, which can be appealing if you feel self-conscious wearing braces as an adult.
However, there are a couple of things to keep in mind before deciding on ceramic braces. They may not move your teeth as quickly as traditional braces, and they're less durable than metal braces. Repairing ceramic braces may slow the straightening process.
Finally, if you engage in any contact sports or activities requiring a lot of mouth movement — like singing or public speaking — metal braces may be the better choice since they don't chip or break as easily.
Clear Aligners
These are clear plastic trays worn on the teeth and changed about every two weeks or so as your teeth move. They're supposed to be worn around 22 to 24 hours a day, removed only for eating, brushing, and flossing your teeth.One of the positives about aligners is they're less conspicuous than traditional and ceramic braces, though not entirely invisible. An important thing to remember about aligners is that using them requires a lot of self-discipline. They must be worn almost constantly, and the trays must be changed at the scheduled intervals. If you're not faithful in doing these things, the use of aligners may take longer to straighten your teeth than traditional braces.
Lingual Braces
These are similar to traditional braces, except the brackets are cemented to the back of your teeth, making them nearly invisible. They work as quickly as traditional braces, though they may be a slightly more expensive option.
One Possible Limitation
While age is not a barrier to wearing braces, gum disease may be a limiting factor. If you have active gum disease, it needs to be treated before getting braces. Once that's done, you and your orthodontist can create your perfect smile.
Things To Consider
How Long and How Much?
The time required to straighten your teeth depends on a number of variables, such as the severity of your dental situation and the type of appliances you decide to use. Generally speaking, treatment with braces will probably take six to 22 months.
The cost depends on the extent and type of treatment, your dental insurance benefits, and even the skill and expertise of your dentist. The orthodontist will review a treatment plan to achieve your goals and explain the cost during your consultation. If you don't have dental insurance or if your insurance doesn't cover everything, many dentists offer payment plans.
More Than a Beautiful Smile
Finally, braces give you more than straight teeth. They promote overall oral health by making it easier to clean your teeth properly, and they help reduce wear on your teeth over time which could help you avoid extensive restorative dental work in the long run.