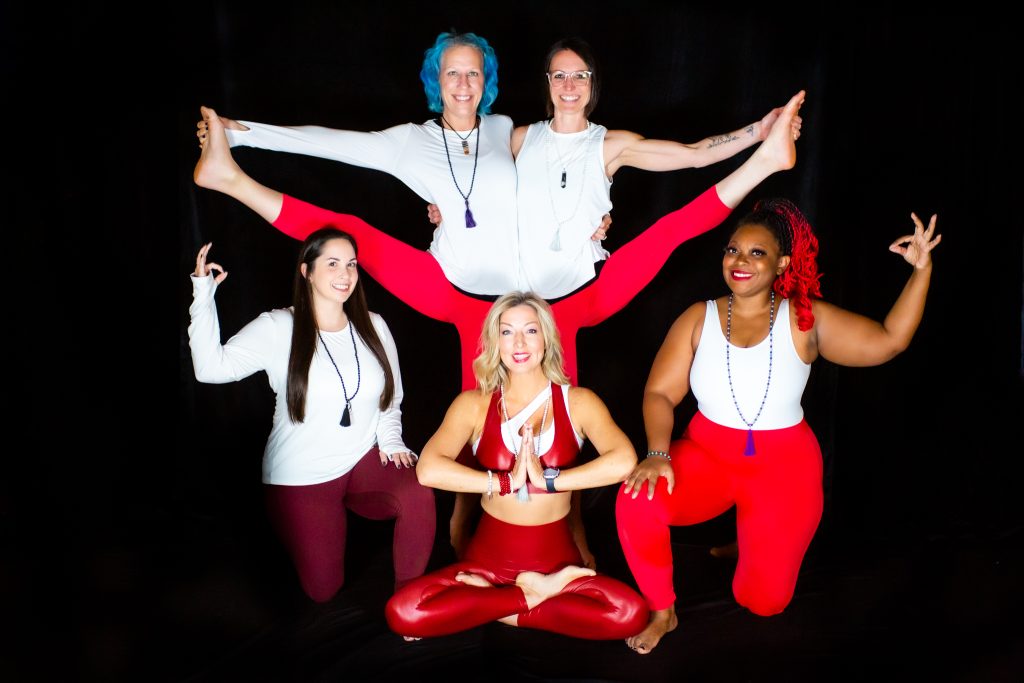 By Drew Anderson | Photos by Lauren Medean
---
At its most basic, yoga is a mindful practice that helps build strength and flexibility. If you ask Lynn Rozak, however, yoga is so much more than that. Lynn began practicing yoga in 2001, and from the very beginning she realized there was something magical about the experience. It was so much more than an exercise. It was simultaneously relaxing, challenging, rewarding and mentally stimulating. After 10 years of discovering all the benefits yoga provides, Lynn knew she wanted to help others experience the same life-changing practice she fell in love with. In 2012, after earning her yoga teaching certification, Lynn opened Sunshine Yoga Shack. Her goal, and the goal of everyone at Sunshine Yoga Shack, is to serve their clients and their community by bringing yoga to everyone. Their mission isn't just to help you understand the practice of yoga, but to help you better understand your body as well.
One of the many misconceptions about yoga is that the practice is essentially just stretching. While it does incorporate stretching, the true practice of yoga goes far beyond the simple "touch-your-toes" most of us associate with the word stretch. "Yoga does not only stretch the body; it strengthens the body and decompresses the spine and joints" Lynn says. "Yoga releases stress, and it has been proven to reduce blood pressure, reduce anxiety and depression. Yoga helps improve mental focus and mindfulness. Yoga helps to connect the body and the mind with the energies of the body. Yoga can unlock the potential within each of us." At Sunshine Yoga Shack, they believe yoga works out both the body and the mind, providing many benefits to both.
The art of practicing yoga has been around for millennia. So long, in fact, that the origin of the practice is still debated to this day. Despite yoga's long history of success and many proven benefits, it is still evolving and adapting to this day. Lynn and the team at Sunshine Yoga Shack aim to be at the forefront of this evolution. They not only want to master the traditional practices, but also be a part of new, exciting yoga styles aimed at offering new challenges and exciting techniques. To do this, Sunshine Yoga Shack has incorporated the four elements into their various classes: earth, water, fire and air.
While traditional yoga remains their foundation, Sunshine Yoga Shack also offers aerial yoga. This modern style enhances the practice of yoga by elevating (literally) the participants off the ground. Utilizing silk aerial hammocks, much like what they use in Cirque du Soleil, participants are suspended above the ground as they perform new yoga techniques. "The first half of class uses yoga postures in the fabric, and then we build upon that practice by learning cirque-style tricks in the fabric" Lynn says. "These feats are so dynamic that we put on a showcase every year to show off what we learn." The studio even offers aerial yoga parties, great for birthdays, bachelorette parties or just getting together with friends or coworkers for a fun new experience.
Additionally, the studio offers classes that incorporate another element, fire, through heated yoga. For these classes, Sunshine Yoga Shack offers rooms equipped with Far infrared heat panels to keep the room at 85 degrees, so the body warms throughout the session. This heated version of yoga offers participants increased flexibility and greater lung capacity, as well as many other benefits such as increased stress reduction and improved heart health.
If heated or aerial yoga doesn't yet seem to fit your skill set or experience level, the studio offers a multitude of other classes for every experience level. Yin yoga and yoga Nidra keep participants on the floor for mindful, deep release yoga techniques with guided meditation. They also offer Hatha classes, like deep yoga and just yoga. These classes are great for beginners and utilize basic yoga postures and full complete breathing techniques to explore the body.
Sunshine Yoga Shack offers amazing classes and experiences for everyone, whether it is your first yoga session or you have years of practice. As a result, the studio has been named Best Yoga Studio by Living Magazine three years in a row. But despite their success, Lynn and her staff work every day to make the studio and their client's experience better. They also aim to make better teachers. Within the studio, they host Sunshine School of Yoga, a fully accredited yoga school through Yoga Alliance. This school offers a 200-hour yoga teaching training program, with both in-person and virtual training. Next year they will add a 300-hour training program beginning in the fall.
Lynn Rozak grew up in north Fort Worth before beginning her family in Mansfield. She has been married to her husband, Eric for 23 years, and together they have 3 children aged 18, 19 and 21. Her oldest two children attend The University of Texas at Arlington, with the youngest planning to follow in the spring. Her family also includes her three feisty dogs. When she is not at the studio or with her family, Lynn travels the world teaching yoga and gaining inspiration at fabulous resorts in new and exciting places with her husband by her side.
Behind everything they do, Lynn and her team of talented teachers at Sunshine Yoga Shack strive to bring the practice of yoga to the students where they are today. They believe that with consistent practice, anyone can build strength in the body, in the breath, and most importantly, in the mind. They use yoga as a tool to untangle the distortions of the mind which cause us unhappiness, stress, depression and anxiety. The studio operates under the motto "Elevate your body, elevate your mind, elevate your life!" They believe everyone should take advantage of all the wonderful benefits of yoga, no matter your experience level or style preference. Sunshine Yoga Shack is proud to offer time-tested, traditional sessions as well as new and exciting classes as they strive to breathe new life into an amazing, ancient practice.