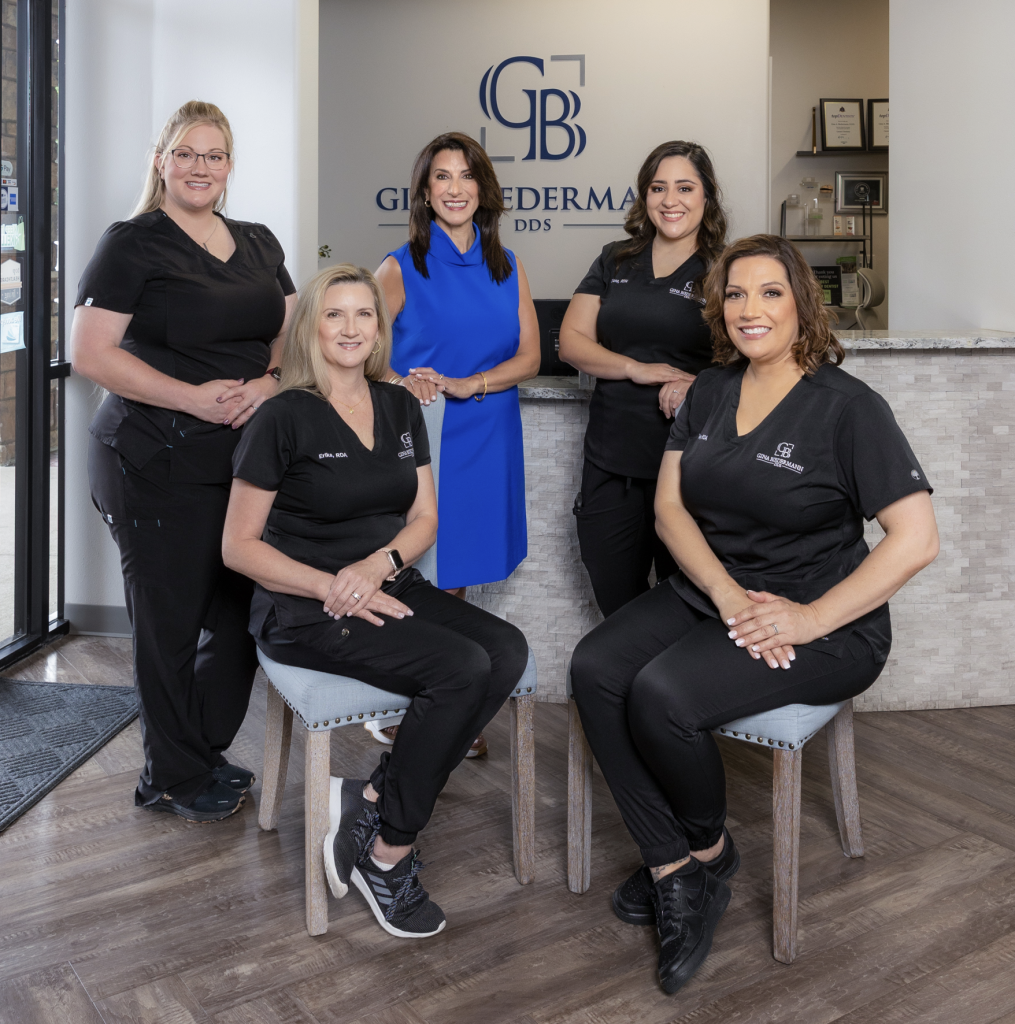 Photos by
Kenny Richard Photography
---
Creating Great Smiles for Everyone with Top Tech and Resources
Dentistry has been the perfect profession for Dr. Gina Biedermann, combining her love of science and art with her natural rapport with patients of all ages. After obtaining her BS in Biology from Marquette University in Milwaukee, Dr. Biedermann launched her journey into dentistry at Loyola University College of Dentistry in Chicago, ultimately earning her Doctorate in Dental Surgery from the University of Detroit-Mercy Dental School in Michigan.
Family and career-oriented, both Dr. Biedermann and her husband, Mike, have pursued their dreams by following their career paths across the country. She practiced expert dentistry as an associate dentist in Illinois, Ohio and Michigan before happily settling in Texas where the pair have lovingly raised their three children: Amanda, Sarah, and Jack. Dr. Biedermann opened her private dental practice in Keller and was quickly embraced by the family-friendly community.
Pioneering Laser Dentistry
In her soon-to-be-30 years as a family dentist, Dr. Biedermann has pioneered many dental advancements, but few have elevated her practice as dramatically as the dental laser. "Treatment with lasers is much less invasive compared to traditional methods," Dr. Biedermann said. "Using lasers, I'm able to improve the health of gums—vital to the health of teeth—take more accurate diagnostic scans, treat periodontal disease, remove cavities, take biopsies, remove cold and canker sores, correct lip, and tongue ties and more in a far less intrusive manner."
With the laser, Dr. Biedermann says healing is almost immediate, making treatment faster because there's less blood loss, no sutures and a lower risk of infection. "The laser often makes treatment more comfortable than traditional methods of treatment," she said. "For example, if a patient is unhappy with their gummy smile, I can perform a procedure with the laser to give them a smile they are proud of. Older methods used to require over a month-long process for swelling to go down and heal. Now, patients can leave my office and see results quicker because the laser allows us to accurately target only the affected tissues. In the case of a cold or canker sore, I can target just the diseased areas without disturbing the surrounding healthy tissue. Treating these and various issues with the laser promotes blood flow, allowing for faster healing and a more comfortable experience for everyone who visits our office."
We can only imagine where lasers will take dentistry in the next 60 years, and Dr. Biedermann is leading the charge in North Texas.
Dental Collaboration
Something else has brought a powerful change to the practice of Dr. Biedermann and that's the fellowship and support of a community of like-minded women in the industry, Mommy Dentists in Business (MDIB). Described as "a group of mom-bosses who share best practices and support one another in our journey as entrepreneurs and moms", the group offers a much-needed sisterhood of encouragement and collaboration within the profession.
"When I joined MDIBS in 2019, there were 400 members," Dr. Biedermann said. "Now, there are just over 10,000 members in the U.S. and Canada. I can't overemphasize how this group is changing my practice and is changing the world. It's dentists helping dentists, empowered women empowering women. Being a member of this group has truly changed my life and the lives of my team members." Not a day goes by that Dr. Biedermann doesn't consult and counsel with fellow MDIB members. "This school of experience is invaluable to me," she said. "I'm a better dentist, a better mom, and a better person because of the wealth of knowledge and support I can access through this group, and seeing my patients and practice benefit from this excites me for the advancements to come."
Help for Sleep Apnea
As she approaches nearly three decades practicing dentistry, Dr. Biedermann has been humbled by the support she's received from her staff—and from her patients—often two and three generations of the same family. In response, she has looked for ways to pay that support forward and give back to her local and dental community. One way she's done this is by consistently welcoming dental students to shadow her in her practice. Another has been looking for ways to care for her patients above and beyond general and cosmetic dentistry, such as treatment for sleep apnea.
"Obstructive sleep apnea can increase the risk of coronary artery disease, heart attacks, heart failure, and strokes," Dr. Biedermann said. "This condition contributes to the risk of abnormal heart rhythms (arrhythmias), which can lower blood pressure. This is alarming because many people have it without realizing they're experiencing symptoms."
Fortunately, an experienced dentist like Dr. Biedermann can recognize the signs of sleep apnea in the mouth and take steps to restore normal, healthy sleep. Fortunately, there are many types of sleep therapy for those who can't tolerate a traditional C-pap machine. When Dr. Biedermann identifies signs of sleep apnea in a patient's mouth, she can send them home with a sleep study, then counsel with them about steps to take—including custom sleep appliances—to achieve healthy, uninterrupted sleep that's vital to maintaining overall health.
Diagnosing Mouth Cancer
In addition to the practice's general and cosmetic services, Dr. Biedermann conducts routine cancer screenings. "Many forms of cancer are silent and the symptoms aren't readily apparent, but cancer located elsewhere in the body can manifest in signs I recognize in the mouth," she said. When Dr. Biedermann does see these signs, she consults with an oral surgeon who can then perform a biopsy. If cancer is confirmed, the patient is referred to a consulting oncologist so patients can be treated quickly and efficiently. As with all cancers, the sooner it's diagnosed and addressed, the better the chance of recovery. That's one of the reasons dental check-ups every six months are vital to maintaining optimum health.
All the Dentistry You Need
If you're in search of a dental home where you'll be welcomed like part of the family, Dr. Biedermann and her team are waiting with the latest technology in a comfortable, accommodating environment. She offers a full menu of general, restorative and cosmetic dentistry including in-office power whitening and porcelain veneers. Dr. Biedermann offers Invisalign Clear Tooth Aligners. She can show you before and after photos of what your Invisalign treatment can provide for you. This is all done even before you start your treatment. This newest iTero intraoral scanner which allows Dr. Biedermann to obtain highly accurate, 3-D impressions of your teeth without gooey molds, display images of your teeth onto a chairside computer, and aids her in producing highly natural-looking crowns, bridges, veneers, implant crowns, Invisalign trays and more.
The latest technology and resources are ready to help you with your dental and smile concerns at Dr. Gina Biedermann, DDS.
---
CONTACT
940 Keller Parkway, Suite 170
Keller, Texas 76248
(817) 354-4488
DocBiedermann.com