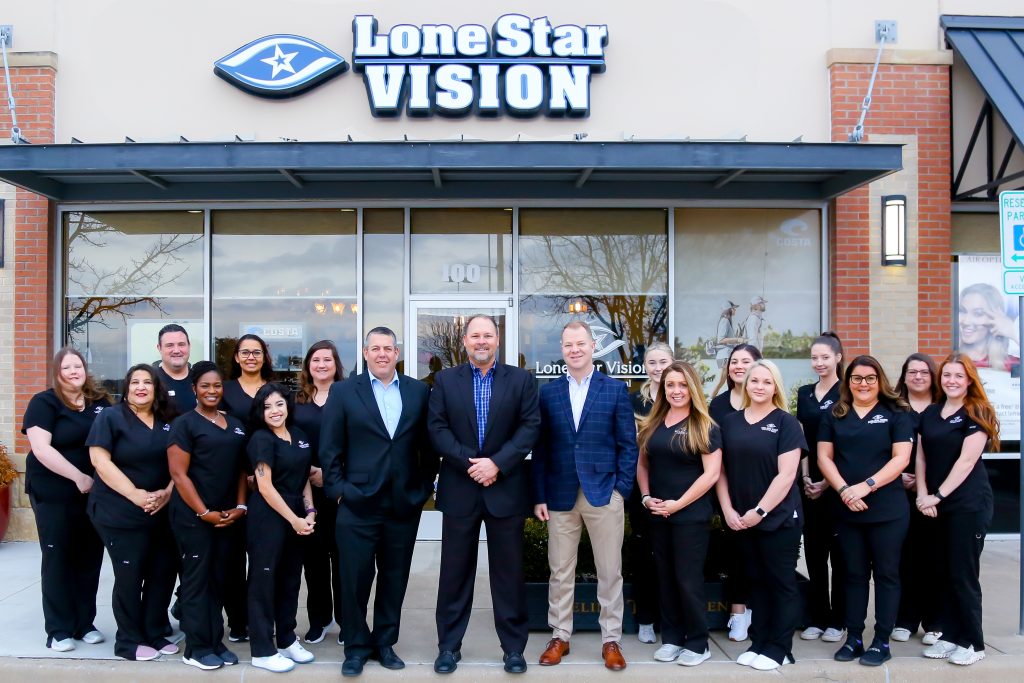 Photo by
Melissa Crown Photography
---
When it comes to healthcare — especially your eyes — nothing can beat experience. At Lone Star Vision, Drs. Brantley, Hanstad, and Lundeen have a combined experience of more than 100 years as eye care professionals, each with a particular area of expertise.
"We are proud to operate a truly family-oriented business," said Dr. Brantley. "Among our staff, we treat each other like family, and we extend that approach to our patients, as well. It's a driving factor of our success."
The family atmosphere draws new patients to the practice and that is why so many patients return. The staff genuinely enjoy working with patients and love their jobs. In an age where healthcare can be fast and generic, the doctors at Lone Star Vision slow down and take time to build relationships.
"Everybody at Lone Star Vision considers it a privilege to help people and ensure their experience here is a great one," said Dr. Hanstad. "Rather than patients feeling like a number, we take time to address their questions and needs, so they feel heard and never rushed."
The level of technology available at Lone Star Vision is unsurpassed. They operate with instrumentation typically only available in surgical offices, such as digital refraction systems and retinal diagnostic imaging. This enables the doctors to make more accurate diagnoses and properly treat each issue without having to refer patients to other providers.
Lone Star Vision has access to the latest in contact lens technology which has not been made available to other optometrists or the general public. One such product is the Acuvue Oasys 1-Day MAX, which has only been released to 100 offices nationwide. These contacts are for everyone, including multifocal lens patients (those who need reading glasses.) They are also the first lens to be equipped with a blue light filter.
Because kids are using phones and computers more and more, many are developing nearsightedness (myopia) at early ages. At Lone Star Vision, these young patients are benefitting from MiSight, contact lens approved by the FDA for myopia management.
"Not every optometrist has access to this product and not everyone is qualified to offer it, but it's a way we can keep patients whose powers are changing rapidly much more stable, so they don't need new lenses as often," said Dr. Lundeen.
For those who need or prefer glasses, the optical department at Lone Star Vision showcase a wide selection of frames that aren't found everywhere. The team of opticians are friendly, expertly trained, and ready to help their patients make a selection best suited for their needs.
Building community relationships is a big part of the success story at Lone Star Vision. The team is involved with area schools, chambers of commerce, and they offer free eye exams with discounted glasses to Grace Bridge, a nonprofit whose mission is to provide hope to those in need. They are also proud to be the preferred eye care partners of the Frisco RoughRiders and Texas Legends.
Lone Star Vision, an innovative eye care practice since 1997, is dedicated to excellent customer service and patient care by serving the eye care needs for the entire family by offering advanced technology, a wide selection of designer eyewear, an onsite optical lab, and an unparalleled selection of contact lenses.
---
CONTACT
1060 South Preston Road
Suite 100
Celina, Texas 75009
(972) 382-2020
LoneStarVision.com