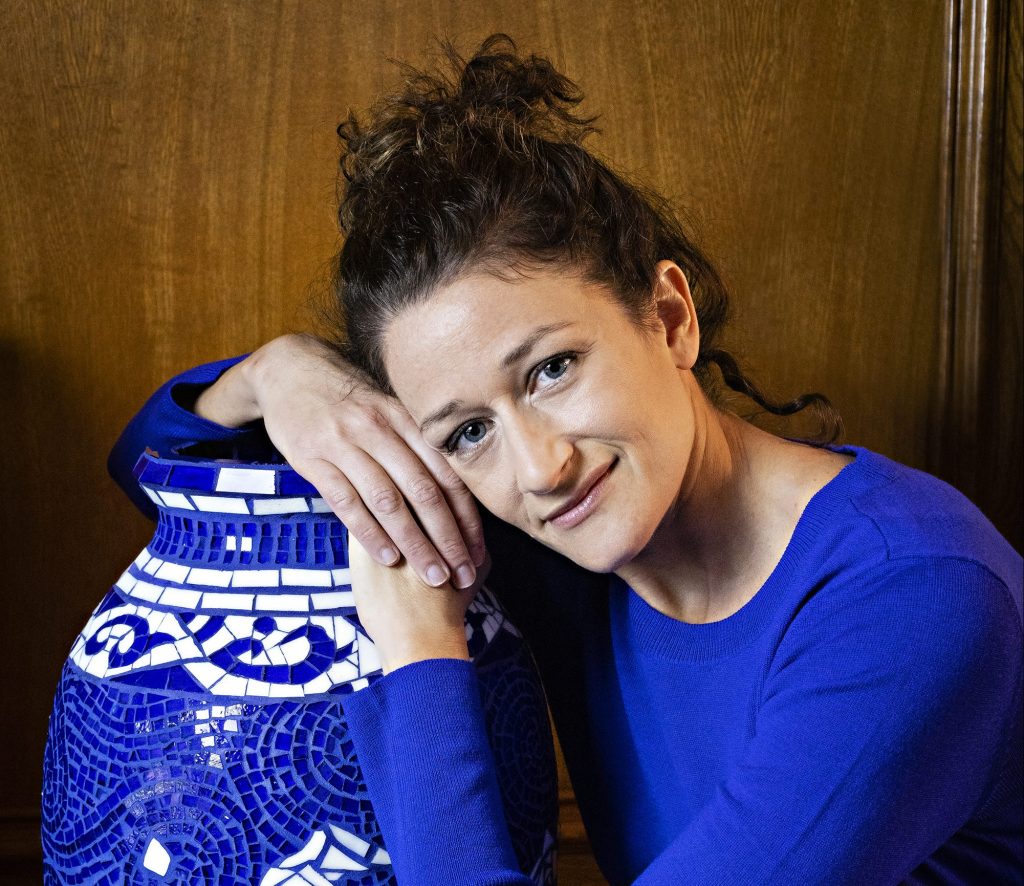 BY CHERYL ALEXANDER | PHOTO BY VONDA KLIMASZEWSKI
Sarah Wandrey became a mosaic artist by way of a legal career. It was at the University of Chicago Law School that Sarah was inspired — not so much by the legal superstars that walked the halls — but by the grand stone architecture and leaded glass windows of Rockefeller Chapel and the Harper Library. Sarah's favorite classes were the evening courses she took at the Art Institute of Chicago, where she guiltily studied classical drawing and composition rather than trial law.
For another decade, Sarah continued to study art "as a hobby," but it took more and more of her time. Then, in 2014, she took a class at the Creative Arts Center of Dallas taught by world-renowned mosaic artist, Sonia King.
"The very first mosaic I made was the best piece of art I had ever produced," said Sarah. "And so was the second. They both got in a show and sold right away. I knew I couldn't go back to practicing law."
She sought out master mosaicist Barbara Dybala for an apprenticeship at Hidden Mosaic in Rockwall. Over two years, Sarah was trained in large-scale outdoor mosaic mural and sculpture as well as fine art mosaic.
"My time learning from Barbara Dybala was priceless," she said. "She is a true creative genius and a great friend."
Sarah now runs a full-time mosaic art business specializing in fine art mosaic and architectural commissions. Sarah's fine art mosaics are where she explores new ideas and techniques before they get introduced into her commercial work. Her current collection, Vessels, will be available for purchase May 12-15 at The Other Art Fair at Dallas Market Hall. For tickets to see this collection and meet Sarah, go to TheOtherArtFair.com/Dallas.
For custom projects, Sarah collaborates with her clients to design unique murals, floors, stairs, and sculptures to install in homes, businesses, or outdoor spaces. Mosaics are water- and weather-proof, so they can go pretty much anywhere. These mosaics are perfect for homeowners, interior designers, architects, or contractors who are looking for something bespoke.
After The Other Art Fair, Sarah will turn to a kitchen showpiece for the owners of a custom Texas home. "This mosaic will grab your eye as soon as you walk in the door," she said. "It will cover the entire alcove for their beautiful cooking range, including walls, backsplash, and ceiling. My clients love bright colors, Southwestern style, and their horse ranch, so the design reflects all of these elements."
She is beginning designs for two floor medallions: one for a foyer and one for an outdoor patio in front of a pool. And in her own home, she's creating a mural using pebbles and coral to create a peaceful, meditative space.
Sarah is currently booked through the fall, but she's taking orders for projects for late 2022 and 2023. To learn more about architectural mosaic, visit SarahWandrey.com/commissions. Also find her at SarahWandrey.com, instagram.com/SarahWandreyMosaics, or facebook.com/SarahMeltzerWandrey.
Contact
(817) 213-6287
SarahWandrey.com
[email protected]