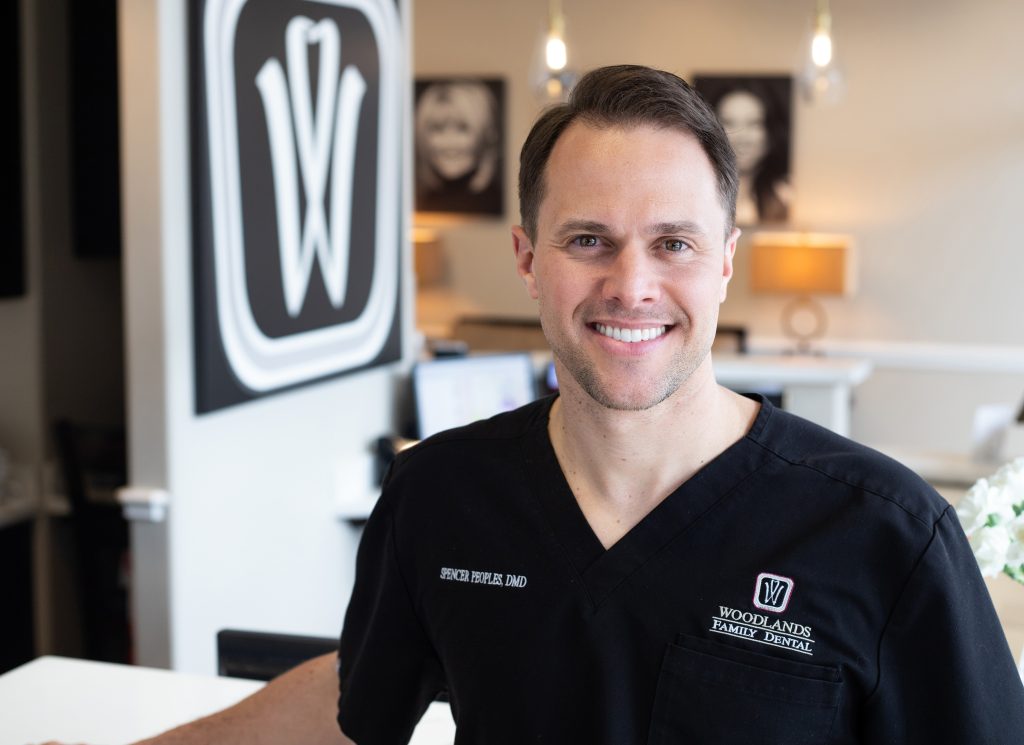 By
Sydni Ellis
---
For over 15 years, Woodlands Family Dental has "had the mission of creating the best experience possible," said Founder, Dr. Brett Murphey. The practice is patient-focused and team-oriented to provide patients with the best dental experience. The lobby is clean, smells like a luxury spa, and is designed to put patients instantly at ease. The smiles of the friendly staff are warm and sincere. When you enter for your appointment, you will be treated to a host of amenities and technologies designed to leave you smiling.
"The two most important attributes for Woodlands Family Dental's success are the qualified support team and world-class doctors," said Dr. Murphey. "It's an honor to work with such accomplished doctors who have come from all over the world."
At the Woodlands Family Dental Research office, Spencer D. Peoples, DMD, and Shana Parrilla DMD, and Fred Lima DDS, Prostodonntist at the Creekside location were recently recognized as Living Magazine Top Docs. "It is an honor to have these three doctors be selected for Living's Top Docs," added Dr. Murphey.
Meet Dr. Peoples
Dr. Peoples is a graduate of the University of Pennsylvania School of Dental Medicine, one of three Ivy League dental institutions. Dr. Peoples then completed a one-year general practice residency at the University of Nevada – Las Vegas School of Dental Medicine, where he gained additional training in several specialties, including anesthesiology, endodontics, periodontics, and oral surgery.
Dr. Peoples has amassed numerous accolades while practicing over the years. He is highly skilled in a wide range of dental treatments and procedures, from full-mouth reconstruction and smile makeovers to Invisalign, implants, root canals, extractions, and same-day crowns made in-office with 3D CAD/CAM technology.
He prides himself on excellent patient care that not only meets, but also exceeds expectations. Dr. Peoples respects his patients and understands that everyone's oral health needs are different. He is passionate about listening and creating a personalized treatment plan designed to address the goals and unique dental health of each patient.
Dr. Peoples is married to his beautiful wife, Megan, and has three children and a new Vizsla puppy. In his spare time, Dr. Peoples enjoys being involved with his church, exploring Texas, cooking, and any outdoor activities that keep him active with his family.
Meet Dr. Lima
Dr. Fred Lima leads the team at their office in Creekside. He has 23 years of experience as a dentist. He is a specialist in prosthodontics, having attended residency training programs both in Brazil and in the United States.He set out on a personal and professional developmental journey that would ultimately bring him to the United States. He got accepted and graduated from a highly competitive three-year residency program in prosthodontics at the University of Alabama at Birmingham School of Dentistry. He also graduated from a one-year implant training program in the same University of Alabama.
Due to his specialized training, Dr. Lima diagnoses and provides treatment for prematurely aged dentitions, missing teeth, tooth clenching and bruxism, dental implants, removable partial dentures, cosmetic dentistry, All-on-4 dental implants , veneers, crowns, and bridges. He can also help if you feel your bite is off and have problems like clicking, popping, or snapping in the jaw joints or TMJs.
Meet Dr. Parrilla
Dr. Shana Parrilla is from Illinois, and relocated to Houston, Texas, in 2006. Dr. Parrilla graduated from the University of Houston and did residency at the Arizona School of Dentistry and Oral Health. She trained at multiple public health facilities across the country, serving low-income communities. During this time, Dr. Parrilla grew her passion for dentistry as well as giving back to the community through her patients. Dr. Parrilla is dedicated to providing whole-person healthcare, placing her patients first, and ensuring high-quality dental care.
Experience Innovative Technology
"We use the latest technology in CAD/CAM dentistry (for one-visit permanent crowns), 3D CAT scans, digital scanners, and even offer a free smile simulator," said Dr. Peoples. The office also has two types of lasers for early detection of cavities and tissue health, and digital scans and in-office 3D scans, which replace the messy impression materials.
One of the coolest innovations that they have to offer immediately is the virtual smile simulator. You can scan a QR code, upload a photo of yourself, and they will send you a smile simulation of what your new smile can look like. It's a completely free service offered to everyone.
Start With a Consultation
Ready to make an appointment? You can call to set up a free consultation with a doctor to examine your dental needs and decide on a treatment plan.
Don't wait any longer. Make an appointment today to take the first step toward getting the smile of your dreams.
---
CONTACT
Research Forest
1400 Research Forest Drive
Suite 120
The Woodlands, Texas 77381
(281) 681-9600
Creekside
26400 Kuykendahl Road
Unit A240
Spring, TX 77375
832-761-9000