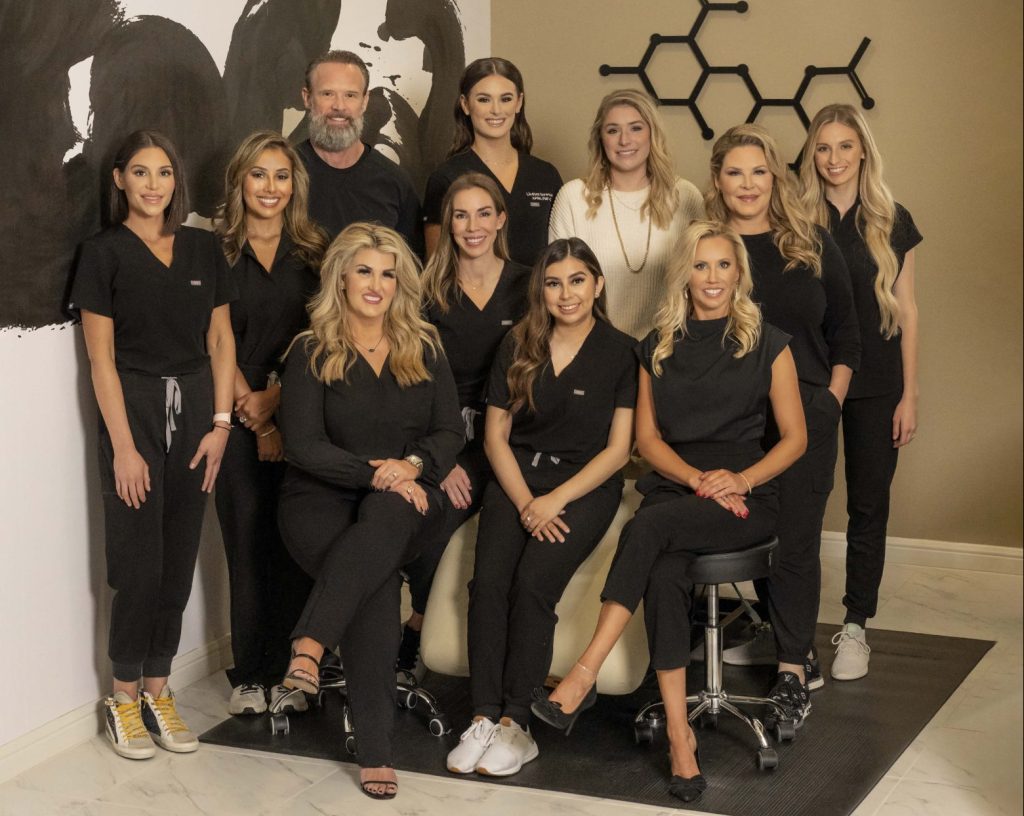 By
Meredith Knight
---
It would take a lot to motivate someone to travel from Ireland to Texas to remain loyal to their favorite med spa. But that's exactly what one client does to be treated by Sonya Ellis and the experienced staff at the award-winning the L.A.B. med spa in Southlake. There are other L.A.B. patients who travel from around the state, around the country, and, yes, around the world to obtain medical-grade aesthetic services that are completely customized to them, their needs, and their preferences. The name L.A.B. med spa was derived from "Lasers, Aesthetics, and Biologics," and it's at the core of everything they offer.
Owner, Operator, Aesthetic Alchemist, and Registered Nurse Sonya Ellis began her nursing career in plastic surgery recovery more than 20 years ago. But when she administered her first cosmetic injectables in 2006, it was an "aha" moment for her. As she began seeing the difference injectables could make for her client, a new passion was sparked within her. Over the years, as Sonya worked in plastic surgery offices and premier med spas perfecting the art and science of medical aesthetics, she found she loved interacting with patients and impacting their quality of life. But for her there was one problem. The business models under which she worked didn't allow her the time she wanted with each patient.
She envisioned being able to slow down and listen to her patients' goals, giving them the attention they deserved, then partnering with them to tailor medical-grade treatment plans that were customized to their exact anatomy, lifestyle, and goals, to be able to treat them and really get to know them as individuals. Sonya began to formulate a plan to build a better med spa, one that puts patients first.
That was the genesis of the L.A.B. med spa, where not only can Sonya offer her patients those customized treatment plans but she's able to invest in the lives of younger aesthetic alchemists, hand selecting only the most dedicated then mentoring them in not only how to inject but why they inject the way they do.
"There are a million tiny decisions that go into a single injection," Sonya said. "The key to finding success in aesthetics and skin care is to really know your craft and to understand those decisions. I've been blessed to hire other providers with the same passion for continuing education and lifelong learning that I have, who understand it's all about the patient, who they are as a person, what's going to work best for them, and how we can keep them safe."
Aging is a beautiful thing. As the years pass, we grow wiser and have experiences and relationships that enrich our lives. But that doesn't mean we want the years to show with visible wrinkles or drooping cheeks. "We want to help you control the way you age," Sonya said. "We want to enhance or diminish features based on the way you feel they look on you. We want to help you mature but still maintain the collagen that keeps you fresh and youthful looking. It's about making choices for yourself and your life, deciding what works for you, and fixing what doesn't."
Sonya and her team at the L.A.B. med spa understand that each patient is unique. They want to help men and women regain control over the way they're aging. And they want to do it in a way that respects each patient, what's best for their health, their lifestyle, and their overall happiness. "We want to give you back that full lip, define your jawline, restore your hairline, diminish your under-eye bags, whatever else you want," Sonya said. "It's not about hiding yourself behind injectables and lasers. It's about making choices that best impact your health, your confidence, and your heart."
When a patient visits the L.A.B. med spa, whether it's for a custom facial, injectables, fillers, bio-identical hormones, weight management, or any other of their many services (see sidebar), they can be sure they're being treated by someone with hundreds of hours of training. "That commitment to training really sets us apart," Sonya said. "We work to master whatever we're doing. Every one of our providers is someone I would trust with my own face and body."
In fact, many of them are training others in their field. the L.A.B. med spa is also a training facility providing continuing education and advancement for many of the products they use or inject to new and intermediate injectors and aestheticians. As one of only two practitioners in Texas certified not just in aesthetics but also plastic surgery, Sonya has married the best elements of lasers, aesthetics, and biologics and uncompromising customer service to give you the state-of-the-art services you want and deserve, and she's training those coming up behind her to do the same.
"I have a passion for cultivating the next generation of cosmetic injectors so they not only understand how/why/where to inject but can do it with artistic integrity," Sonya said. "There is art and science in exactly what we should do, where, and how much for each unique patient. None of us will ever be done learning everything there is to know. The science is constantly advancing, and each patient is unique."
the L.A.B. med spa is located just off East State Highway 114 in Southlake. The beautiful brick building welcomes you into a gorgeous two-story entryway where you'll be greeted by a friendly front office staff and escorted into their glam-minimalist-style spa. Every element beyond has been designed with your comfort, safety, and preferences in mind. Find out more at theLabmedspa.com.
the L.A.B. med spa offers state-of-the-art services to men, women, and teens, including:
Neurotoxin (Botox)

Dermal fillers

PDO threading

Laser resurfacing

Custom facials and peels

Weight loss

Laser hair reduction

Bio-identical hormones

He shots and she shots

Skin tightening

IV therapy

And so much more!
---
CONTACT
1910 E. State Highway 114
Southlake, Texas 76092
(817) 251-1000
theLabmedspa.com