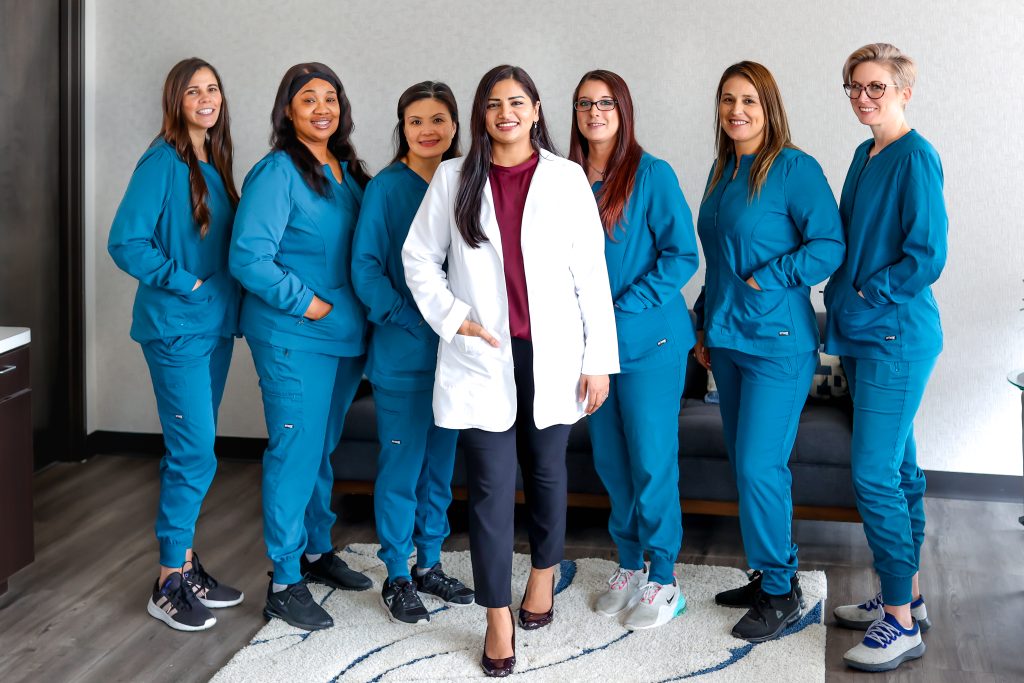 Photo by
Melissa Crown Photography
---
Starlite Dental is North Texas' leading provider for a "no anxiety" spa-like dental experience. Led by Dr. Nidhi Jaiswal, the staff is committed to patient comfort and delivering the highest quality, most precise, and quickest dental care available.
"At our office," said Dr. Jaiswal, "the phrase 'no anxiety' means more than simple sedation. We minimize triggers by offering an abundance of relaxation options. When you leave our office, both your teeth and your entire body feel completely refreshed and renewed."
With a beverage bar, scented candles, aromatherapy diffusers exuding essential oils, blankets, pillow, and noise-cancelling headphones, even the most nervous patient will quickly feel at ease.
Patients at Starlite Dental benefit from the most advanced technology available. An intraoral camera allows you to see exactly what your dentist or hygienist is doing in real time, making appointments truly interactive. This tool also makes it easier to catch minor problems before they become big ones. The use of digital X-rays creates images of your teeth faster, don't require toxic chemicals, and reduce radiation exposure by 80%. The CT/cone scanner provides a 3D image of your entire mouth which enables more personalized treatment for procedures such as root canals or dental implant placement.
"Our office is widely recognized for our work in cosmetic dentistry," said Dr. Jaiswal. "Many people who have noticeable stains, chips, cracks, or gaps in their smile become self-conscious. We have a variety of ways to restore any patient's beautiful smile and boost their confidence in just a few simple appointments."
Patients can opt for custom-made porcelain veneers that are fitted to the front of the teeth. Veneers can provide a minor touch-up or a complete smile makeover and require only two appointments. Filtek™ metal-free restorations are great options for front teeth repairs because these crowns, inlays, and onlays are strong and durable and look exactly like real enamel. Direct bonding is perfect for those looking for a fast and affordable solution. This process is quick (an hour or less) and lasts for up to 10 years. Some people only need teeth whitening, which is available in two ways at Starlite Dental:custom-made trays or premeasured, pre-molded trays. Invisalign clear aligners are another choice for improving your smile.
"If you aren't sure about a cosmetic dental procedure," said Dr. Jaiswal, "we use Virtual Smile Design, a tool that allows patients to see what their teeth will look like after treatment."
Recently Dr. Jaiswal was awarded the designation of Fellow of the International Congress of Oral Implantologists, a distinction held by less than 5% of dental professionals nationally. She earned this award based on her efforts in education, research, and actual clinical experience.
Other conveniences that Starlite Dental patients enjoy are the ease of paperless online scheduling, along with constant access to your provider. Because Starlite Dental doesn't rely on a call center, when you call, a real person answers giving you direct access to a staff member you recognize. Financing options and a savings plan for those with no dental insurance are also available.
---
CONTACT
5100 West Eldorado Parkway
Suite 103
McKinney, Texas 75070
(214) 833-7248
StarliteDental.com