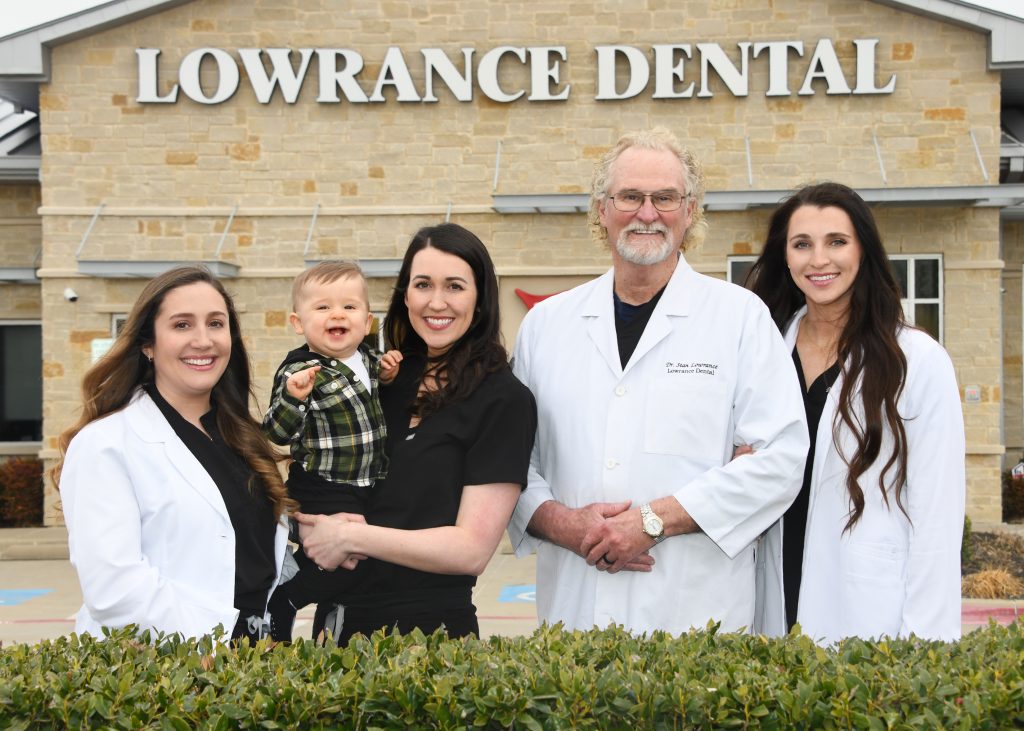 By
Steve Gamel
| Photo by
Lake Pointe Photography
---
Dr. Stan Lowrance has provided Rockwall residents with high-quality family dental care for so long that he remembers being one of only five dentist offices for a community of 4,000 people. That was 41 years ago, and while other practices came and went, what hasn't changed is Lowrance Dental's legacy and commitment to helping its neighbors make the best choices for their oral health. Dr. Lowrance, alongside his daughter, Dr. Shanae Lowrance, and Dr. Christina Leon, prides himself on doing what's right, being a community steward, and treating everyone like family.
"We spend time with you and treat you like family," Dr. Lowrance said. "I've been raised in that atmosphere because of my father, and it's a good atmosphere. Very few family-owned practices are left. But we keep our practice in the family."
The Right Choices for Patients
Lowrance Dental epitomizes family dentistry. They know everyone, and it's not uncommon to see those same smiling faces at the grocery store or a local restaurant. Dr. Shanae joined the practice in 2019 after earning her DDS from Texas A&M College of Dentistry. Her sister, Chloe, has helped at the front desk. Dr. Leon is a family friend and earned her degree from Texas A&M College of Dentistry. Combined, they offer cleanings, fillings, implants, wisdom tooth extraction, teeth whitening, Invisalign, root canals, ceramic crowns, and customized IV and oral sedation.
A huge part of that is their commitment to continuing education and mission work, which for Dr. Stan never stopped after earning his Doctor of Dental Surgery degree at Baylor College of Dentistry in 1981. Dr. Lowrance furthered his education by completing studies at Midwest Implant Institute of Columbus, Ohio, in 1991, where he received the Presidential Award. He also completed a Fellowship in the Academy of General Dentistry that same year.
"My father would go to Mexico for mission work, and I remember going with him and wanting to follow in his footsteps," Dr. Shanae said. "It feels like family is treating you. I grew up watching my dad do that, and I remember saying, 'I want to do that.'"
Community-Focused
Lowrance Dental is constantly giving back. They offer in-house memberships where patients can pay a monthly fee and receive free or discounted services. Dr. Stan has a heart for veterans and hosts an annual complimentary dental clinic. Now in its sixth year, Dental Day for Veterans Day provides vets with dental exams and treatments at no cost. It's another example of his lifetime of service that spans more than 30 years and even earned him the inaugural Rockwall Hometown Heroes Award in 2020.
"Veterans are special to me for many reasons," Dr. Stan said. "Last year, we saw 90 veterans and brought in over 40 volunteers to help provide services."
At Lowrance Dental, it's all about creating beautiful smiles — from one family to another.
---
CONTACT
1350 Summer Lee Drive
Rockwall, Texas 75032
(972) 771-9036
LowranceDental.com
[email protected]