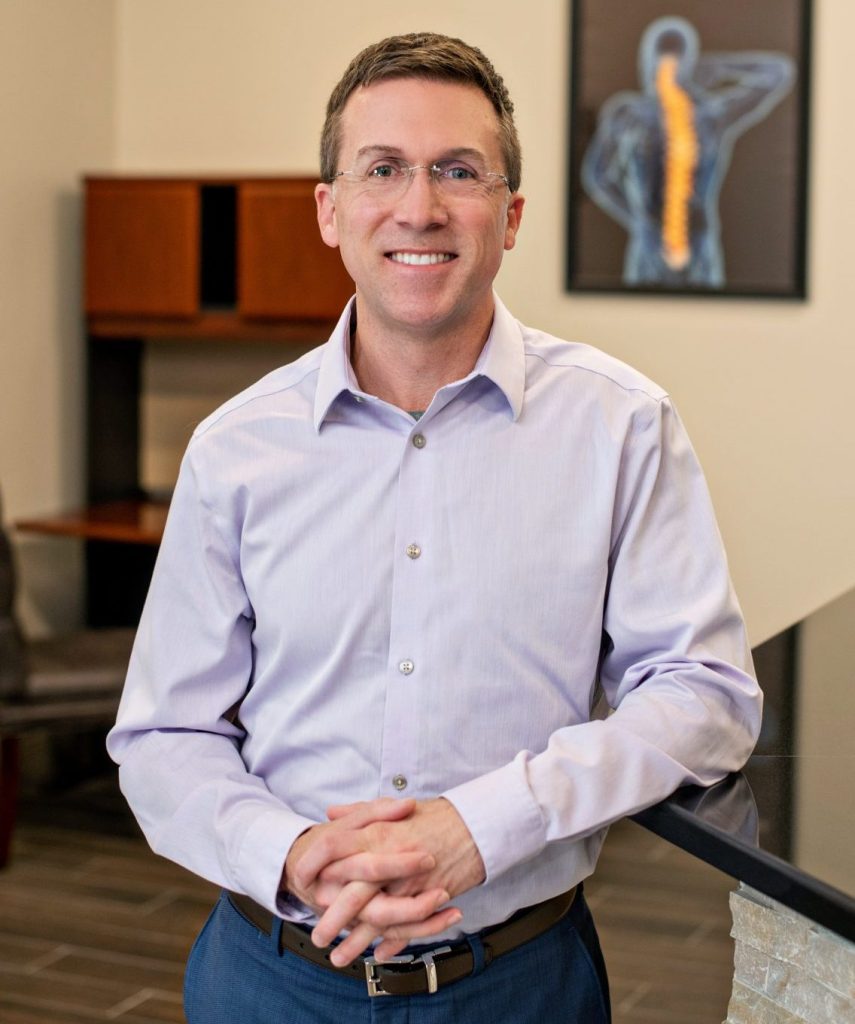 Photo by
Your Candid Memories
---
Dale Leonard started to feel "severe cricks" in his neck as a young personal trainer. Degreed in kinesiology from Sam Houston State University, he threw down the gauntlet to try to fix the issue. He tried massage, hot and cold therapy, and medication. He tried everything he could think of, but the cricks kept coming. That's how chiropractic care became his path: it fixed his pain. To give back even more greatly than he could as a trainer working at the Houstonian, a high-end health club, Dr. Leonard earned his Doctorate in Chiropractic from Parker University in Dallas.
Athletes and fitness enthusiasts turn to the doctor regularly, appreciative of his educational and career background. The doctor describes his undergraduate kinesiology major as related to exercise physiology. But with the experience of a 20-year practice under his belt, Dr. Leonard has news to share: In addition to helping people with neck and back pain, chiropractic care may be the best-kept secret in the treatment of headaches and migraines.
Nerve pressure in the atlas and axis area of the upper neck can create not only persistent headaches and migraines, but also TMJ, vertigo, and dizziness. With treatment, headaches may disappear completely or occur less often. Some patients report a decrease in migraine frequency from two or three incidences per week, to two or three per year. Energy levels often increase as sleep is restored, and the energy spent tolerating pain can be redirected. Dr. Leonard explained how often people minimize their own pain and suffer silently, only revealing their true discomfort on the examination table.
When the primary components triggering headaches or other patient concerns – and there are very many which chiropractic care can address – cannot be affected with chiropractic care or resolve health concerns, Dr. Leonard refers patients to other specialists and doctors. He also co-treats with other medical professionals. That integrity is rooted in his faith, and he describes himself as an active member of The Village Church in Highland Village. But chiropractic care is a conservative approach, he says. It's one he respects and uses as a personal philosophy: Utilize the body's ability to heal musculoskeletal injuries without drugs or surgery first instead of last.
Many patients often arrive after having exhausted medications as ineffective solutions, for example, and are relieved under his care. Dr. Leonard's traditional belief in healing puts exercise, stretching, massage, nutrition, and chiropractic care first to treat these specific injuries in the body.
Children – even infants – can receive chiropractic care, and Dr. Leonard conceptualizes his practice as a family practice working with all ages. New middle-aged patients often stay through their senior years, he said. Outside of his office, Dr. Leonard acts as his own family's chiropractor and receives adjustments from other professionals regularly.
His website outlines expectations for visits to Leonard Family Chiropractic, from consultation to treatment.
---
CONTACT
4441 Long Prairie Road
Suite 300
Flower Mound, Texas 75028
(972) 899-2650
LeonardFamilyChiropractic.com