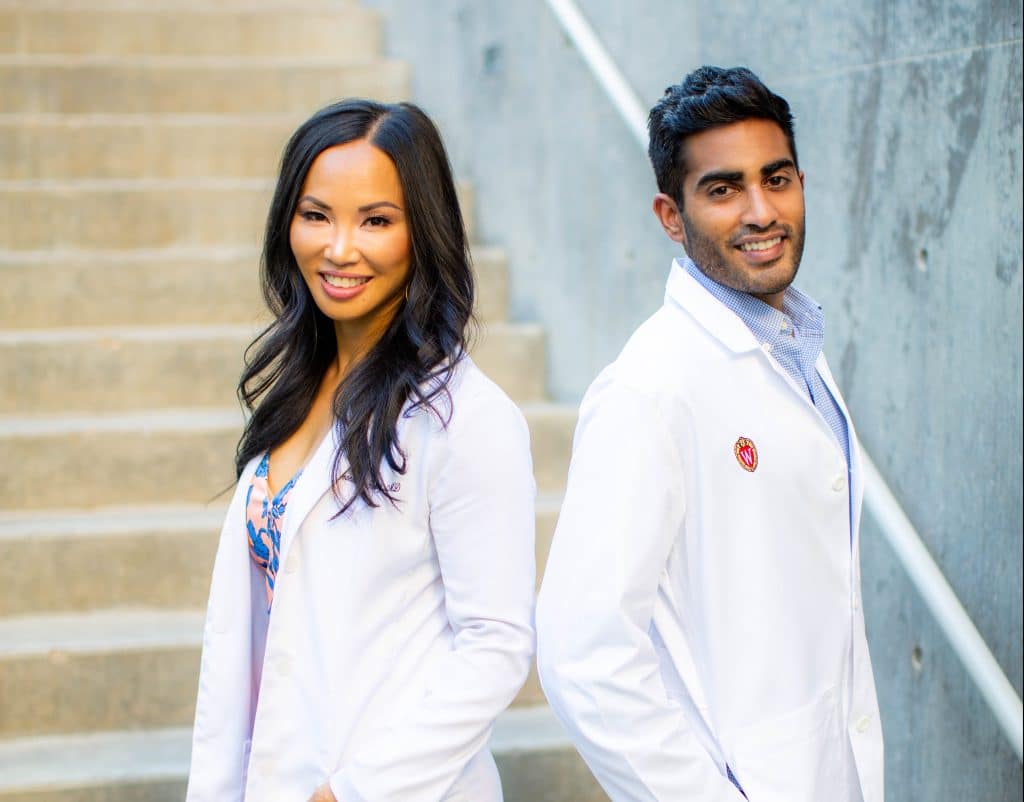 Photo by
Lauren Medean
---
"When your body is healthy and balanced, it shows through healthy, radiant skin," says Dr. Jeannine Hoang, one of Arlington's most successful dermatologists. "My life's work is devoted to preventive, proactive medicine, empowering my patients to care for their skin to prevent disease, cancer and aging."
Dr. Hoang's approach to personalized care grew out of her quest to find long-term solutions to skin problems. That led to other aspects of healthcare, fitness, and nutrition. "I'm passionate about preventive medicine, anti-aging and maintaining health and function."
To stop aging's visible effects, Dr. Hoang specializes in subtle, noninvasive cosmetic treatments and minimally invasive cosmetic enhancements that provide the most natural looking results possible.
Specialties include:
HydraFacial, which cleanses, gently exfoliates, extracts, hydrates, protects and nourishes the skin for instant, long-lasting, visible results. It creates an instantly gratifying glow, restoring vibrant tone and texture.

SpendorX, a laser treatment offering powerful, fast, and permanent hair removal.

The Vampire Facial promotes new collagen growth by combining micro-needling and PRP sourced from the patient's blood supply. This is a non-surgical restoration technique that improves skin tone and texture with virtually no downtime.

NovaThreads is an FDA-approved injectable treatment that can be performed over a lunch hour and can lift, tighten, and define facial contours.

Emscuplt®, the world's only non-surgical, noninvasive treatment that simultaneously sculpts muscle and reduces fat for both men and women. This treatment uses electromagnetic technology to strengthen and tone muscle groups, including abs, arms, calves, thighs, and buttocks.

Forever Young BBL, an innovative technology that uniquely delivers light therapy, targets signs of aging and sun damage such as age spots, freckles, redness, small vessels, and acne.

Forever Clear BBL is a proprietary, broad-band light procedure for addressing symptoms of acne (active or teenage). It uses blue light (420 nm) to target bacteria and then yellow light to address post-acne redness. The result is clear skin without the harsh side effects of medications or creams.

Plus, other lasers to treat skin concerns such as redness, photo damage, stretch marks, hair restoration, acne, and more. Visit unitedderm.com to learn more.
MOHS Surgery
In 2020, Dr. Ashish Arshanapalli joined the team, bringing remarkable expertise. Dr. Arshanapalli graduated at the top of his class at the Indiana University School of Medicine and completed his residency in Dermatology at Loyola University Medical Center, where he served as the chief resident.
He completed a Mohs micrographic surgery fellowship at the University of Wisconsin – the birthplace of Mohs surgery, considered the most effective technique for treating many basal cell and squamous cell carcinomas, the two most common skin cancers.
While Dr. Arshanapalli's primary focus is skin cancer surgery and reconstruction, he also enjoys general dermatology and cosmetics. Dr. Arshanapalli has recently initiated a budding partnership with UDA and SmartGraft, a new hair restoration solution. Dr. Arshanapalli is ecstatic to showcase this service at UDA, which will help patients experiencing hair loss not only on the scalp but throughout the entire body.
About Dr. Hoang
Jeannine Hoang graduated summa cum laude from the University of Texas at Austin and earned her MD at Baylor College of Medicine. She completed an internship in internal medicine at Presbyterian Hospital of Dallas and a residency in dermatology at the University of Louisville in Kentucky. She opened her first office in Mansfield, she soon opened additional locations across DFW to meet growing demand. Dr. Hoang and her talented staff offer a full menu of medical and cosmetic services.
---
CONTACT
130 Regency Parkway
Mansfield, Texas 76063
(817) 539-0959
723 North Fielder Road, Suite C
Arlington, Texas 76012
(817) 261-1122
3132 Matlock Road, Suite 307
Arlington, Texas 76015
(817) 468-3131
780 NE Alsbury, Suite B
Burleson, Texas 76028
(817) 529-1753
4335 Windsor Centre Trail, Ste 110
Flower Mound, Texas 75028
(469) 635-5990