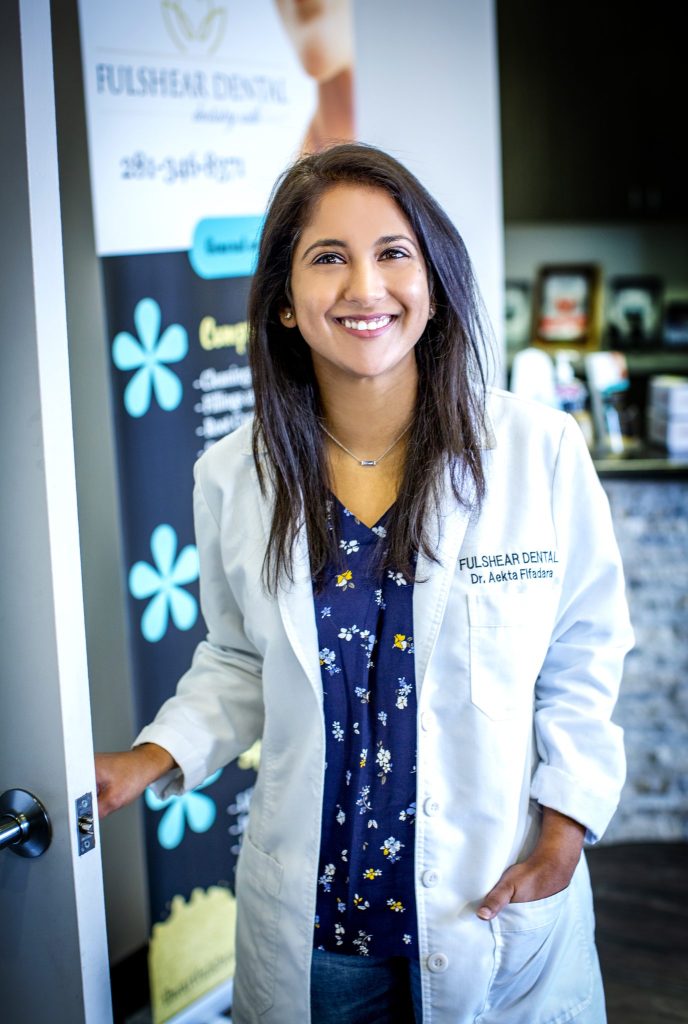 By
Melissa Gautier
---
Not only are patients at Fulshear Dental smiling, but so is Dr. Fifadara and her amazing staff. Making people feel comfortable, relaxed, and welcome is a key focus of her practice at Fulshear Dental. Her approachable and friendly chairside manner makes treatment a pleasant experience for all. Connecting with patients on a personal level is one of her unique qualities. "I like to develop trusting relationships with anxious patients especially, so they can learn to relax and feel comfortable," she said.
Dr. Fifadara opened Fulshear Dental with a personal passion and mission to provide quality dentistry with heart and compassion to Fulshear and surrounding areas. Using progressive equipment to provide technologically-advanced dentistry, Dr. Fifadara's knowledge and experience in all facets of the field from cosmetic dentistry to oral surgery, allowing her to offer exceptional, comprehensive dental care for the entire family. Her philosophy truly is dentistry from the heart.
She earned her undergraduate and graduate degrees at Tufts University and Tufts University Dental School, respectively, followed by a residency at Queens Hospital. After more than nine years as an associate dentist, Dr. Fifadara now owns her private practice.
Open-hearted Approach to Dentistry
She performs dentistry with compassion and heart. Her amazing team works to ensure patients receive the quality, professional care Fulshear Dental is known for. Her staff is comprised of local residents, meaning patients are greeted with a friendly, familiar face and a warm smile, making everyone feel relaxed and at ease. Fulshear Dental firmly believes in treating all patients with the same care and understanding as those closest to them. By providing an openhearted, approachable environment, Dr. Fifadara and her staff help them achieve optimum oral health goals.
Lumineers, Invisalign and Dental Implants
Lumineers, Invisalign, and dental implants are procedures she regularly performs, resulting in beautiful, functioning, and healthy smiles. She trained with a leading dentist specializing in the technique and has performed more than 100 Lumineers procedures. Crooked or discolored teeth can be addressed and corrected easily as opposed to veneers that involve cutting the tooth's structure. The thin, porcelain layer of Lumineers offers an alternative to traditional braces, as does Invisalign's clear appliance, offering teeth movement without the interference of metal. For those missing teeth or needing them replaced, dental implants afford flexibility, as they function and are treated like natural teeth.
Dr. Fifadara and her husband have two children. She remains actively involved in her community, encouraging future generations to know the importance of good oral health. For fun and relaxation, she enjoys painting with acrylics and photography. Lured by the city's character and small-town atmosphere, she has loved the community since the moment she arrived and is always excited to capture its charm through the lens of her camera.
Extended appointment hours including Saturdays are available.
---
CONTACT
7619 Tiki Drive
Suite A
Fulshear, Texas 77441
(281) 346-8371
IHeartFulshearDental.com