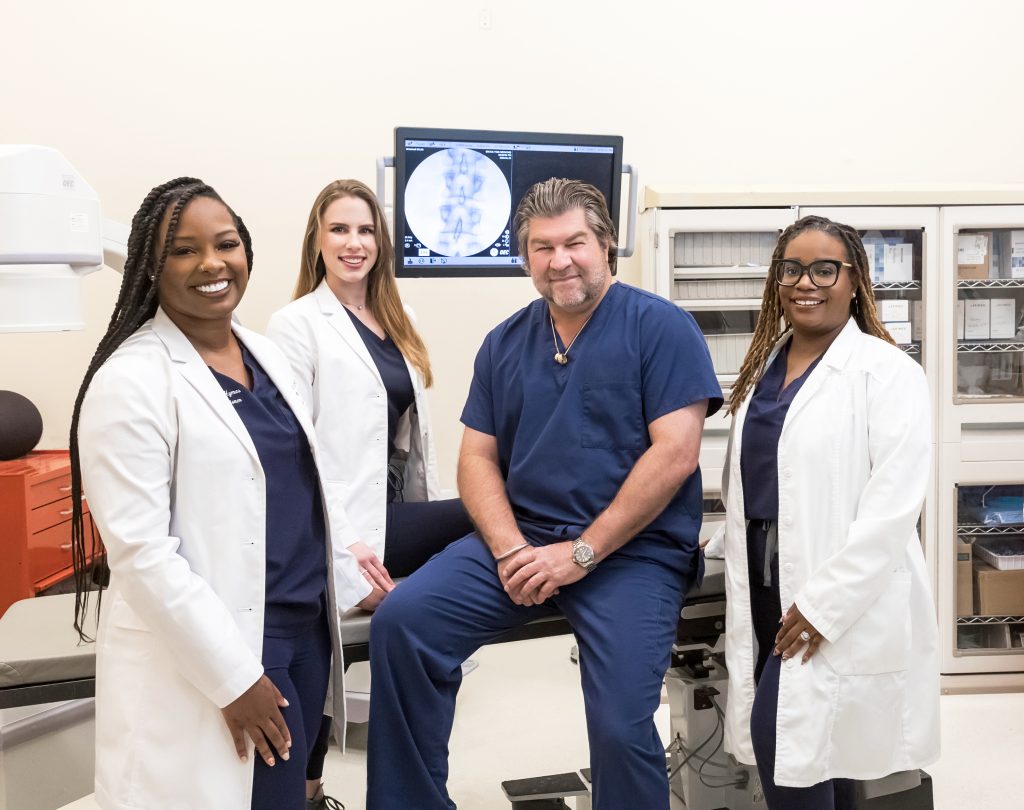 Photos by
Lee Ann Baker/LABphotography
---
Dr. Lee Brock has been blessed with a legacy of longevity. In fact, his great-great-grandfather, Isaac Brock, was once the oldest person in the world at age 122. "So, at 63, I'm approaching my midlife crisis," he jokes. The question for him — and for all of us — is what good is a long life if we spend it in pain or with limited function. It's one of the reasons he chose a career in pain medicine.
"Pain is a great disabler in America," Dr. Brock said. "I'm very much interested in relieving people of pain, restoring their function, and returning their quality of life. After 31 years in McKinney and Allen I am extending interest to Plano, Frisco, and Prosper."
Often by the time a patient finds their way to Brock Pain Medicine, they've spent years in pain and frustration. They've consulted their primary care doctor, chiropractors, and other specialists. They've tried home remedies and acupuncture and still acute or chronic pain is a part of their
daily reality.
"They're depressed and have lost all hope of finding relief," Dr. Brock said. "That's what I want to offer them — hope. I often tell patients, 'I'm not going to make you 18 again, but I'm going to make you better than you are.' We can't always eradicate the pain completely, but we can make you more functional with less pain. Jesus said, 'I have come that you may have life and have it more abundantly.' (John 10:10) We aspire to help our patients have their most abundant life by addressing their physical and spiritual needs.
"Most of us don't realize how chronic or acute pain can affect every aspect of your life," Dr. Brock said. "You're a healthy person. You eat right. You stay active. Suddenly, you develop lower back pain and can't do the things you could. You can't exercise, so you decondition in a downward spiral. Unremitting pain can color your life, your personality, your relationships, your prospects, your work, your private life, and it's not long before depression and hopelessness set in."
Chronic or acute pain can include:
Headache

Neck pain

Back pain

Coccydynia

Complex regional pain syndrome

Arthritic and post-traumatic joint pain

Failed back surgery syndrome

Post-herpetic neuralgia

Peripheral neuropathy

And more
For Dr. Brock, patient education is pivotal. "We begin with each patient assessing their condition," he said. "We find out about their medical history and lifestyle, and then we create a custom pain management plan that's unique to them. The more they understand about that plan, the more they can be an active participant in feeling better." For instance, weight loss can be a necessary step in the overall plan. Dr Brock explains to his patients that for every 10 pounds of excess weight you carry, you're stressing your back 100 pounds. But the good news is that for every 10 pounds you can lose you're relieving your back 100 pounds.
With over 30 years practicing pain management and anesthesia in Collin County, Dr. Brock has learned the importance of having the right practitioners on his team. He's hand selected nurse practitioners, physician assistants, and medical assistants to work alongside him at Brock Pain Medicine. "I've been blessed with a phenomenal team who share my passion for providing hope and restoring quality of life," he said. "I couldn't do what I do without my office staff, medical assistants, and physician-extenders. My lovely and talented physician extenders are Amanda Steele, PA, Brittany Moore-Hymes, NP, and Ebby Simmons, NP."
That dynamic team focuses on educating each patient on the most effective ways to take care of their own body, so that you can heal quickly. Custom pain management plans include pharmacological as well as non-pharmacological care such as:
Epidural steroid injections

Facet injections

Intra-articular joint injections

Selective nerve-root blocks

Sympathetic-nerve blocks

Platelet-rich plasma (PRP) injections

Botox injections for headache and spasticity

Physical therapy

Radiofrequency nerve ablations

Spinal cord stimulation
Dr. Brock and his staff continually partake in training in the newest, cutting-edge modalities focused on regenerative medicine. "These modalities are very promising, and we're committed to adapting to the latest and greatest emerging pain-relief modalities as they come along," Dr. Brock said.
Dr. Brock has enjoyed a long, collaborative relationship with noted neurosurgeon, Dr. Luis Mignucci, at Windhaven Surgery Center in Plano, where he performs procedures on Wednesdays. "We don't just want to treat your existing conditions," Dr. Brock said. "We want to work to maximize your prevention strategies, help you improve your quality of life, achieve your wellness goals, and support your best possible life." This passion hasn't gone unnoticed. Grateful patients have taken to the internet to post five-star reviews of Brock Pain Medicine. Dr. Brock has been named Best Pain Doctor in Collin County by D Magazine and has been voted by Living readers as Best Pain Doctor in McKinney/Allen nine of the last 10 years.
New Med Spa
Dr. Brock and his team are happy to announce the opening of L Med Spa in his West McKinney office, conveniently accessible from McKinney, Allen, Plano, and Frisco. Under the supervision of Dr. Brock, trained and experienced aestheticians offer procedures to bring out your best, most natural qualities. "We don't want to make you into someone else but enable you to be the best YOU you can be," he said. (See sidebar for details)
"Overall, our focus is on treating the individual with compassion and professionalism, sharing with them the love of Christ, and treating their infirmities that they may be more pain-free and more functional," he said. "As I tell my patients, 'I can't make you brand new. Only Jesus can do that. But I can make you better than you are now.'"
At their new L Med Spa, Dr. Brock and his experienced team of aesthetic technicians offer:
Hydro-facial treatments

Dermaplaning

Cosmetic Botox injections

Hair restoration with (PRP) therapy

Weight-loss therapy

Body contouring featuring the Inmode Evolve

Allergy testing and treatment

IV hydration and vitamin therapy
Find out more at L-Medspa.com or call (469) 742-9950 to schedule your appointment to become the best YOU you can be.
---
CONTACT
5425 West Spring Creek Parkway,
Suite 133
Plano, Texas 75024
8000 Eldorado Parkway
Building C, Suite A
McKinney, Texas 75070
(469) 742-9950
BrockPMA.com
L-Medspa.com