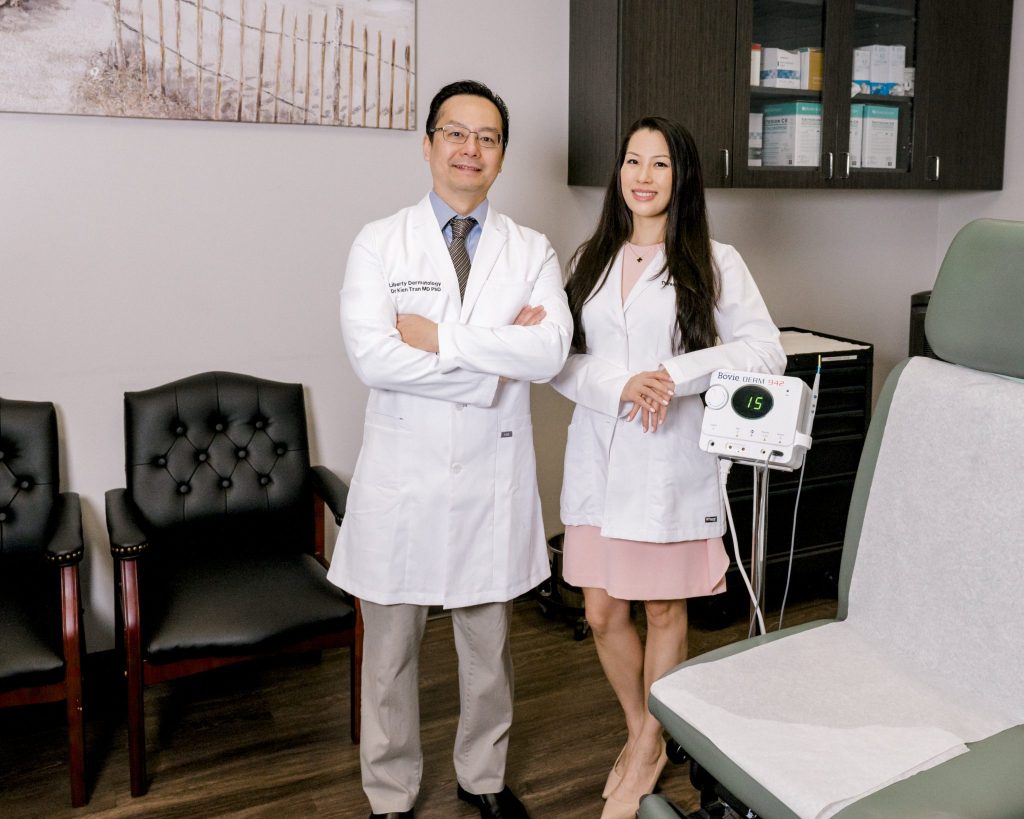 By
Melissa Gautier
| Photo by
Dallas McNeal Photography
---
Since 2013, Liberty Dermatology has continued to be exceptional in the field of dermatology. Led by Dr. Kien Tran along with Dr. Theresa Vo, the practice sees patients of all ages from infants to the elderly. Their main focus is medical dermatology and surgical dermatology, including skin cancer diagnosis, psoriasis, skin rashes, acne, and the surgical removal of skin cancer and other benign cysts and tumors.
Dr. Tran is not only a dermatologist, but a skin pathologist. Being both a skin pathologist and dermatologist, he shares his exclusive knowledge with patients, offering a unique perspective on cutaneous diseases. He performs skin biopsies of rashes and suspicious lesions to be evaluated under a microscope. Additionally, his extensive research on wound healing adds a valuable element to his medical focus. Dr. Tran received his medical training at the University of Pittsburgh School of Medicine and his specialty training at UT Southwestern Medical Center.
Dr. Vo hails from New Orleans, Louisiana. She earned her undergraduate degree in biochemistry from Wellesley College, but the charm of Southern hospitality lured her to Texas, where she enrolled in medical school at UT Southwestern Medical Center in Dallas. Her residency was completed at the Dell Seton Medical Center in Austin, with additional training completed in San Antonio. Dr. Vo has been practicing dermatology along with Dr. Tran since 2017. As a unified team, they work together to ensure patients' care and treatment are a top priority.
Sunburns and Tans
Liberty Dermatology aims to raise awareness of skin cancer prevention and the consequences that follow when precautions are not taken. "I want to encourage people to embrace their natural skin color without a tan," Dr. Vo said, confirming the importance of sun protection. "Cumulative sun damage causes wrinkles and skin cancers that may need multiple procedures later in life to correct." Dr. Vo encourages using spray tans and tanning lotions to produce the bronzed look one may want without permanently damaging the skin.
Phototherapy
Skin conditions including rashes, psoriasis, and eczema are of special interest to Dr. Tran. To treat these disorders, he uses phototherapy with a light box. A specific wavelength of light is targeted at affected areas, facilitating quicker recovery and relief to those suffering from these conditions.
The Story Behind the Practice's Meaningful Name
As a child in 1980, Dr. Tran and his family escaped from communist Vietnam to begin a life in the United States. As a refugee of the Vietnam War, Dr. Tran feels incredibly privileged and thankful to be living in America today, enjoying the freedom it brings. "The practice is named to reflect this heritage," he said gratefully, referring to Liberty.
Dr. Tran and Liberty Dermatology has been voted Best Dermatologist in Rowlett and Rockwall by the readers of Living Magazine consecutively from 2013 to 2022.
General dermatology

Medical dermatology

Atypical mole

Pediatric dermatology

Skin cancers

Skin biopsies and surgery

Dermatitis and rashes

Acne

Phototherapy

Skin rejuvenation

Cosmetic dermatology
---
CONTACT
7105 Lakeview Parkway
Rowlett, Texas 75088
(972) 475-5300
LibertyDermatology.com