Courtesy: Food & Wine Time Productions
---
Paying homage to the theme Wine + Food = Art, guests can expect to indulge all their senses, including a range of experiential art installations, meet and greet with award-winning and emerging artists, and much more.
Wine & Food Week is truly foodie heaven, all the while supporting charitable organizations such as The Woodlands Arts Council and New Danville, to name a few. Don't delay — event information and tickets at WineAndFoodWeek.com.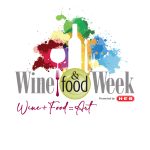 The Curated Event Lineup
WEDNESDAY, JUNE 7
Wine Around the World Wednesday
The Woodlands Waterway Marriott | 6 to 9 PM | $55

Get ready to travel around the world. No passport required. Just bring along your tastebuds and a friend for this international wine-tasting experience.
THURSDAY, JUNE 8
Rosé Way, A Sweet Soiree
The Peach Orchard Venue | 6 – 9 PM | $75
Reserved Fashion Show Seat: $125
Step into your pink mode and enjoy Rosé Way, a Sweet Soiree. Rosé, sparkling, and trending sweet wines will flow as guests enjoy getting their style on with a fashion show by Market Street, hairstylists, make-up, music, door prizes, and more.
FRIDAY, JUNE 9
Ladies of the Vine Tasting, Luncheon & Panel Discussion
The Club at Carlton Woods | 11:30 AM – 3 PM | $135

The moderator leads a panel of women winemakers, owners & experts, guiding guests behind the bottle. Intimate experience with tasting stations followed by a multi-course wine meal.
Sips, Suds, & Savor
The Woodlands Waterway Marriott | 6 – 9 PM | $45

Casual and fun Friday night out with great grub, live music, wine, beer, craft spirits, and did we mention fun? A real value for this all-inclusive immersive experience!
SATURDAY, JUNE 10
Wine Rendezvous Grand Tasting & Chef Showcase
The Woodlands Waterway Marriott Ballroom | 7 – 10 PM | $150
You'll enjoy chef demonstrations and culinary offerings from 35 restaurants competing to be the winner of the Chef of Chefs Culinary Awards as voted by an esteemed panel of judges. Featuring hundreds of wines, The Wine Rendezvous Grand Tasting & Chef Showcase allows guests to slip into their finest attire and be in the company of serious wine enthusiasts.
Bayway Cadillac VIP Luxury Lounge
The Woodlands Waterway Marriott Ballroom | 7 – 10 PM | $200
Indulge in luxury with crème de la crème wine selections only available in this posh playground. Rub elbows with Wine & Food Week special guests, celebrities, media, and food judges throughout the evening.