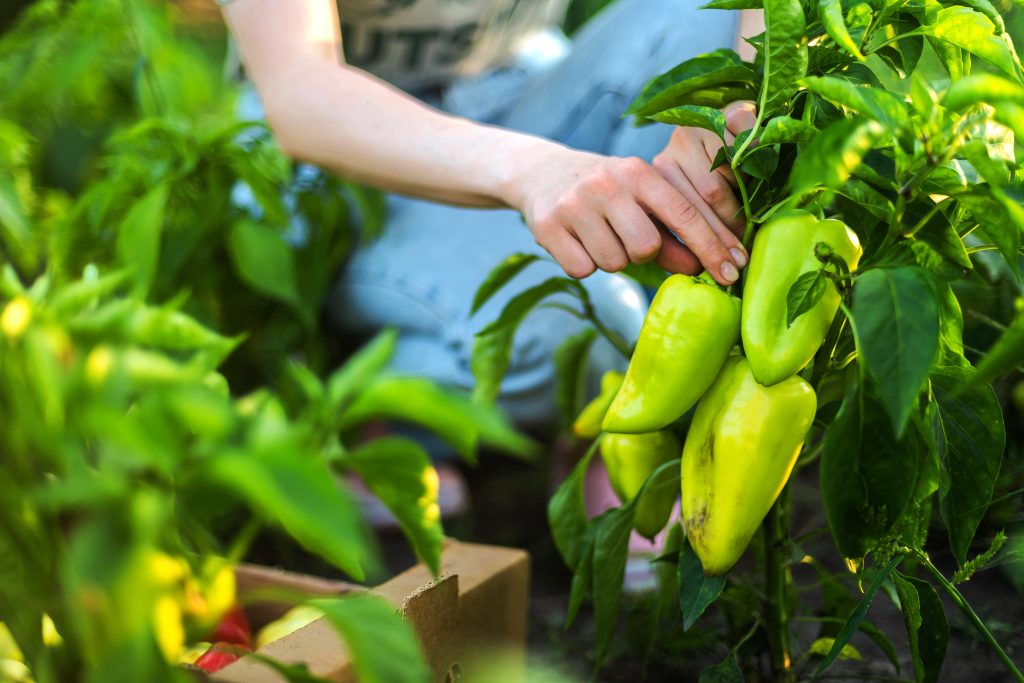 By Sydni Ellis
---
Texas is known for its relentless summer heat, but it has been known to frost and snow on occasion, too. For gardeners, it can seem impossible to know what to grow in these conditions. It must withstand extreme heat and random freezes as well to survive here.
Luckily, plenty of fruits and vegetables grow extremely well in Texas. In fact, in 2021, Texas was listed as the state with the most farms at over 247,000 across the Lone Star State, according to the Texas Field Office of the USDA's National Agricultural Statistics Service. Our main crops include cotton, corn, and feed grains, but plenty of delicious citrus fruits, vineyards, olive and pecan orchards, and more. Here are some foods that grow best in Texas if you want to plant a garden or eat locally grown produce and like knowing what's in season.
Peppers
September is the perfect time to plant peppers in Texas, right before chili season. Red, green, orange, and yellow peppers are a good source of vitamins C and A and minerals, according to the Texas A&M AgriLife Extension. Sweet peppers, like Bell Tower and Gypsy, and hot peppers, like jalapenos and long red cayenne, grow well in warm weather. Plant them about 12 to 16 weeks before the first expected frost.
Corn
According to the Texas Corn Producers, millions of acres of corn are planted and harvested annually in Texas. Usually planted between January and June and taking 120 days to mature, this includes many varieties, such as field corn (used for cornstarch, ethanol, plastics, and more), sweet corn for eating, and white and specialty corn, typically used for corn chips and tortillas, among other things.
Blackberries
Easy to grow, blackberries handle hot weather beautifully and produce good fruit in spring, summer, and fall, making them one of the best fruits to grow in Texas. This sweet berry comes from biennial plants, which are flowering plants that take two years to complete a life cycle.
Grapes
Whether you live in Texas wine country or not, it's evident that grapes are a big crop in the south. According to the Texas Wine & Grape Growers Association, Franciscan priests established the first vineyard in North America in Texas around 1662. So, we've been enjoying delicious grapes and homemade wine for 360 years. According to Austin.Eater.com, most Texas grapes are grown on the Texas High Plains due to the hot summers and cool nights that balance grape acidity.
Pecan
Don't forget pecans grown on the Texas state tree. Millions of pounds of these sweet, soft-shelled nuts are harvested annually, according to the Bullock Museum. They're used for candy, cookies, breads, salads, and, of course, delicious pecan pie.
Try Delicious Local Foods at the State Fair of Texas
Support local farmers and enjoy a delicious bite to eat at the State Fair of Texas at Fair Park in Dallas from Sept. 30 to Oct. 23, 2022. Here are a few culinary delights you can look forward to:
Big Tex Urban Farms: This mobile agriculture system at Fair Park, established in 2016, includes 100 raised planting beds from products usually used for packaging and shipping to provide fresh produce.
Cooking contests: Amateur chefs come together in the Creative Arts building to compete for the best pies, cakes, honey, pasta, and more.
Celebrity Chef Kitchen: Renowned chefs from top-notch restaurants across the state come to the State Fair to prepare dishes, offer helpful tips to a live audience, and give out free samples.
State Fair Wine & Beer Garden: Those ages 21 and up can enjoy a beer or a Texas wine at this shady spot.
Big Tex Choice Awards: Local vendors deep fry unique foods every year to compete in the Big Tex Choice Awards. From deep-fried pancakes to fried Fritos pie, there's something for every taste bud. Remember to grab a couple of Fletcher's corny dogs, too.