The best part of the holidays is being at home with family and friends, enjoying the blessings of another year. It's that time of memory making when recipes are swapped, secrets are shared, and meals are devoured. But before there are any meals or gifts, there is decorating to do! Getting your home ready for big events is an event itself, especially when you share the fun with those who are near and dear.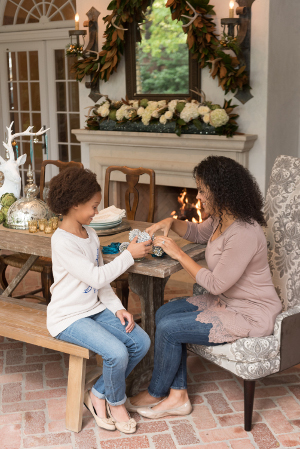 This year we suggest keeping things light, fresh and natural. Perhaps you have an attic full of tinsel and tulle that you've been using to festoon your rooms for years. Pull out your best pieces and then build from there. A color scheme of fresh greens accented with sliver, platinum and aqua feels Christmassy without overpowering spaces with an abundance of bright red and green.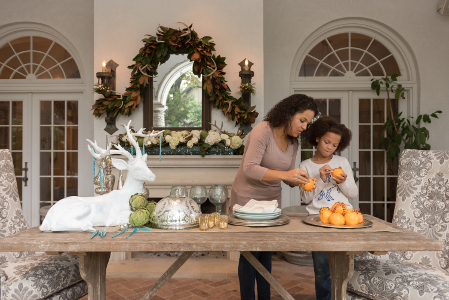 Whimsy has its place at Christmastime and a white reindeer from Wisteria, sporting antlers festooned with ornaments adds plenty. Its size makes it a great option for a mantel too. Wisteria has furniture, décor, and home accessories that will make it easy to add character and ambience to your abode. The elegant warmth of their Cabries table belies it's utility. It's large enough to seat six, but add their Very Simple Bench and squeeze in a few more. For holiday spirit all through the house, let ornaments from your tree spill over to your table and garlands, which is easy to do with Wisteria's bountiful bag of ornaments.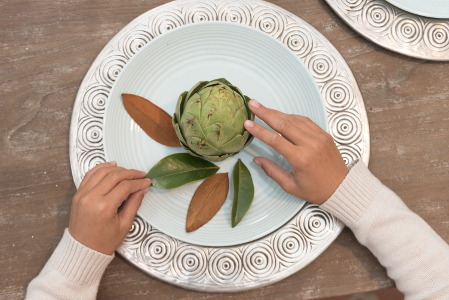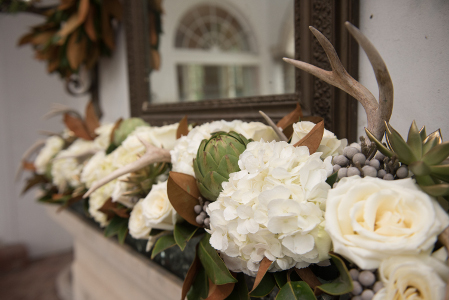 Working the whole spectrum of nature, the experts from Dr. Delphinium—known for gracing the homes with their floral panache for 23 years—used simple magnolia and horns to trim the mirror above the hearth. Then an abundance of luscious hydrangea, roses, artichokes and succulents sleekly lines the mantel. Fresh garlands, depending on the variety you choose, will last through the season. But elaborate floral arrangements should be saved for those special dinners and gatherings.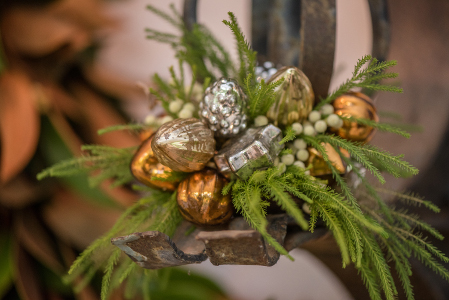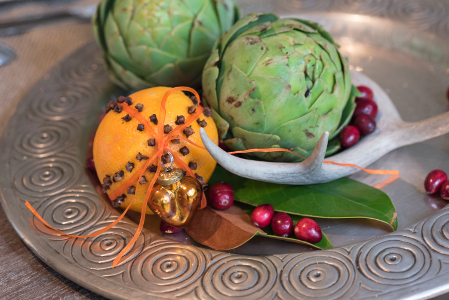 After getting some help from the pros, add your own touches to make your home exactly yours for entertaining. The tried and true elements stay with us: the classic bounty that we associate with holiday time can be the basis of your tablescaping. The evocative scent of cloves in orange, the simple beauty of pinecones and greenery, and a dash of glitter are familiar and close at hand! Get your family members or friends involved, and they too can pass on the spirit of holiday camaraderie.
For this wonderful time of year, make your home the place where smells, sights, sounds and tastes bring the past right into the moment. And when the holidays are over, the abundance of joyful shared memories will remain.
Text and Room Styling By Suzy Pizzo
Photography by Mike Mezeul
Resources:
Wisteria.com
DrDelphinium.com
About the Author:
Suzy Pizzo is a stylist and designer. A simple desire to make things beautiful is what drives her work. Her tools of choice include flowers, paint, fabric, old books and loud music.