Tips and trends to transform your kitchen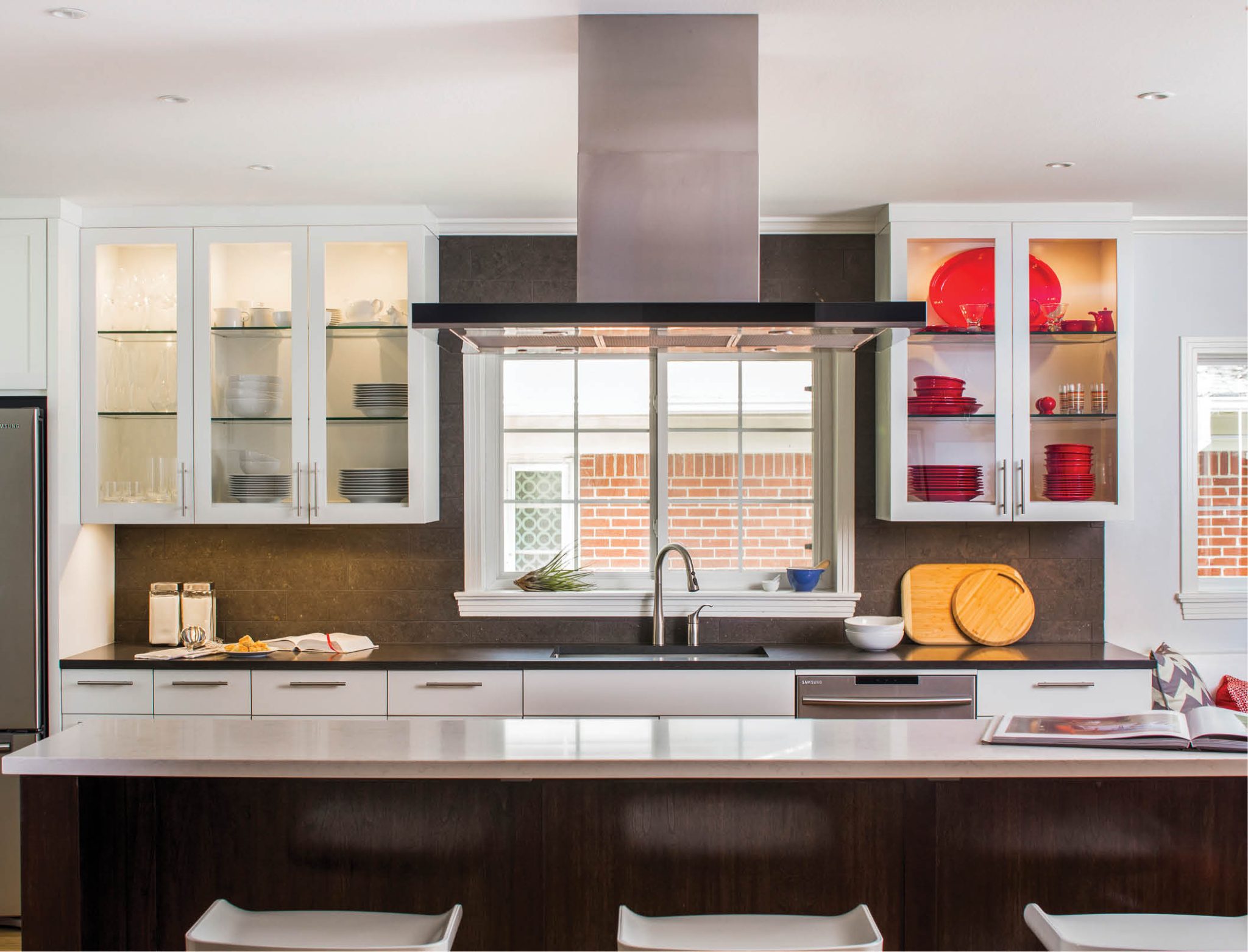 Tired of your outdated kitchen? Try these insider tips on the latest tech and trends to transform your space into the kitchen of your dreams. Make storage more efficient and organized. Save space with newly designed appliances. And while you're at it, freshen up the counters!
Acquire a cleaner look in your kitchen that can last the test of time. Maximize high efficiency. Talk to your kitchen with the latest tools. Find surprises under your cabinets that will make your life easier. If you thought white was out, think again. Matchy-matchy isn't a good thing either. And wet hands don't have to be a problem. Sound too good to be true? Read on.
New cabinetry and appliances are revolutionizing our kitchen spaces with convenience. "Single blind corner cabinets are being replaced by those with shelves that swing out when opened," explains Sam Ferris, Project Manager at Tukasa Creations in Corpus Christi. The units maximize space and make it easier to find what you need.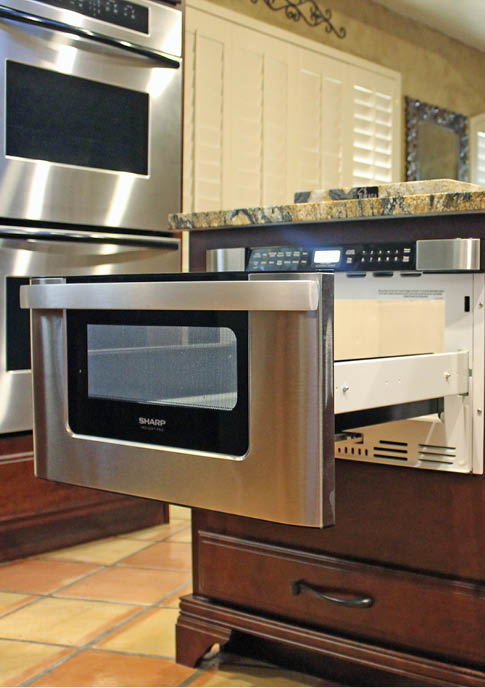 Something else that's new in the kitchen is a steam oven—which is similar to microwaves in that they heat food fast and keep moisture in. "Leftovers taste better, and with French doors the oven opens to the side, taking up less space than a fold down door," says Project Designer Mark Evans, Allied ASID of CG&S Design-Build in Austin.
An ideal way to save counter space is with an under countertop microwave with a full extension soft-close drawer featuring hardware that shuts silently and makes loading and unloading food easier. Guess what else you can find under your countertop? Think under-cabinet vacuums that can clean a mess in seconds. No more sweeping and bending down with a dust pan.
If you're the chef of the house, you may want to consider new options like induction cooking. "The system works by running alternating current electricity through electromagnets. The energy flows into the pan, turning the pan into the heating element. It saves energy because it only heats up the pan to cook food. No energy is lost to the surrounding area as with an open flame," states Evans. "You need to have iron in the pans because electromagnetic energy will flow only into pans containing iron," he adds.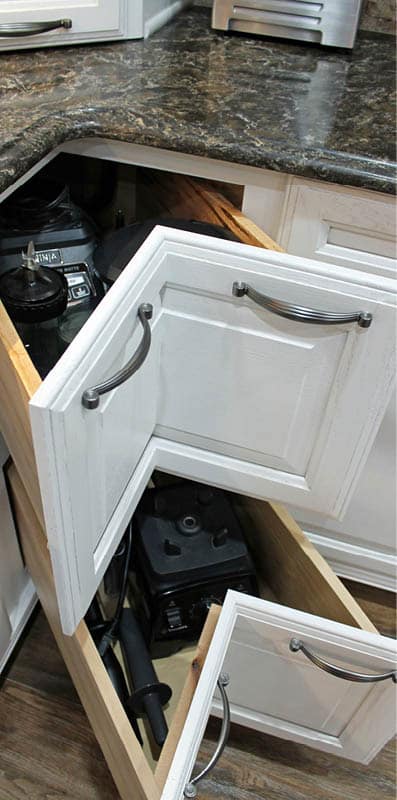 Want to make cooking high tech? Ovens with wireless communication capability can text you that your oven is pre-heated or that your food is done by using a meat thermometer or timer. You can also get messaged if your oven is off or your appliances need maintenance. If you think charging your phone in a kitchen outlet looks unsightly, worry no more. "Hidden charging stations are definitely of the moment. Drawers are a convenient spot to put these chargers so tablets and smart phones are always readily available to call up recipes and don't take up countertop space," explains Ferris.
New refrigerator designs are also adding convenience. You can now get one with a built-in Keurig hot water dispenser along with your cold water and ice options. And just in case you get your hands wet, you may want to consider a non-electric air switch controlled garbage disposal. With the touch of a button, you can turn the disposal on or off.
The first impression your kitchen gives off may likely be from your countertops and cabinets. Quartz is considered by many to be the new standard, with the trendiest color being white. "Quartz is stronger than granite and doesn't need sealing," explains Ferris. "It's durable, low maintenance, and offers clean, minimal styles."
Be adventurous by adding splashes of separate shades to your kitchen by using a different color for your top cabinets than your bottom cabinets, or choosing a different palette on your island. With a little help and some imagination, you can easily make that dream kitchen a reality.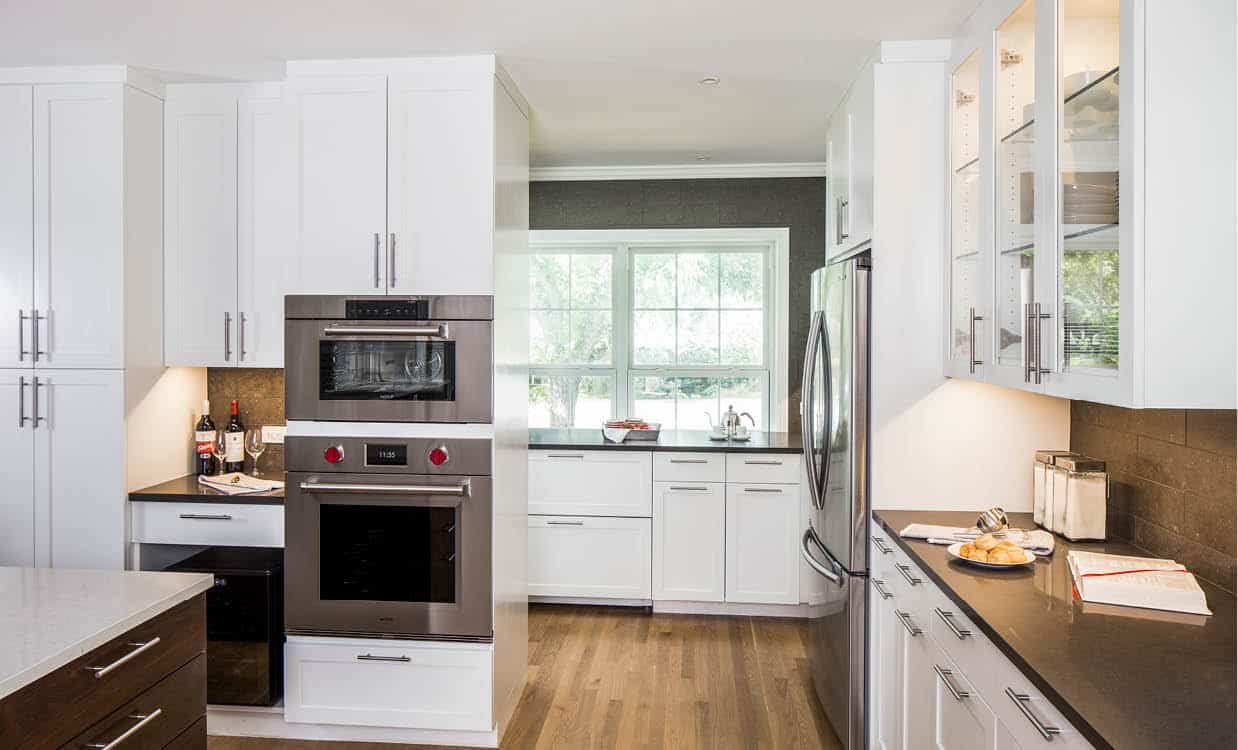 Create the ultimate mood in your cooking extravaganza with lighting. Low-voltage light tape strips illuminate cabinets from above, below, and inside. "We also put in cove lighting using LED strips lights. It's easily dimmable and can create a nice glow on the kitchen ceiling," states Evans. Cove lighting refers to ceiling light which is typically concealed and radiates indirect light for ambiance.
Another top trend is the prep sink. It provides an additional space to your kitchen sink so multiple cooks each have a designated area for rinsing fruits, vegetables, or dishes. It also keeps thirsty kids out of your way when they want a glass of water. If you have the space and budget, it could definitely take the stress out of having too many cooks in the kitchen.
By Perla Sarabia Johnson