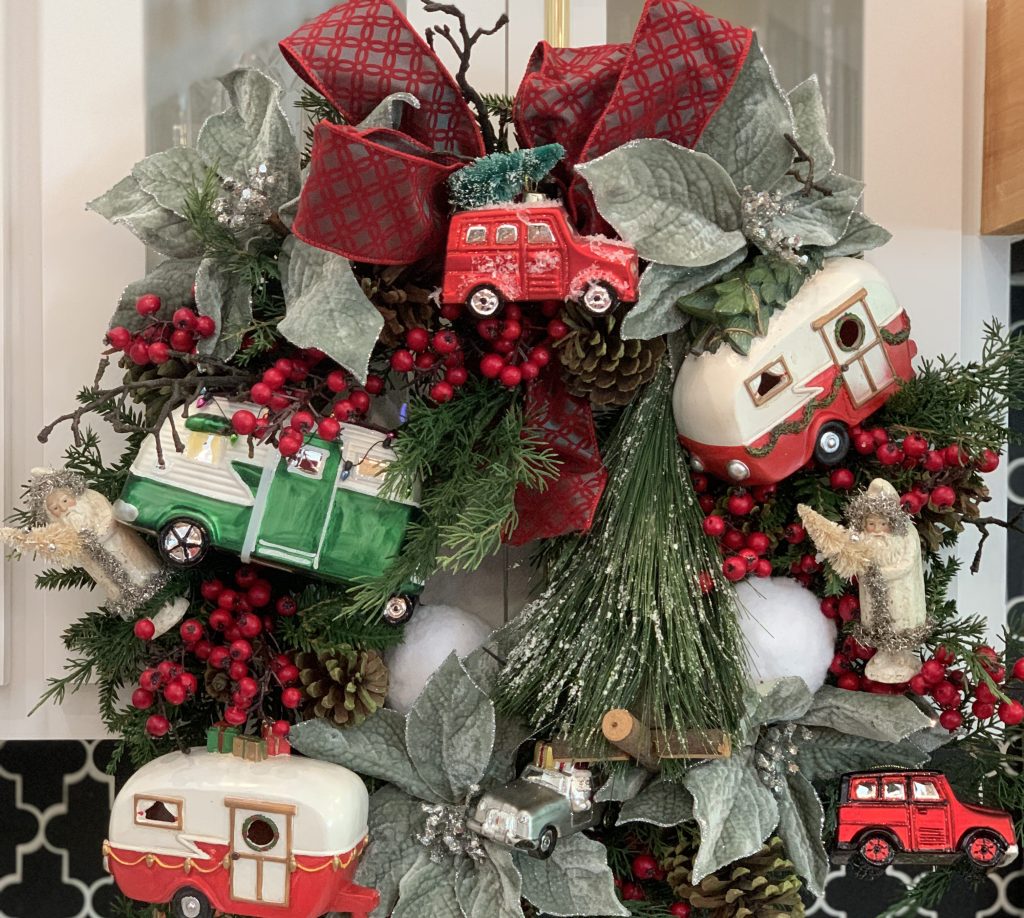 BY COURTNEY WARREN
As the weather turns a little colder, a magical feeling floats in the air. However, even with the changing seasons, some people feel uninspired with their holiday decor, lamenting that they decorate with the same things each year. If you feel like you are reusing items in repeated tired ways, I am here to help. Allow me to walk you through the next few months with some of my favorite ideas that will hopefully inspire you to get out of a holiday decorating rut. Choose one or all to keep things fresh as you host your friends and family this season.
Repurpose Your Pumpkins
Gather dozens of pumpkins and arrange them on the corner of each step of a staircase. Make sure to use a lot of variation in sizes. I like to mix a combination of real and faux to stretch the look and the budget. I incorporated a few bursts of color, but if you prefer simplicity, embrace only the orange.
An entire staircase full of pumpkins will be challenging to walk up, so remember to take this into account when you plan. If you have an extra space outdoors or less frequently used steps, that is ideal.
Use Unconventional Colors
This fall, explore incorporating a few colors outside the standard harvest color palette. I love pairing orange with teal to spice up the table.
This brightly colored runner is a significant departure from typical harvest golds and reds and gives a bright and festive alternative that I leave up for several weeks.
Christmas Collections
If there was EVER a time made for collecting, it is the holidays! Collections bring in a feeling of nostalgia and meaning. I decided one of the best ways to show off my special decor was to make a wreath for each room. Here are two of my favorite unique wreath themes.
In looking through my ornaments, I realized a theme of small trucks and trailers. Gathering these adorable mini vehicles created the perfect opportunity to showcase this theme. I hot glued them on a green wreath and added berries and bows.
When I saw an adorable Martha Stewart wreath, I knew I needed to recreate it. I made the tiny houses, but this would be a simple DIY by purchasing small Christmas houses and hot gluing them around the wreath. I hang mine on the door or above the mantle for a festive touch.
Celebrating does not have to feel the same every year, nor does it need to look the same. Which of the above ideas can you replicate in your home to shake things up?
About the Designer
Courtney Warren is a Rockwall interior designer whose award-winning design work has been featured in numerous national magazines and media and whose clients span the North Texas area.