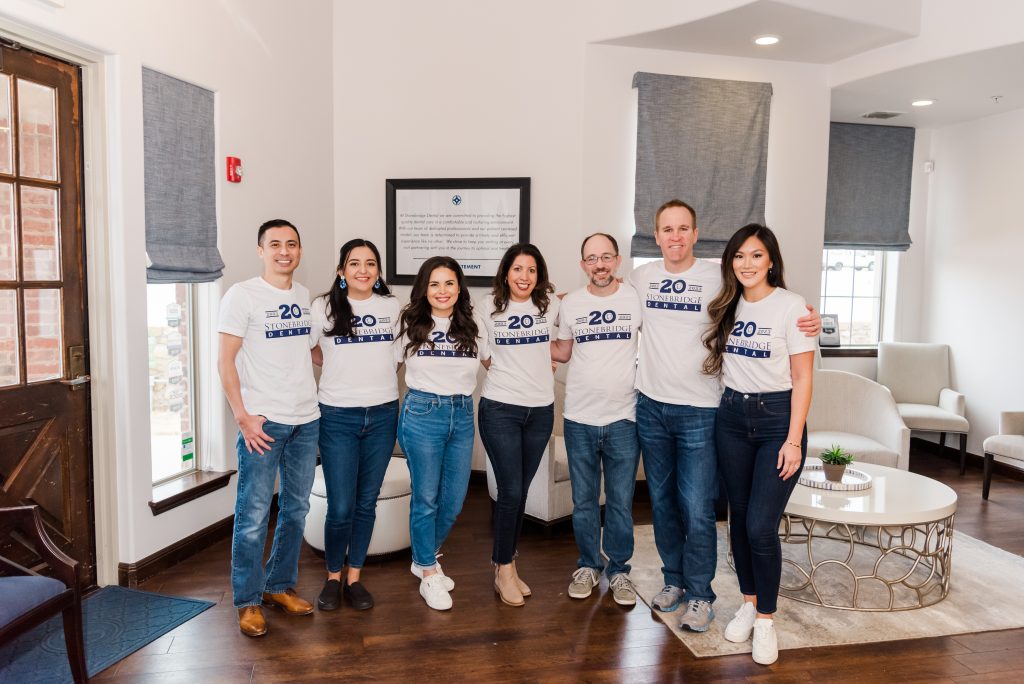 By
Sandy Lowe
| Photo by
The Teal Album
---
It's time to celebrate! Stonebridge Dental and PebblePath Pediatric Dentistry and Orthodontics have been serving McKinney and the surrounding community for 20 years!
Cindy McMann, DDS, cofounder of the practice with Michael Bolten, DDS, says, "It's been an honor to provide dental care for all ages of our community for 20 years. We want to commemorate this milestone by giving back."
The anniversary will include patient incentives plus a festival for patients and the community.
Stonebridge and PebblePath are also partnering with local nonprofits including Teresa's House, Inn Style Resale, and the Community Food Pantry of McKinney. The practice will be reaching out to support teachers in local public schools as well.
Part of the celebration includes recognition for the whole team with an overall wellness program. The staff believes the better shape they are in, the more they have to give to others.
The fresh, new pediatric wing at 6633 Eldorado Parkway, Suite 100, for PebblePath Pediatric Dentistry is designed to engage and care for children with the highest standards in the industry.
Dedicated board certified pediatric dentist Thien Tran, DDS, orthodontist Laurie Parks, DDS, and the stellar team will continue to make it their goal to help the littlest patients feel safe and comfortable during their dental check-ups and procedures.
PebblePath Pediatric Dentistry partners with parents to ensure a calm and relaxed atmosphere. Parents accompany their children, which provides an opportunity to discuss the child's oral health and any treatment needs. Asking questions, talking about their teeth, and expressing their wishes develops children's natural curiosity and builds their interest in healthy dental care.
Here's what one parent had to say: "Miss Yo-Yo is absolutely amazing at getting the kids to feel excited about their dental visit. Dr. Tran was so thorough and made sure I understood everything and gave me the best advice to help care for my kids' teeth and oral care. The check-in and check-out process was smooth and easy, and everyone was kind."
Of course, grown-up patients receive the same thorough and thoughtful care. Michael Bolten, DDS, Cindy McMann, DDS, Alan McDavid, DDS, Norma Lehman, DDS, Bridget Le, DDS, and Elianne Alarcon, DDS work with their team to provide preventative dental care, increase patient education of proper oral healthcare practices, and deliver the highest level of customer service. Board certified periodontist Melissa Dean, DDS rounds out the team including specialists who can address practically any dental issue under one roof.
Patients recognize and appreciate the above and beyond care they receive, as you can tell from this testimonial:
"Every appointment has been a very calming and professional experience. This has been my dentist for over nine years. I recommend anyone who asks about a dentist. Always a great experience."
Stonebridge Dental and PebblePath Pediatric Dentistry and Orthodontics are now accepting new patients. Find out more at StonebridgeDental.com or PebblePathDDS.com.
---
CONTACT
6633 Eldorado Parkway, Suite 100
McKinney, Texas 75070
(972) 547-0554
StonebridgeDental.com
PebblePathDDS.com