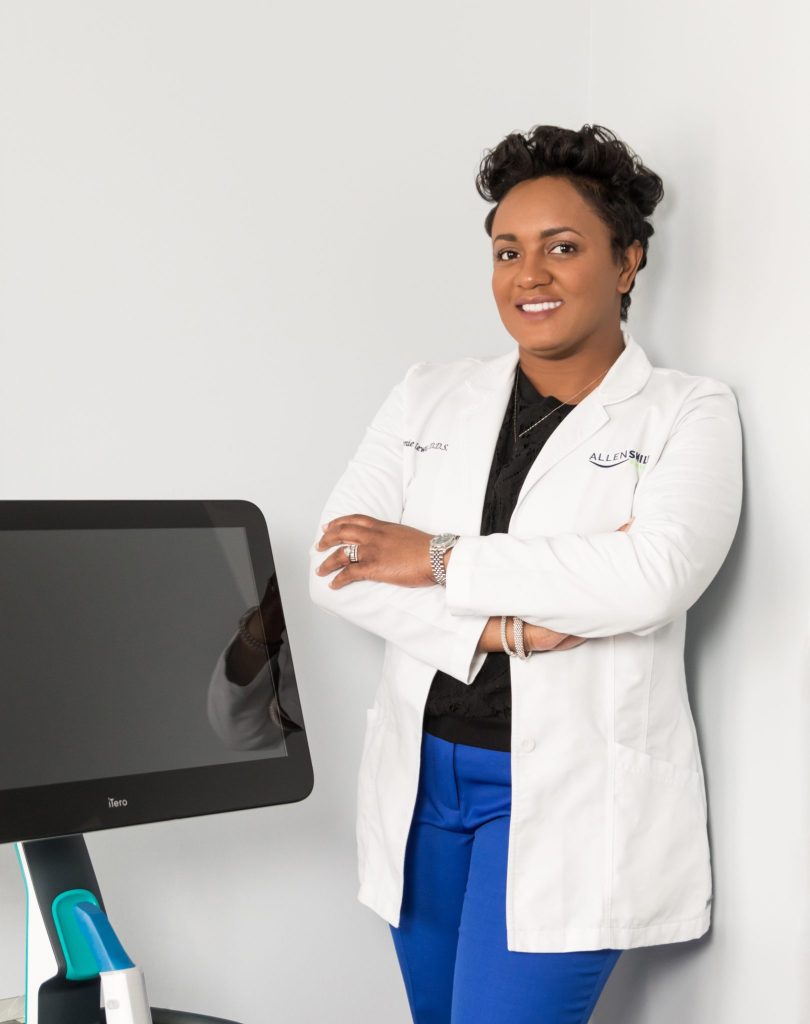 By
Steve Gamel
| Photos by
Lee Ann Baker/LABphotography
---
Dr. Tonie Lewis never had a bad experience at the dentist's office growing up. That may seem hard to believe, especially for people who shudder at the thought of sitting in a dentist's chair. Not to mention, it's evident that Dr. Lewis is a tad biased since she grew up to become one. But it's true — and she wasn't the easiest of cases, either.
When she was eight years old, a horrible car accident left her with a broken jaw. This injury required numerous surgeries and routine visits to the dentist to help Tonie regain her beautiful smile.
"It wasn't an easy process. It takes about six weeks, and during that time, your mouth is wired shut," Dr. Lewis said. "They put me back together, and my dentist always let me know what was going on at each step. I was only eight, but they never made me feel like I couldn't ask questions. As a result, I never understood why people were afraid because my experiences were always great. And through that, I developed a love for dentistry."
When it comes to your smile, quality options are everywhere. Dentist offices are in practically every shopping center throughout Allen and surrounding communities. And yet, we still live in a world where getting some people to go to the dentist is like pulling teeth. Perhaps they had a bad experience in the past or assume they will be scolded or lectured for not coming in enough. Maybe they're embarrassed by their smile and genuinely believe their case is hopeless. In many situations, it's also a fear of the unknown. But ask any patient at Allen Smile Design, and they'll tell you that Dr. Lewis and her team are different.
In fact, Dr. Lewis will be the dentist you can't wait to see.
"That's my goal — to take the fear out of dentistry," Dr. Lewis said. "I want people to feel comfortable with coming to see us and then reward them by providing the best care possible."
Meet Your New Favorite Dentist
Dr. Lewis opened Allen Smile Design five years ago, but she's been practicing overall for nearly 20 years. After graduating as the valedictorian of her high school class, Dr. Lewis completed her Bachelor of Science in biological sciences with a minor in chemistry from the University of Southern Mississippi. She then attended the Howard University College of Dentistry, where she received the Community Dentistry Award and the Academy of Esthetic Dentistry Award. She is a proud member of the American Academy of Cosmetic Dentistry. She is also certified in Invisalign and laser dentistry and is a proud member of the American Academy of Esthetic Dentistry.
Dr. Lewis is also happy to be a part of numerous organizations that give back to the community. Whether she's helping children smile through the ADA's Give Kids a Smile program, fundraising money for the Susan G. Komen Cancer Foundation and the National Kidney Foundation, hosting local 5K runs, or working directly with Allen ISD, you'll find that she and her team love giving back in ways that truly make a difference.
And her practice is a spot-on representation of that cross-functional and giving background. She and her team handle anything and everything regarding general dentistry for patients of all ages, from your standard checkup and teeth cleanings to cavities, a broken tooth, teeth whitening, crowns, dentures, implants, and Invisalign clear braces. The bottom line is that Allen Smile Design has the expertise and technology to ensure successful, comfortable, and transparent dental services.
"My staff is awesome," Dr. Lewis said. "And I know it sounds cliche, but we do go out of our way to treat our patients like family. We've created that environment, and we want to keep it that way."
Having the right services is important, but providing enough time for them is non-negotiable. Whether you're a new patient, you're coming for your routine checkup, or you need more complex care, Allen Smile Design works hard to provide consistent treatment. Once you get to know the team, you'll wonder why you ever put off your visit in the first place.
Setting a New Bar in Dentistry
Dr. Lewis believes that by having a great team around her, her patients can expect a family that puts them at ease and provides knowledge that helps maintain positive oral health. She loves providing oral healthcare that is gentle and conservative and integrates advanced technology whenever possible to improve her patients' experiences.
This includes digital impression systems, advanced soft tissue lasers, detailed diagnostic tools for better treatment outcomes, intraoral cameras that capture detailed, high-resolution images, and Itero digital scanners. And last but not least — a lengthy list of comfort services and tools to help patients feel more at ease.
Making sure that patients are comfortable and can guide their treatment rather than pushing services they might not need is exactly what you can expect every time you visit Allen Smile Design.
"I think a lot of their fears stem from a lack of communication," she said. "When patients don't understand why options are recommended, it makes it harder for them to make an informed decision. The more you know about what's going on, the more that fear goes away. We go to great lengths to educate our patients and take photographs so that they can see what we see."
Services
Dental checkups and cleanings for kids and adults

Fillings, veneers, implants, dentures, and crowns

Zoom! teeth whitening

Invisalign clear braces

Root canals

Tooth extractions

Night guards

Oral cancer screenings

Bleeding gums

TMJ
Patient Amenities
Noise-canceling headphones

Streaming services

(Netflix, Hulu, etc.)

Free WiFi

Massaging dental chairs

Neck pillow

Blankets

Lip balm

Water

Moist towels
---
CONTACT
1420 West Exchange Parkway, Suite 170
Allen, Texas 75013
(972) 435-7384
AllenSmileDesign.com