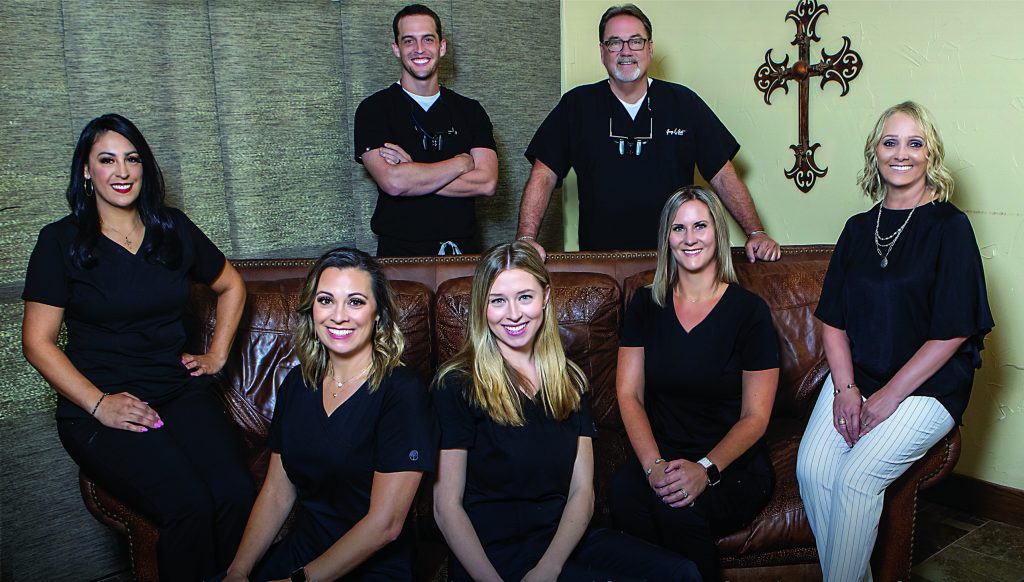 ---
Dr. Gist and his team are amazed at the lack of input most patients entering their practice have had as it relates to dental materials put into their bodies! When it comes to material choices available in modern dentistry, Dr. Gist believes only biocompatible, time-tested materials that aren't controversial as to their potential toxicity, are the only materials to consider putting into your mouth and body. This elite standard serves his patients well today and for their tomorrows.
You Have a Choice When it Comes to Your Dental Health
Those who desire a higher standard of care know that quality and experience matters. Dr. Gist's gold standard of care takes patient health into account in everything they do! Toxic Mercury alloy, temporary plastics and porous resins, non-precious and base metal crowns, water-soluble cements, removable appliances of plastic and non precious metals are all materials that Dr. Gist does not use in restoring his patients' teeth, bite relationships and smiles. Dr. Gist only uses biocompatible and time-tested materials that support systemic, periodontal and aesthetic health.
It's important to understand that dental biofilm-the recurring bacteria that forms daily in your mouth and under failing dentistry ­is affecting your systemic health. This bacterial growth referred to as 'sepsis' leaks into your blood system through periodontal ligaments and the pulp chambers of all teeth. This bacterial invasion affects the gums, making them bleed, opening up more entry portals for further bacteria infiltration. If these bacteria infect your blood, they're instantly in every organ of your body. This is why studies emerge each year connecting dental and/or periodontal infections with a vast array of systemic disease-like cardiovascular and cerebrovascular pathology, lung infections, and new research shows a link to certain cancers. Dr. Gist advises that patients seek out a dental professional that has a firm handle on the concept of dental sepsis as it relates to any restorative procedures. Infection-free materials and aggressive control of this dental sepsis is a radically different approach than many patients have been exposed to in the past and one that's making Dr. Gist's patients healthier now and into their future!
The Superior Gist Way is Elevating Dentistry
For 37 years, Dr. Greg L. Gist has proudly served the people of North Texas and beyond from his dental practice in Southlake. His state-of-the-art office is in the same location that he has practiced in for almost four decades. "My restorative studio was constructed around the way I love to practice. It was built with large oversized operatories and panoramic ceiling to floor windows that bring a sense of art and extreme views of the beautiful property that our office has been on for all these years!" Patients from all over the U.S., as well as many foreign countries sought out this practice because quality and experience matters! His reputation for metal-free restorative and cosmetic dentistry is based on a world-class standard that truly is unsurpassed in the dental profession. He graduated with honors from Texas Tech and received his Doctorate of Dental Surgery from Baylor College of Dentistry. He studied under Bill Strupp DDS in Clearwater, Florida for over 20 years, and attended the Strupp Postgraduate School of Fixed Prosthetic Dentistry. Dr. Gist attributes Dr. Strupp for the personal mentorship, clinical training, and friendship that solidified his vision for a 'standard of care' that is above and beyond any current standard in the profession today. His patients are the beneficiary of this level of clinical, infection-free aesthetic excellence delivered by the most amazing dental team in America!
Junior Partner & Protegé – Carter Hayes, DDS
After interviewing applicants from across the country, Dr. Gist is excited to announce the hiring of Carter Hayes DDS as his junior partner and protege. Dr. Hayes began working in the practice at the beginning of August. He is a native born Texan, graduated with honors from Abilene Christian University and then graduated at the top of his class at the University of Texas Health Science Center at San Antonio (UTHSC). His professors enthusiastically endorsed Dr. Hayes as a very kind, very smart and capable clinician that was loved by his classmates and patients, has great communication skills, and an outstanding personal character. He is soft spoken, humble in spirit and ex­presses a sincere desire to learn the finest restorative and cosmetic dentistry in the world. After graduating from dental school, he spent five years practicing dentistry in North Texas within a corporate dental model. Upon accepting this position, Dr. Hayes said, "I am extremely honored to get this opportunity to join one of the elite private practices in the country!" Dr. Hayes and his wife Shelby have a 1 year old son and are expecting identical twin girls this December. Dr. Gist is excited to share what he's learned over four decades in dentistry and to keep providing the choice of excellence to keep smiling and be healthy with your own natural teeth-for a lifetime!
Our Promise to Our Patients
From the quiet and serene location to the welcoming and personable team, people know right away that this dental practice is unique. Dr. Gist and his team of dental professionals promise to deliver world­class clinical and aesthetic excellence in comprehensive cosmetic and restorative dentistry to patients looking for this level of care-and also to accomplish this in a fun environment, surrounded by the most talented and nurturing support staff. They pride themselves on the comfort and level of after-care that goes into each one of their cases. Dr. Gist wants everyone to be assured that he is not leaving the practice and is simply bringing on a talented doc­tor to ensure the quality of care that his patients have come to expect continues for them and their families into the future. In short, Dr. Gist and his team want to be a blessing to every patient God brings to their practice. When you desire a higher level of quality, Dr. Greg Gist's experience matters! His legacy of clinical excellence will be waiting for you when you are ready for the personal dental care you deserve.
Gist Dental Services:
Cosmetic Dentistry
Restorative Dentistry
Sedation Dentistry
Hygiene & Preventative Services
Teeth Whitening
Porcelain Veneers