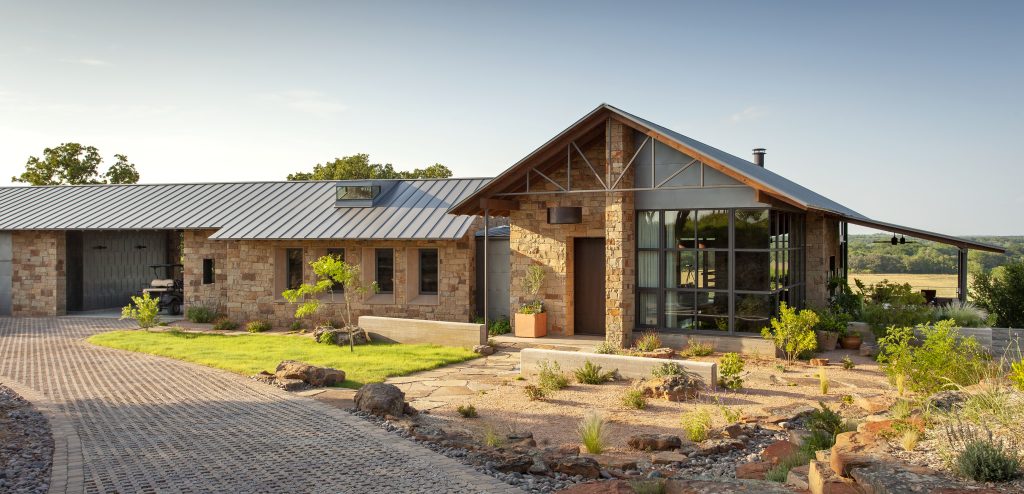 Interior Designer: Laura Britt, Britt Design Group
Architect: Chris Sanders, Sanders Architecture
Builder: David Wilkes
Photos: Ryan Ford
Simply Serene // The secluded 300,000-acre property, which includes a working farm and cattle ranch, rises from the scenic rock formations of remote West Texas. One boulder named "Zen Rock" by the homeowners was kept exposed and sited just off the master bedroom.
Natural Elements // Britt Design Group used natural, simple, and pure materials in the interior design. Wood, stone, plaster, steel, and concrete create transparency in material and form as not to compete with the rugged beauty of the landscape.
Vast Vistas // Large glass wall openings and a fully operable window wall in the living room allow for an abundance of natural light, fresh air, and sweeping views of the ranchland beyond.
Living Large // The outdoor dining area connects to a bar with a large pass-through window. The idea was to be able to take in the views while also taking advantage of prevailing breezes and comfortable outdoor living.