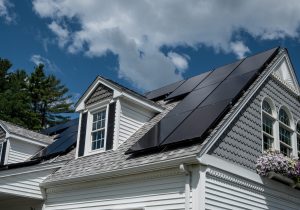 BY CHERYL ALEXANDER
Everything's bigger in Texas — and solar-powered energy is no exception. Indeed, Texas ranks second only to California for the most solar installed in 2021. That's enough renewable energy to power nearly 1.3 million homes. Now is the time to jump on board.
Why Go Solar?
Mitigate outages. Add battery storage and rely on clean energy when outages occur.

Sure savings. Solar panels take advantage of the sun's endless energy by providing consistent, reliable power.

Lower your carbon footprint. Unlike fossil fuels, solar energy is both clean and renewable.

Increase your home's value. Solar-powered homes stand out, earn more, and sell faster.
What are the Four Types of Solar Panels?
If you've already begun shopping, you've noticed that all solar panels don't look alike. But it's not just cosmetic — it's performance as well. Each has different capabilities, energy-efficiency levels, and total installation costs. The four most popular types of solar include:
Solar Shingles. This modern answer to a beautiful roof looks like and is as durable as architectural asphalt shingles but offers solar energy. But they offer the added benefit of equipping your home with a solar energy system. Each solar shingle can produce anywhere from 13 to 67 watts of solar energy and withstand just about any weather. However, the cost to install solar shingles is higher than standard asphalt shingles.

Polycrystalline Solar Panels. These solar panels were developed first and are recognizable for their rectangular shape, created when silicon is melted and poured into a mold. They are cost-effective, but polycrystalline cells are not as heat-tolerant or efficient as other options and don't generate as much electricity from the sun.

Monocrystalline Solar Panels. This option has a more uniform color, a cylindrical shape, and a purer silicone formula that offers higher levels of efficiency. Monocrystalline panels are more expensive than polycrystalline, yet they last longer and often come with longer warranties.

Thin Film Solar Panels. This newer type of solar panel is gaining popularity. Layers of semiconductor materials (e.g., silicon, cadmium telluride, and copper indium gallium selenide) are rolled out as a film on a surface. They are less efficient than crystalline panels, take more roof space, degrade more quickly, and have shorter warranties. However, they are inexpensive, more flexible than crystalline solar cells, and can be manufactured into shingles.
You'll also want to consider which kind of solar inverter works best with your solar energy system and roof. There are three basic kinds: Central or string, microinverters, and power optimizers. Talk to your contractor about your specific needs.
Determining Cost
The exact cost and savings of your system may vary depending on several factors, including:
Your home's average utility costs and energy usage

Your rooftop's solar potential, or the amount of sun it receives yearly

The average local price for a solar panel system in your area

The average labor costs and demand in your area

Local incentives and rebates you can receive
How to Find a Solar Panel Installer
Get at least three quotes.

Check qualifications and references.

Hire an installer certified by the North American Board of Certified Energy Practitioners (NABCEP).

Consider working with a contractor who handles all the paperwork.

Ask if the permit process is included in the labor cost.

Find out if the contractor or a subcontractor will be installing your panels.

Work with a contractor who has experience with your specific utility company.

Never work without a contract that includes project start and end dates, down payment details, an agreed-upon payment structure with milestones, and a final payment checklist. Your contract should also include warranty information, a cancellation policy, and the contractor's business license number and contact information. Before signing, always read the agreement thoroughly, including any legal fine print. Consider having an attorney review the contract as well.

Keep receipts, detailed records, including when workers arrived on-site and left, interactions with a project manager or supervisor, and progress photos.