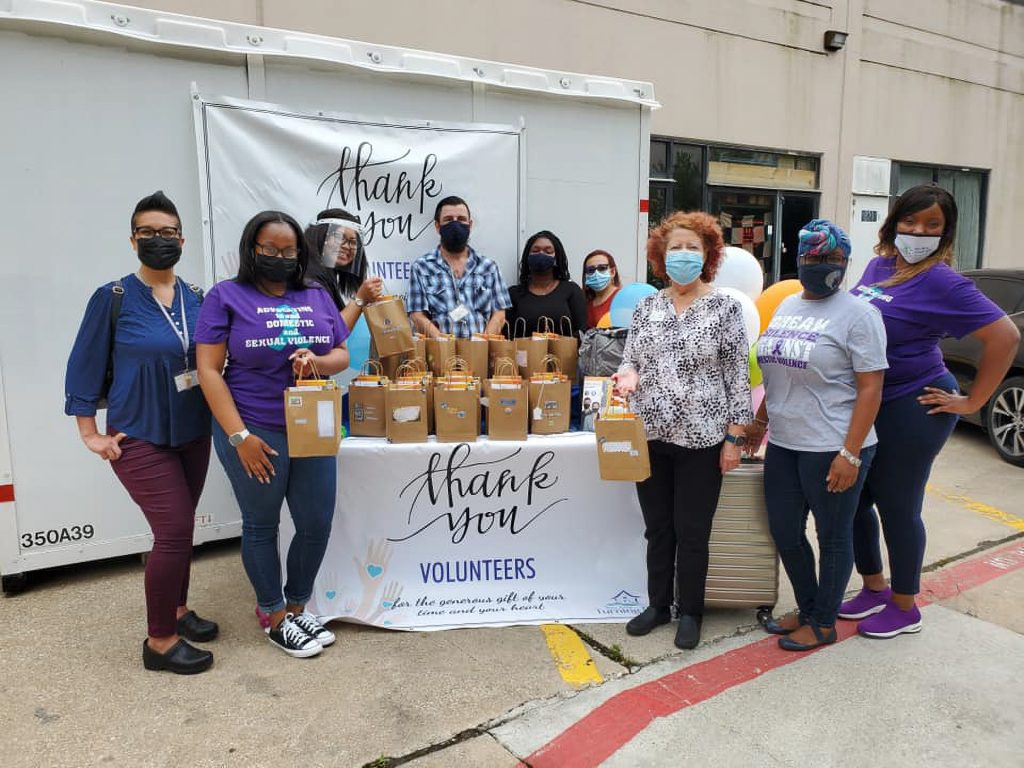 ---
It's summertime in Texas which means that the heat is the greatest obstacle that many of us will face over the next few months. The heat is a factor but by no means the priority right now for Amanda*. Amanda is working to find a place for herself and her two small children to reside now that the place they've called home for 7-years isn't safe. Amanda is coming to terms with the fact that her marriage is over, her husband's actions have been abusive for the entirety of their relationship, and she can't stay at her brother's house forever. Amanda has left before but glancing at cuts and bruises on her arms has reminded her why this would be the last time. He had never been violent like this before, and in the previous few months, it had only gotten worse. Hurtful words turned into hurtful actions.
2-days into her search for a place for her small family to go to, Amanda reaches Bay Area Turning Point. A hotline specialist connects Amanda to the hotel program that began a little over two years ago, and Amanda now has a place to take herself and her children. Amanda spends her time in the hotel working to find a longer-term solution to her family's living situation while helping her children adjust to a new environment that they are not yet accustomed to. This is the constant struggle of someone fleeing violence in their homes. So many obstacles to overcome while trying to hold it all together physically, financially, and emotionally. The truth is it's exhausting, but the struggle is all too common in the community Bay Area Turning Point serves.
Amanda decided that she no longer wanted herself or her children to be exposed to violence in the place they called home. This sentiment is something most of us can get behind, but completely uprooting one's life to put this sentiment into action can create obstacles that can make this very difficult to make a reality. Bay Area Turning Point strives to work with community members who have made similar choices to Amanda and want to do something different for themselves and their children.
The unfortunate truth is that despite the newly created hotel program and the continued efforts of Bay Area Turning Point and other partner agencies, there are just not enough beds in the local community to serve all those families that seek help. This was the case before the COVID-19 pandemic and became even more apparent as the Texas Council on Family Violence discovered that 2020 was the year with the most fatalities at the hands of an intimate partner in the history of the organization tracking this figure. Bay Area Turning Point's staff have worked tirelessly, from those that provide the direct services to the administrative team that works to raise funds to ensure that carries the
mission forward.
Bay Area Turning Point recently celebrated 30 years of service. In these 30 years, Bay Area Turning Point has touched over 75,000 lives through the services that have connected many of those in similar situations to Amanda's with potentially life-saving resources and support. Bay Area Turning Point staff are active in the community and working to address problematic relationship behaviors before it becomes violent. Still, societal change takes a long-term focused effort, and this priority is relatively new for crisis centers like Bay Area Turning Point. COVID-19 may have provided a setback of sorts, but this effort has been met with increased staffing and a continued focus on decreasing these incidents of violence before they occur. This combination of prevention efforts and crisis intervention has become Bay Area Turning Point's identity over the past decade.
To fully realize this two-fold approach to service to the community, Bay Area Turning Point works tirelessly to bring funding into the organization to enhance the service delivery methods offered. The hotel program that became a pilot program in 2020 came out of these efforts, and 2022 is no different as the demand for services has continued to surge past the local capacity.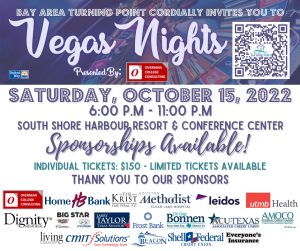 We at Bay Area Turning Point hope you can join us on October 15th as we recognize domestic violence awareness month and celebrate 31 years of service. Bay Area Turning Point will turn South Shore Harbour Resort and Conference Center in League City into Las Vegas for the night as the Vegas Nights event provides casino games and a gourmet dinner to all attendees. Vegas Nights offers those of you that want to contribute to the cause of ending domestic and sexual violence while having a great time. You can contact Bay Area Turning Point's development department for more information at (281)-338-7600. These sorts of events make it possible to give those families like Amanda's a place to go when they have nowhere else to turn.
Amanda was able to use her time in the hotel to find space at a local shelter and is in the process of restarting her life. Every day can feel like a new obstacle, but the fear of violence and the uncertainty that this brings to every day is gone. It's never easy to leave your entire life behind and start over, but "My kids aren't afraid anymore" is something that makes the obstacles a little more bearable. Amanda and all those families over 30 years that faced similar barriers are the ones doing the hard work. Those of us here at Bay Area Turning Point are just the ones giving a gentle push, feedback, and support when those like Amanda ask us to, and we have no intention of stopping anytime soon. *Client name changed to maintain confidentiality.
---
Advocating to End Domestic & Sexual Violence.
A United Way partner.
Bay Area Turning Point
Non-Emergency: 281-338-7600
P.O. Box 58537 Webster, TX 77598
bayareaturningpoint.org/contact-us
facebook.com/bayareaturningpoint