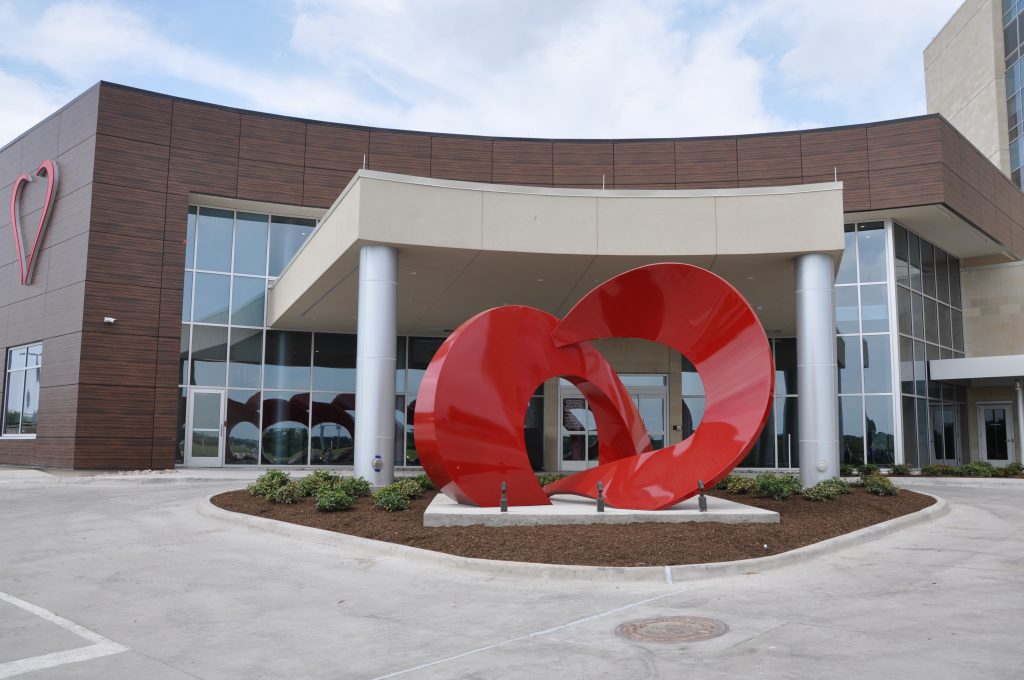 Photo by Lee Ann Baker, LABphotography
---
When Baylor Scott & White The Heart Hospital—Plano* opened in 2007, they chose to make quality the top priority and to practice uncompromising five-star guest services, offering an archetype of cardiovascular medicine while focusing on prevention as well as critical and chronic care. They were soon named among the top cardiac and surgery hospitals in the nation by U.S. News & World Report and have over the years received three stars, the highest possible rating from The Society of Thoracic Surgeons. Baylor Scott & White The Heart Hospital—McKinney opened as an extension of the same commitment to excellence as did the Denton location and now the new outpatient services clinic in Frisco where three types of care will be provided to outpatient service.
Baylor Scott & White The Heart Hospital – McKinney*, part of Baylor Scott & White The Heart Hospital – Plano is proud to be part of the McKinney community. From prevention to innovative treatments and technology, ready patients receive quality care supported by a system with a reputation for excellence. When it comes to advanced, personalized cardiovascular care, your heart is in the right place. We care for you with numerous
services, including:
Inpatient and outpatient care

Noninvasive cardiovascular care

Catheterization services

Electrophysiology

Access to clinical trials

Treatment of cardiac emergencies
A new high-speed advanced cardiac CT scanner features 256 detectors that capture the full cardiac cycle in one heartbeat. It is now possible to capture an image of the heart's functionality faster than before using similar CT scanners with fewer detectors. Baylor Scott & White The Heart Hospital offers heart care conveniently located in McKinney, Denton, Plano, and a new outpatient services clinic in Frisco that opened September 19th.
Advanced Heart Failure and Transplant Cardiologist Aasim M. Afzal, MD, MBA, FACC, FHFSA is part of the dynamic BSW heart recovery team. "We are highly trained specialists all working collaboratively," he said. "Our goal is to manage congestive heart failure, get our guests feeling better, and return their quality of life back. If that doesn't help, then we start working toward a heart transplant or other necessary surgery. But surgery is always our last resort."
Dr. Afzal says the success stories his team sees every day are what's what keeps them going. "I saw a patient just today," he said. "He was very sick when I first saw him. But through a collaborative effort with other physicians on our medical staff, we were able to diagnose and provide the treatments this patient needed. He's doing great and just returned from his daughter's wedding. He was telling our team the difference this has made for him. This is what cardiac medicine is all about. This is why we do what we do."
David Rawitscher, MD is another important member of the team, specializing in cardiovascular disease. "When a patient comes to us from South Carolina, New Mexico, Arkansas, or elsewhere, we're able to offer them the whole spectrum of care from prevention for people who have risk factors all the way to heart valve surgery or heart transplant for the sickest patients," he said. "Because of our collaborative approach, we can provide the most advanced types of care across the board from a team of highly trained and experienced specialists—some of the top specialists in the country."
"We see patients who would have 100% mortality without the care we're able to offer them," Dr. Rawitscher said. "No matter what level of heart disease you have, we want to make you feel better and return your quality of life. Of course, we're here to help with extreme issues, but our goal is to ultimately work together to prevent them."
Anandita Agarwala Kulkarni, MD, a leader in the field of preventive cardiology and lipidology (good and bad cholesterol, etc.), will be heading up the Center for Cardiovascular Disease Prevention at Baylor Scott & White The Heart Hospital-Outpatient Services-Frisco. She's deeply committed to their collaborative and preventative philosophy.
"I view preventing heart disease as a way of life," Dr. Kulkarni said. "What you eat and how much you exercise impact your cardiovascular health. The Center for Cardiovascular Disease Prevention is a comprehensive multidisciplinary cardiology clinic focused on keeping your heart healthy so you can live your best life."
Another great example of this collaborative team approach is David Bastawros, DPM. Why would a wound care and limb preservation specialist be working at a heart hospital? Here's why. "More than half of heart problems are because of diabetes which can first be seen in the eyes, kidneys, and feet," he said. "I often see complications in the feet before they're detected in the heart."
"Likewise, if somebody has undergone heart surgery, part of their recovery will be walking, so they can participate in their rehabilitation. Part of my job is to get their feet under control so they can undergo needed surgery." Dr. Bastawros practices a collaborative approach with interventional cardiologists on the team. "Our team approach allows us to focus on the big picture which is always improving quality of life for our patients."
To learn more visit at BSWHealth.com/HeartMcKinney.
* Joint ownership with physicians
RENOWNED HEART CARE CLOSE TO YOU
Cardiac Emergency Care

Catheterization Services

Access to Clinical Trials

Electrophysiology

Inpatient Cardiac Care

Non-invasive Cardiovascular Care

Outpatient Cardiac Care

Supportive Palliative Care

Vascular and Endovascular Surgery Available
---
CONTACT
Baylor Scott & White
The Heart Hospital of McKinney
5268 West University Drive
McKinney, Texas 75071
(469) 814-3278
BSWHealth.com/HeartMcKinney
---