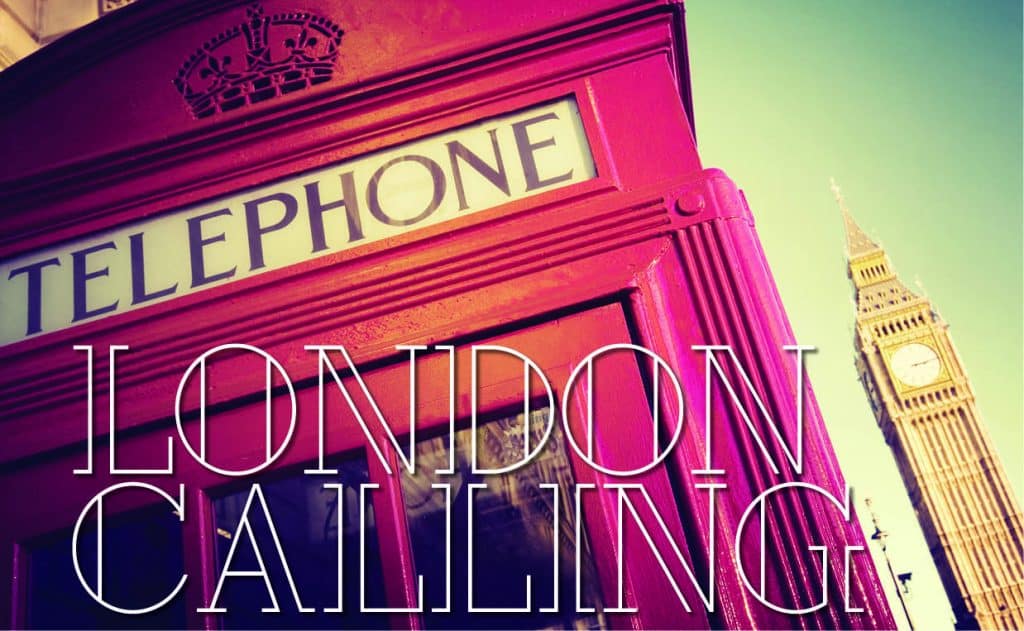 Visiting London without delving into its celebrated landmarks and neighborhoods would be like trying to eat a chocolate bar without removing the wrapper. It's more about what's inside the jewel box than the jewelry case itself—not unexpected from the Brits, when you think about it.
Even London's skyline is subdued, especially when compared to the showiness of Hong Kong, Dubai, Tokyo, and New York City. Instead, get your architectural kicks in London from the likes of Westminster Palace and St. Paul's Cathedral. Satiate your sweet tooth with peanut butter cups the size of a man's palm from one of Harrods' eye-popping candy cases. Immerse yourself in millenniums of history at the British Museum. Or simply sample the hidden gems the city has to offer by wandering around the streets—where you are sure to stumble across a treasured memory along
the way.
Historic Wonders
The Tower of London
Officially named Her Majesty's Royal Palace and Fortress of the Tower of London, the historic castle is actually a series of buildings—21 towers and fortifications sprawling over 12 acres along the River Thames. One of them, the notorious Bloody Tower, was the location of the murder of two young Princes in 1483.
Over the centuries, The Tower has been used to house royalty, and served as a jail for high-status prisoners. Hitler's deputy, Rudolph Hess, was the last inmate to inhabit its walls. Today, guarded by the bearded Yeoman Warders, also known as "Beefeaters," the Tower houses the ultimate bling—the Crown Jewels of the British monarchy. You can also find an impressive collection of armor, and even a flock of ravens, tended by the Yeoman Warders. Legend has it, the monarchy will fall if six ravens ever leave the fortress.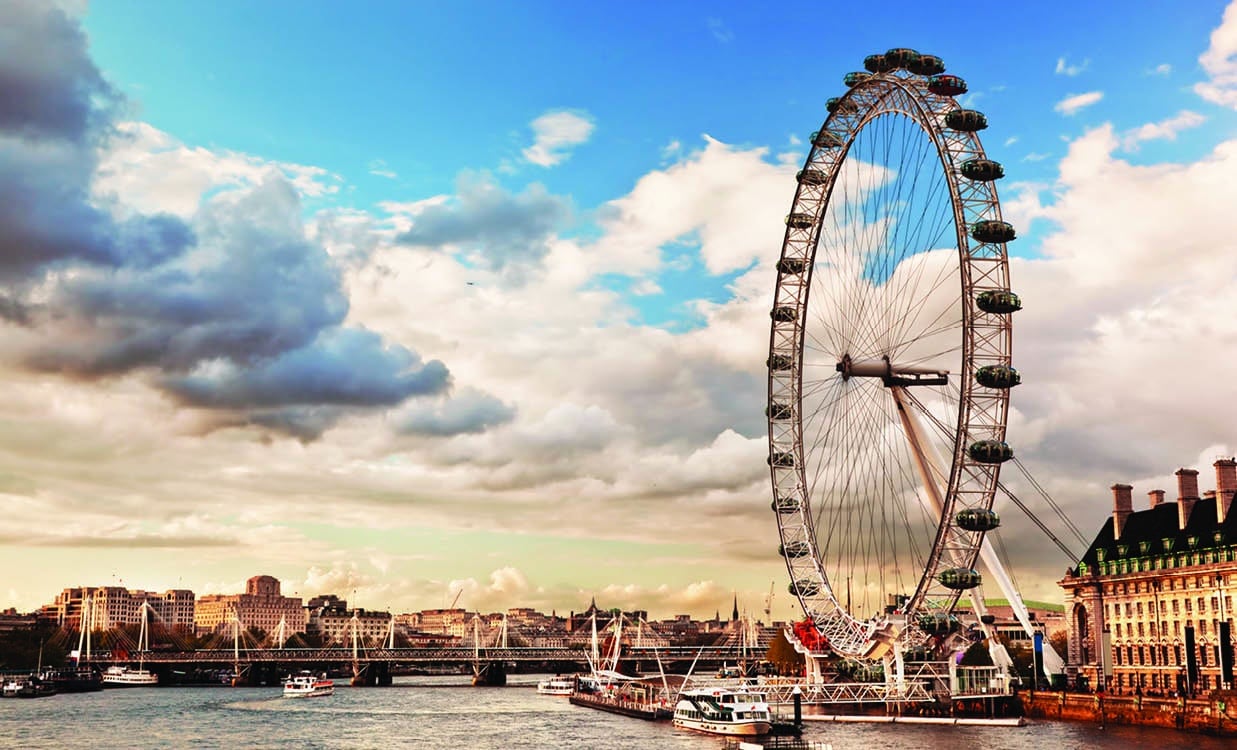 London Eye
You can't miss the world's tallest cantilevered observation wheel—similar to a Ferris wheel—resting on the South Bank of the Thames. Enjoy a 30-minute ride ensconced in a clear capsule mounted on the exterior of the wheel, designed to offer riders an unobstructed bird's eye view of London. Book online the same day a few hours before you plan on riding to snag a discount, and most importantly, avoid long ticket lines.
Westminster Abbey
The site of a monastery since the 8th century, Westminster Abbey was rebuilt by the Anglo-Saxon monarch Edward in the 13th to 16th centuries, into what we see today. The Abbey remains a church dedicated to regular worship, and hosts the celebration of the nation's great events, including every Coronation since 1066.
You might think the Bloody Tower would be the eeriest historic place in London, but Westminster Abbey wins the spooky award for many folks. The lower level is filled with vaulted tombs and raised crypts with artistic—and often quite creepy—carvings. Thousands have been buried at Westminster Abbey, including royalty and many famous people. Since 1906, only ashes are allowed to be interred in the Abbey.
British Museum
Even if you aren't exactly a museum lover, the British Museum will impress you. With an amazing collection of seven million objects dating back as far as two million years, there's plenty to see. Highlights include the Rosetta Stone, Parthenon sculptures, and the Mummy of Katebet. Exhibitions and events change. Visit the British Museum website to see what activities and talks are taking place on the day of your visit.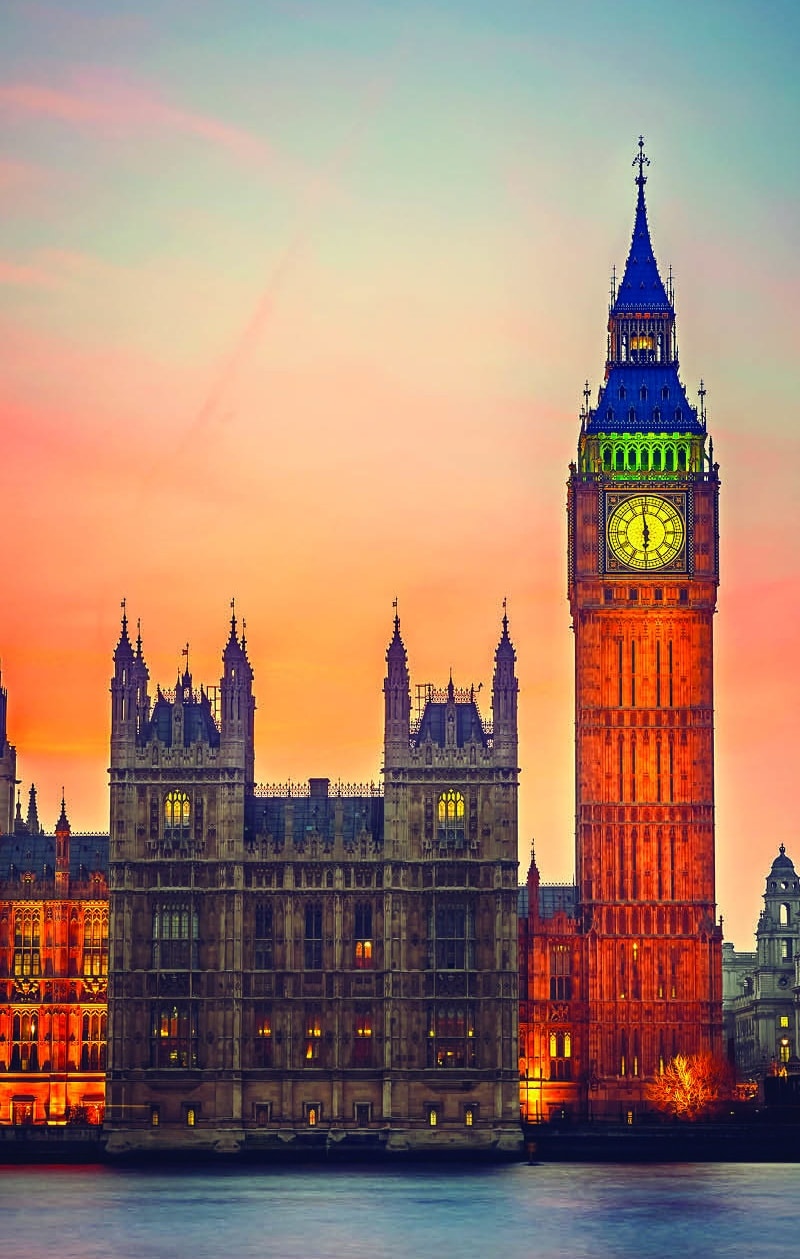 Big Ben
There are two main theories how the great bell of the clock at the north end of the Palace of Westminster got its nickname, Big Ben. Many claim it was named after the notoriously long-winded Sir Benjamin Hall, the London commissioner of works at the time it was built. Others argue it was named for the popular heavyweight boxer Benjamin Caunt. Its accurate timekeeping is regulated by a stack of coins placed on the clock's huge pendulum, ensuring a steady movement of the clock hands at all times.
Royal Gardens
More than 30,000 types of plants thrive on 300 acres in the Royal Botanical Gardens, Kew. If you're going to tour Kensington Palace, check out the gardens, including the 19th-century Italian gardens.
Retail Therapy
Whether you have money burning a hole in your pocket or just want to browse the windows, London offers some of the best shopping in the world. Get into the retail vibe on bustling Oxford Street, stunned by the prices in Knightsbridge, and charmed by the boutiques around Carnaby Street.
And then there's Harrods. London's famous, maze-like luxury store has 330 departments covering one million square feet of retail space. Even seasoned world travelers are mesmerized by this Disneyland for serious shoppers. Don't miss Harrods Food Hall, featuring various shops with everything from preserves and chocolates to oils, candies, meats, cheese, breads, and teas.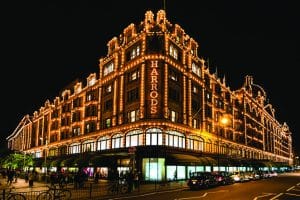 What will make you fall for London? The uniquely British culture? Its exciting global cuisine and charming pubs? World-class fashion, theatre, and shopping? A spin on the London Eye or a boat ride down the River Thames? Or will it be an admiration for the strong women that have helped forge Great Britain's place in history, including Queen Elizabeth and the late Margaret Thatcher? The only way you will know is to go!
Vibrant Neighborhoods, Elusive Niches, Hidden Gems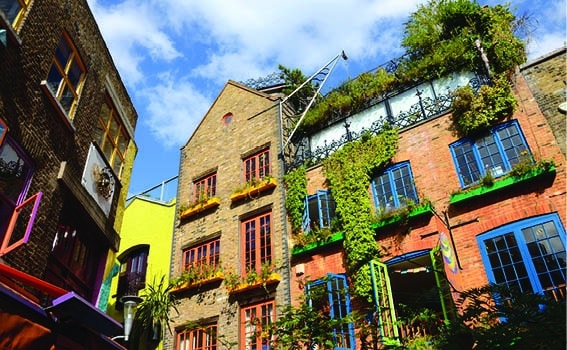 London's West End is known for its fantastic range of top-class theatres and music. It's also famous for Piccadilly Circus, a West End road junction and public space. Often billed as the British version of Times Square, the exciting atmosphere includes lively curbside entertainers. When you're ready for a break, pop in and order a beer from one of the surrounding pubs, or grab a bite in a comfy café.
East London offers an irresistible mix of old and new, and has an ever-changing street art scene. Get a taste of the countryside at Spitalfields City Farm, a green spot located off Brick Lane. Friendly residents include Bayleaf the donkey. The farm shop sells an assortment of homegrown produce and freshly laid eggs. There's always something going on, including laid-back weekend festivals.
Neal's Yard is hidden among the cobblestoned labyrinth of boutiques and cafés in Covent Garden. Tucked away down an alley off the Seven Dials—a network of seven atmospheric streets featuring modern London's most original shopping and lifestyle—Neal's Yard is an unexpected, brightly colored little gem. Dotted with benches, flowering pots, trendy shops, and cozy eateries, it's a perfect spot to relax and take pictures.
The 40-mile-long Thames Path has many quiet spots to be discovered. Explore by hiring a bike and cycling the path. A few of the highlights along the way—public beaches, The Prospect of Whitby, one of Charles Dickens' favorite pubs, and the village of Rotherhithe, an ancient maritime neighborhood.
Getting Around
There's nothing quite like hopping on a red double-decker bus and seeing some of London's most recognizable sights from its top deck. If you prefer a private sightseeing experience, take a black cab tour (LondonCabTours.co.uk). There are plenty of walking tours as well, which are easy to find online.
In addition to taxis, there are public busses, trains, and London's underground system (the "Tubes"), which is clean and efficient. Taxis are generally available at every train station. If you're taking public transportation, get a prepaid visitor Oyster Card. Obtain one online before you arrive in Britain through Transport for London (TFL.gov.uk) or VisitLondon.com.
By Annette Brooks