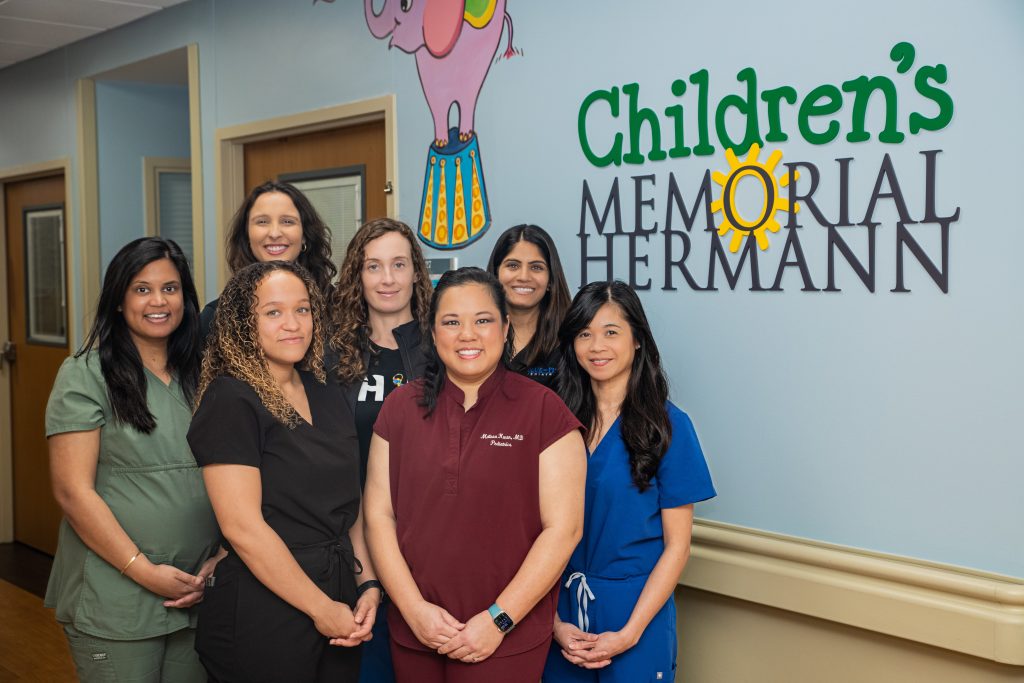 Photo by
Candor Pictures
---
Summer Fun: Playing it Safe
In Southeast Texas, where temperatures can climb into the 80s in January, "summer" is as much a state of mind as it is a season. The summer months can provide a welcome break from the routine of the school year, but they can also pose special challenges for parents.
We asked seven pediatricians affiliated with Memorial Hermann Sugar Land Hospital—most of them parents themselves—to share their top tips for keeping kids healthy and safe in the summer.
Never Leave Your Child Unattended Around Water
Water safety was our specialists' No. 1 summer safety concern, and pediatrician Melissa Kwan, MD, should know. Dr. Kwan is assistant professor at McGovern Medical School at UTHealth Houston and cares for patients in the Memorial Hermann Sugar Land Emergency Center. "Drownings spike in the summer, and most occur when people aren't actually swimming," she says. "Put non-swimmers in full life jackets, not wearables, like puddle jumpers, and install a fence at least 4 feet high around the entire perimeter of your pool with a gate that locks."
You can read the State of Texas statutes regarding pool yard enclosures at: https://statutes.capitol.texas.gov/Docs/HS/htm/HS.757.htm.
If it has Wheels, Wear a Helmet
If you or your child is riding on or in anything with wheels—a bicycle, motorized vehicle, roller skates, anything except a car—wear a helmet. "We can fix broken arms, we can fix broken legs, but we cannot fix a broken brain," says Dr. Kwan.
Hydrate. Hydrate. Hydrate.
Pediatric neurologist Lorena Herbert, MD, sees many patients with conditions that could have either been prevented or managed simply through better water drinking habits. "Kids will say that water is boring, or they don't like it, or they just forget. But dehydration can lead to headaches, dizziness and ultimately heat stroke."
How can you get kids on board? Pediatrician Cheyenne McLaughlin, MD, suggests infusing water with fruit. "Try a fun children's water infusion bottle with one of their favorite characters. If that doesn't work, you can try some of the different flavor enhancers, but make sure they don't contain sugar or calories."
Brush up on Car Safety
On those summer car trips, even the quick ones to the grocery store, make sure your child is properly buckled up. The Texas Department of Transportation reports that 46% of all children aren't buckled up correctly. "If your child will be riding with someone else, make sure the driver knows how to properly secure your car seat," says Dr. Kwan. "From the time a child outgrows a car seat until she reaches 4 feet 9 inches in height and is between 8 and 12 years of age, she should be in a forward-facing booster seat in the back seat of the car." For TxDOT guidelines and tips, go to savemewithaseat.org.
Leave Fireworks to the Professionals
According to the Consumer Product Safety Commission, over 11,000 people were treated in ERs for fireworks injuries in 2021. Children accounted for nearly 30% of these cases. And nearly 50% of injuries to children under age 5 involved sparklers. "Sparklers burn at around 2,000 degrees Fahrenheit and can cause severe burns," says pediatrician Gaile Vitug, DO. "Instead of waving a sparkler, wave a flag or a glow stick. Enjoy professional fireworks shows—but do so from at least 500 feet away, to protect your child's hearing."
If it's Exposed (to Sun and Bugs) Protect it
One of the pleasures of summer is spending time outdoors but take precautions against sunburn and bug bites. "Sun protection is very important for all skin tones," says pediatrician Palak Patel, MD. "For children 6 months of age and older, apply a sunscreen with broad UVA & UVB protection and a minimum SPF of 30 at least 20 minutes before sun exposure." She prefers sunscreens with titanium dioxide or zinc oxide that provide physical protection, as they are not absorbed into the skin and provide the broadest UV ray protection.
Pediatrician Ali Walls, MD, says her newborn moms frequently ask about insect repellents. "When used properly, products containing DEET are safe to use on infants over 2 months of age," she says. "The percentage of DEET in a product correlates not to the level of protection it provides but to how long it's effective. I recommend products containing a maximum 30% DEET, which repels insects for up to five hours."
Dr. Vitug says patients often ask about natural insect repellent ingredients, such as citronella, peppermint or soybean oil. "Unfortunately, these have not been proven effective by the EPA and may also cause skin irritation. So, an insect repellent with no more than 30% DEET would be the optimal choice," she says.
Limit Screen Time. (Yes, We Know it's Hard.)
The American Academy of Pediatrics (AAP) recommends children under the age of 18 months have no exposure to digital media, other than video chatting, and screen time among children 2 to 5 years old be limited to one hour per day. They recommend selecting high-quality (educational, interactive) programming and watching it with your children to help them understand what they are seeing.
Studies have shown a correlation between excessive television viewing in early childhood and cognitive, language and social/emotional delays. Pediatrician Khushbu Agrawal, MD, says many parents believe media programming is helping their infants and toddlers learn, but this is not true. "In kids younger than 18 months, screen time is not beneficial at all," she says. "And I have seen where it's led to speech delays and behavioral problems."
The AAP suggests creating a Family Media Use Plan. To learn more, go to healthychildren.org/MediaUsePlan.
Reinforce Good Sleeping Habits
Even during summer, sleep is still hugely important. The AAP recommends no screens within one hour of bedtime. "Whether we realize it or not, screens keep our brains awake. They hinder our naturally produced melatonin levels and really do affect sleep hygiene," she says.
To schedule an appointment with a pediatric specialist affiliated with Memorial Hermann, visit memorialhermann.org
---
CONTACT
Memorial Hermann Sugar Land Hospital
17500 W Grand Pkwy South
Sugar Land, TX 77479
281.725.5000
memorialhermann.org/services/specialties/childrens/sugar-land