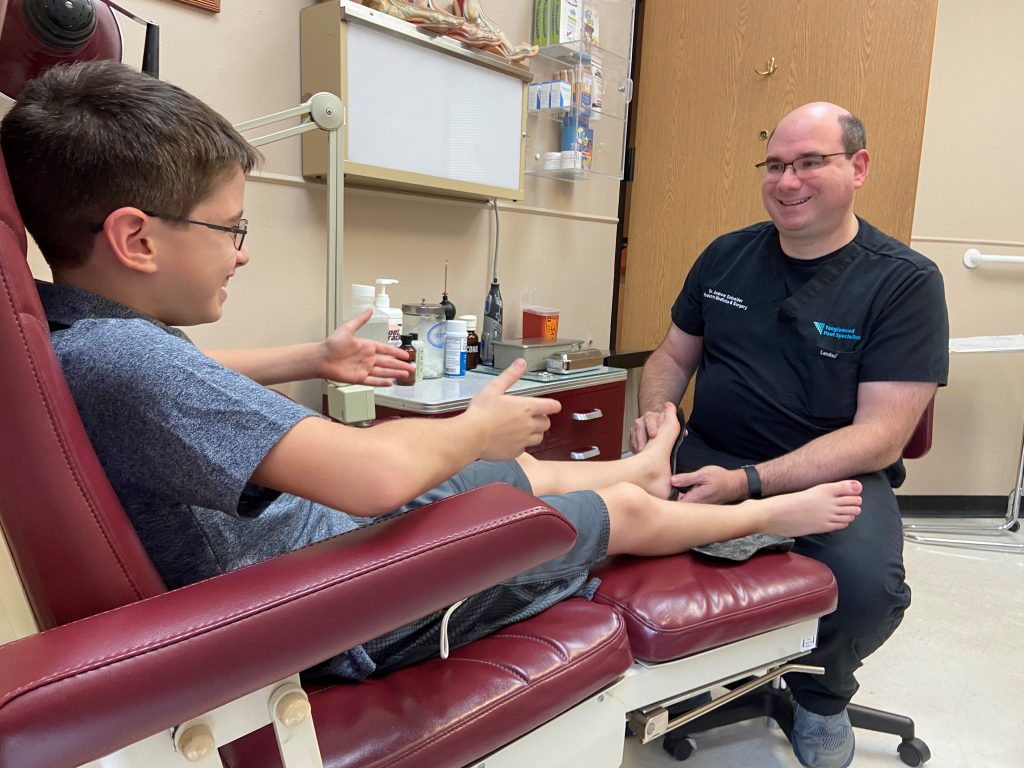 ---
Science fiction could only dream of the possibilities at Tanglewood Foot Specialists. Board certified by the American Board of Podiatric Medicine and President of the American Academy of Podiatric Practice Management, Dr. Schneider himself may not call the proven, effective techniques he employs "futuristic," but he would agree with the term "regenerative." Regenerative care allows the body to heal itself. Without the use of medication or drugs, this type of care is – from certain angles – like something out of X-Men. In a word, thrilling.
Take, for example, therapy offered to diabetes patients. Using ActiGraft technology, a patient's blood is injected into a mold to form a clot which then is used to dress foot ulcers with great success. Patients with soft-tissue injuries might have blood drawn and then spun and separated into component layers. The layers include a row of plasma filled with healing factors, proteins, and platelets: Platelet-Rich Plasma. PRP can be injected into the area of pain and inflammation – a healthier alternative to cortisone injections. Dr. Schneider says the technique is very effective, and the same PRP technology can be used for patients experiencing inflammation from plantar fasciitis or Achilles tendon pain.
Take shockwave therapy. Another high-tech approach, shockwave therapy sends a mechanical, acoustic pulse to the area of inflammation, breaking up that inflammation and allowing the body to heal. Dr. Schneider compares the pulse to one used in the treatment of kidney stones. The depth and width of the pulse are expertly controlled, he explained. A similar shockwave breaks up those stones, but the pulse used by podiatrists is lower energy. No downtime is required, and this therapy helps patients avoid surgery.
The body's own resources are powerful healing tools in Dr. Schenider's hands. He just focuses on your feet. Using low doses of microwave energy in a device called Swift, the doctor treats warts with incredible success. The energy exposes wart virus proteins to the body's immune system, treating unsightly, annoying warts in three short appointments. And we do mean short. Two-second pulses are applied five times in a row for a therapy which is completed in 10 seconds. With no associated downtime and no bandaging, full activity can resume immediately.
These and other technologies set Tanglewood Foot Specialists apart. They are proof that we are living in the future. Dr. Schneider's office welcomes patients with an array of medical issues. The doctor sees patients younger than age one and older than 100. And yes, the varied symptoms, causes, and considerations involved are fascinating. For example, did you know that hammer toe is not a famous TikTok dance, but a condition of a toe that has buckled under? Did you know that high heels can cause bunions? Many other educational facts can be found on the Tanglewood Foot Specialists website. Peruse and ponder at your leisure. The "ah-ha" moments alone are worth a visit.
---
CONTACT
1011 Augusta Drive
Suite 202
Houston, Texas 77057
(713) 785-7881
TanglewoodFootSpecialists.com