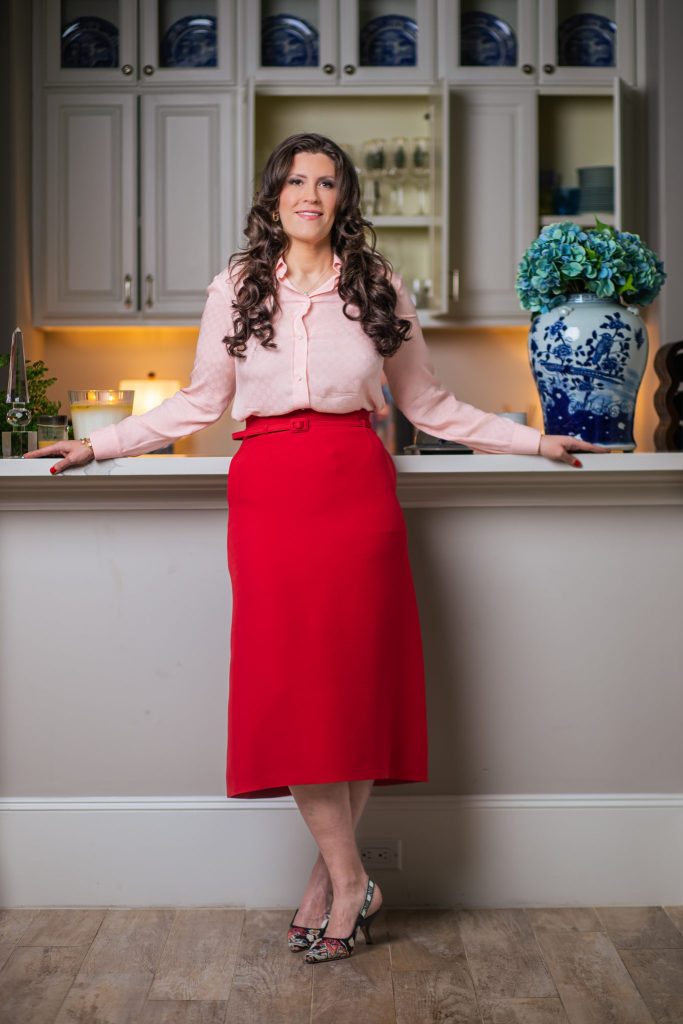 By
Annette Brooks
| Photos by
Candor Pictures
---
Cy-Fair's award-winning premier dermatology practice, Cypress Dermatology, is growing. After practicing in her hometown area for 13 years, Cypress Dermatology's owner and founder Lauren Campbell, MD, FAAD, is building a new state-of-the-art office conveniently located at 14930 Mueschke Road in Cypress, set to open this fall.
For Dr. Campbell, the new stand-alone building signifies much more than having a successful, thriving, full-service dermatology practice. It's about investing in the community she loves, where she grew up, and remaining committed to serving its residents now and for decades to come.
"Our number one purpose is to provide top-quality patient care and the best dermatologic care in the Greater Cy-Fair area. My goal isn't to open clinics all over Houston or expand throughout Texas," says Dr. Campbell, a mother of three boys, ages four, eight, and nine. "Instead, I'm growing the practice right here in Cypress. Our name, Cypress Dermatology, says it all."
The practice will be located on the second floor, occupying 10,000 square feet — double the space of their current location. "Once we're in our new building, we'll have more room for medical services, surgical suites, and expanded cosmetic services," says Dr. Campbell. "We'll also be able to dedicate more space to our research in clinical dermatology, which includes clinical trials for dermatologic therapeutics, psoriasis, acne, and other medical skin concerns."
Full-service Practice Offers Medical and Cosmetic Services
You can trust your skin with the experts at Cypress Dermatology. Dr. Campbell and the team of board-certified dermatologists at Cypress Derm see patients of all ages. Everyone on staff takes immense pride in providing individualized, patient-centered care offered with compassion, understanding, and warmth.
Patients like Gail rave about their experiences at Cypress Dermatology. "Dr. Campbell and her staff are nothing but amazing. The office is busy, but you would never know it. You never feel rushed or hurried out. The doctor is an excellent clinician. She answers all my questions. Her treatments and explanations are always evidence-based. She is a wonderful practitioner."
In addition to their patient-focused quality of care, Cypress Dermatology offers comprehensive, cutting-edge medical dermatologic services. They provide everything from mole removal, acne treatment, hair loss, nail diseases, autoimmune skin disorders, wound care, warts, and so much more. Their skin cancer care includes screenings, biopsies, and leading-edge treatments, including Mohs micrographic surgery performed on-site by a fellowship-trained Mohs surgeon. Mohs surgery is considered the gold standard for the treatment of squamous cell carcinoma, basal cell carcinoma, and other forms of skin cancer.
Cosmetic services include an array of options, from Botox, Dysport, and Xeomin, and a variety of dermal fillers to Ultherapy ("nonsurgical facelift"), laser skin resurfacing, hydrafacial, chemical peels, microneedling, laser hair removal, and CoolSculpting noninvasive body contouring. Their cosmetic team includes three experienced, licensed aestheticians, and all neuromodulator injections are performed by a board-certified dermatologist who is also a certified Expert Injector.
Cypress Dermatology also has its own exclusive skincare line. "Our specially formulated, gentle skincare products are simple and pure and provide all the things important to keeping your skin beautiful and healthy," Dr. Campbell says.
About Cypress Dermatology's "Top Docs"
Each dermatologist is certified by the American Board of Dermatology and is a Fellow of the American Academy of Dermatology (FAAD). Visit the website to review their impressive bios.
Lauren Campbell, MD, FAAD, has always loved helping others. Coupled with her interest in science and biology, she credits her "amazing teachers" at Jersey Village High School in the Cypress-Fairbanks ISD school district for their positive influence and guidance.
After earning undergraduate degrees in Spanish and biology from the University of Texas at Austin, she completed her MD from Baylor College of Medicine in Houston, graduating with honors. She went on to complete residency training at the Rush University Medical College in Chicago, where she served as chief resident her senior year, and a dermatology fellowship specializing in pigmented lesions, melanoma, and cutaneous T-cell lymphoma at the University of Pittsburgh.
After practicing in the Cy-Fair area for a few years, she realized her dream and opened her private practice, Cypress Dermatology, six years ago. Dr. Campbell supports the community in more ways than providing top-tier dermatologic care. Her practice donates to local high school athletic teams and charities, and she's in the process of establishing a scholarship program for area high school seniors planning to pursue a career in the medical field.
Jennifer Hau, MD, FAAD, FACMS, a native Houstonian, completed her undergraduate degree from Washington and Lee University in Virginia and her MD and internship in internal medicine at Texas Medical School, Houston. After finishing her dermatology residency at the University of California Los Angeles, she completed a fellowship in Mohs micrographic surgery, dermatologic oncology, and cosmetic dermatology at the University of California San Diego. She is a Fellow of the American College of Mohs Surgery.
Selena Hamill, MD, FAAD, was born in Houston and earned her BA from Rice University. She completed her MD and an internship in internal medicine at the University of Texas in Houston, followed by her dermatology residency at MD Anderson Cancer Center and the University of Texas.
Sharon Kim, MD, FAAD, grew up in Houston. She earned her undergraduate degree from the University of Texas at Austin. She completed her MD and internship in internal medicine at Baylor College of Medicine, followed by her dermatology residency at the University of Texas Houston and MD Anderson
Cancer Center.
Dr. Campbell and the entire Cypress Dermatology team look forward to meeting you and handling all your dermatologic needs. Call and schedule an appointment today.
Extensive Range of Services in One Location
Complete General Pediatric and Adult Medical Dermatology

Skin Cancer Screenings, Biopsies, Excisions, Treatments

Surgical and Nonsurgical Skin Cancer Treatment, Including Mohs Surgery

Comprehensive Nonsurgical Cosmetic Services

Exclusive Private Label Medical-grade Skincare Line

Visit the Website to Review Their Vast List of Services
---
CONTACT
Baylor St. Luke's Medical Group – Bariatrics
17350 St. Luke's Way, Suite 200 (MAC II)
The Woodlands, Texas 77384
(936) 266-2690
StLukesHealth.org./WoodlandsBariatrics
St. Luke's Health – The Woodlands Hospital
Dan L Duncan Comprehensive Cancer Center
17198 St. Luke's Way
Suite 200 (MAC I)
The Woodlands, Texas 77384
(936) 266-4330
StLukesHealth.org/WoodlandsDLDCCC