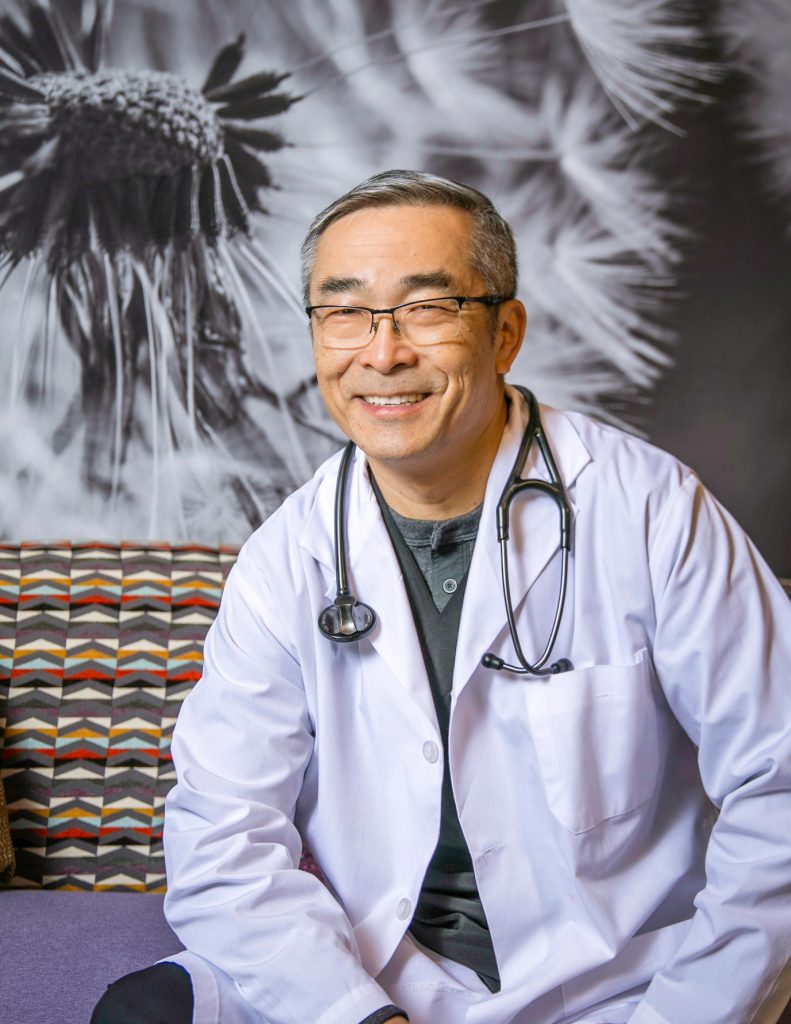 By
Sara Parker |
Photo by
Kelley Sweet Photography
---
Born to parents who were both doctors, Aurum Wellness Geriatrician Dr. Dongning Chen was drawn to the field of medicine as a child, often listening in on medical discussions at home. And while his parents' example sparked his interest in medicine, it was his grandmother who first ignited his passion for geriatrics. She had played an active role in raising him alongside his three older siblings, and witnessing her many health issues as she aged deeply moved Dr. Chen.
"Because of her influence, I believe I have a special bond with older adults," says Dr. Chen, who has invested the past 12 years of his career in working with seniors.
Devotion to optimal patient care is a quality that has led most of his work over the course of his nearly 40-year career, including his first 15 years as a surgeon. He recalls an emergency room trauma case from early in his career: a 22-year-old female had been hit by a car. "I still remember her face after all these years," Dr. Chen says. Determined to save her severely mangled legs — and her life — Dr. Chen's team divided into two groups and worked on the patient's legs simultaneously. "Seventeen hours passed without even our feeling it," Dr. Chen says. No one ate or even used the restroom. Two months later, the patient walked out of the hospital with crutches and eventually made a full recovery.
After moving to the U.S. in 1999, Dr. Chen spent nearly a decade as a research scientist at M.D. Anderson Cancer Center, which he enjoyed, but he missed working closely with patients. Realizing it was time for a career shift, he pursued family medicine in 2008, and then geriatrics, which he says was a "completely different world."
It didn't take long for him to realize why so many older adults struggle with getting the healthcare they need. Noting an overabundance of prescribed medications, varying levels of cognitive decline, and disjointed medical care from many different providers, it was clear to Dr. Chen that these patients needed a unique approach. Enter Aurum Wellness, a Legacy Community Health clinic designed especially for seniors ages 63 and older.
At Aurum Wellness, Dr. Chen says, he has the luxury of being able to spend time with his patients so he can get to know them. An added benefit is working closely with a team of experts that includes a geriatric social worker, behavioral therapist, psychiatrist, pharmacy program specialist, and nutritionist.
"The entire team is fantastic and works together to address the whole person and their quality of life," Dr. Chen says. "The clinic itself is splendid, with wider entryways, larger exam rooms, and accessible exam chairs. What has made an even greater impression on me is the supportive, knowledgeable, and energetic team at Aurum Wellness. Everyone has one goal in mind: to do all that we can for each patient who walks through our doors."
Aurum Wellness specializes in healthcare for senior adults with Medicare, Medicare Advantage and HMO/PPOs.
Our caring team provides:
Primary care services

Management of acute and chronic conditions

Behavioral health

Personalized nutrition counseling

Social work consultations

Pharmacy services

Onsite lab testing

And more!
---
CONTACT
3021 Texas Parkway
Missouri City, Texas 77489
(713) 814-3640
AurumWellness.com