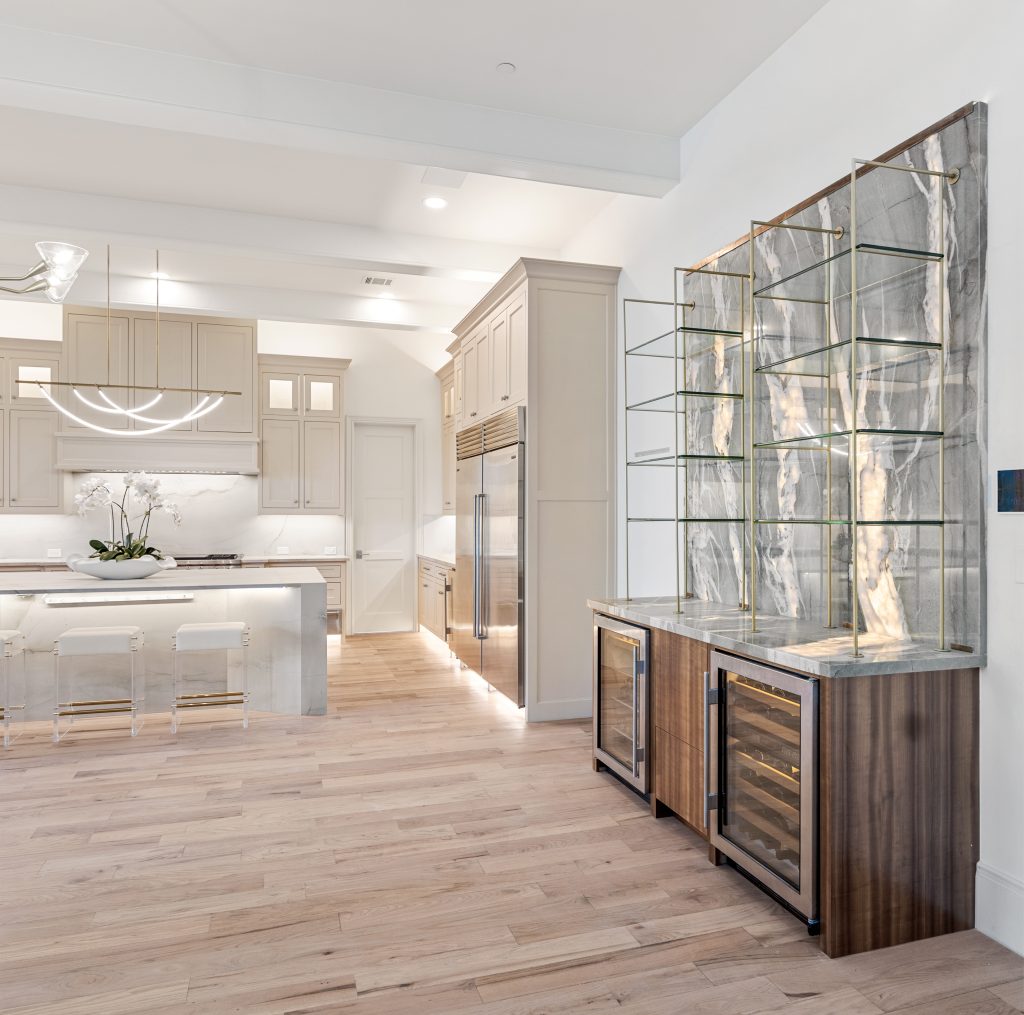 By
Annette Brooks
|
Photos by
Kenny Richard Photography
---
Whether you've just purchased a home or have lived in your house for a while and are ready to update it, finding a reputable remodeler who does quality work is the first step toward realizing your dream.
Collaboration and working hand-in-glove with their clients to bring their vision to life is a company hallmark, resulting in stunning custom work and craftsmanship shown throughout the home featured in this article.
Spotlight on a Westlake Home Makeover
Rick teamed with Catherine Howser, an Allied ASID member and interior designer with Arveaux Interiors, on this project. Having worked with Rick and his team before, she was confident they would impress the discerning homeowner who wanted to create a distinctive, seamless, white, bright modern interior.
"The project was a full team effort with the client, Rick, and me. Rick did a fantastic job of creating what the customer envisioned. How he created the backlit natural quartzite wine bar and custom metalwork was especially ingenious," Catherine says.
The client, who has been through remodels before, knew what to look for in both a home renovator and an interior designer. He was thrilled with Rick and Catherine from start to finish and loves the results.
"Rick was very responsive any time of day, which is important to me. As a dentist, I'm accessible to my patients 24/7 and respect this attribute in others. Rick also walks the talk. He's professional, gets the job done with precision and quality, and offers great turnkey service. He's also open, honest, and trustworthy. It's a wonderful combination. Plus, he gave me fair quotes and allowances."
"We aim to exceed our client's expectations and take a team approach," Rick says. "We sit down with the homeowner and listen to understand their desires, goals, budget, and lifestyle. We brainstorm ideas with them, make recommendations, then create a scope of work that reflects what we've discussed."
Meet the Stately Design & Renovation Team
Rick Baker gained valuable construction knowledge during his years in the real estate industry, remodeling homes, and owning rental houses. His background includes a real estate degree, holding a real estate broker's license for 14 years, and five years in home décor. His time as an air traffic controller with the Federal Aviation Administration and in detailed project management equipped him to handle the complexity of major custom home renovation projects.
Completing the Stately Design & Renovation group are Vice President Darrelyn Poage, Senior Project Manager Justin Lindemulder, Project Coordinator Tori Jacobs, and Project Manager Adam Lowe.
"Everyone provides excellent customer care and takes pride in a job well done. I couldn't have a better team," Rick shares.
Why Choose Stately Design & Renovation
Years of experience, knowledge, expertise

Turnkey design-build process

Character, honesty, and integrity matter

Excellent service, customer care

Creative, collaborative, communicative

Punctual, professional

Exceptional craftsmanship, attention to detail

Offers value without taking hidden shortcuts
Love the Place You Call Home
The Stately Design & Renovation team will work closely with you to bring your unique personality and sense of style to life. Call today for a consultation.
---
Contact
2395 Michael Drive
Southlake, Texas 76092
(817) 431-5675
StatelyDesign.com