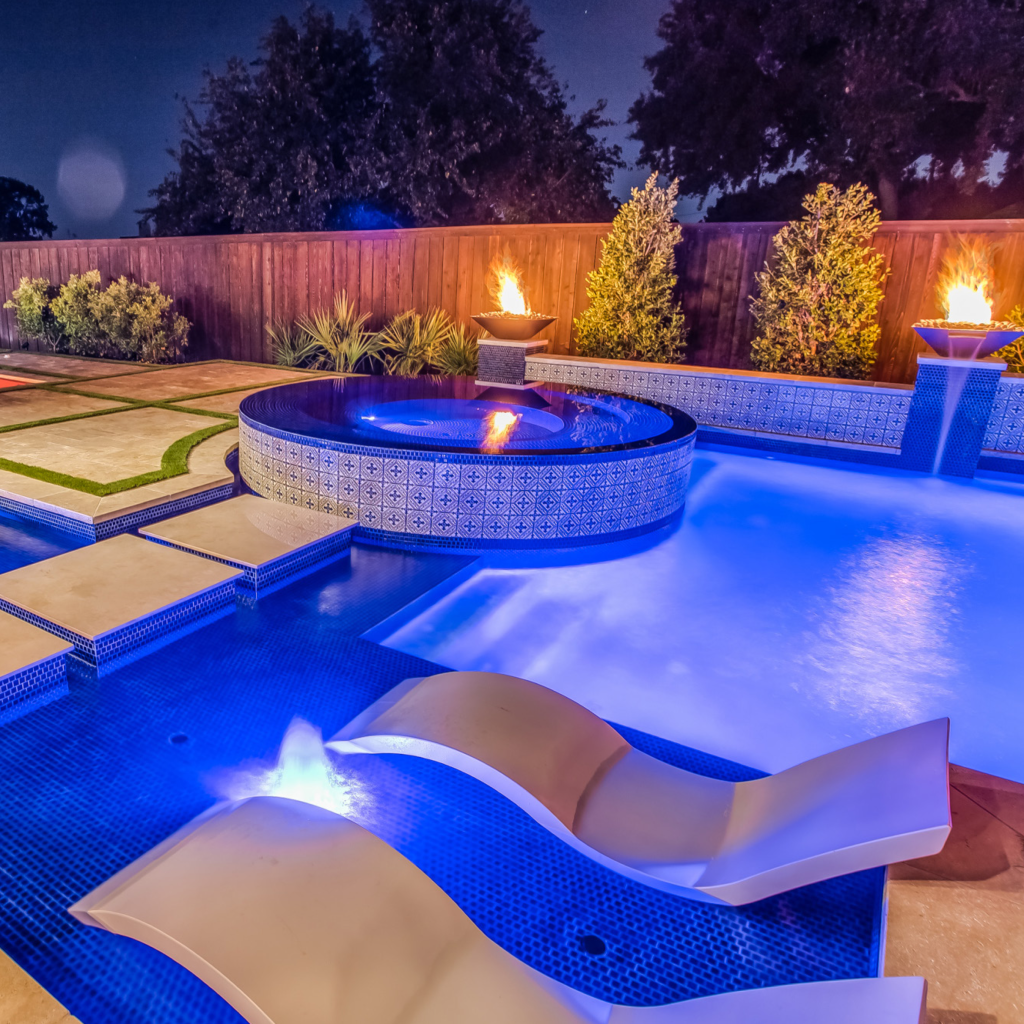 By
Cheryl Ricer
---
Hobert Pools, a family-owned and operated pool builder based in Dallas, Texas, stands as a premier choice for creating breathtaking backyard oases since its inception in 1975. With a consistent history of financial stability and unwavering commitment to integrity, Hobert Pools has become synonymous with excellence in the industry.
Experience Matters
The Hobert family has been in the pool business for close to 50 years, so they know the industry inside and out and have experienced numerous market changes. Hobert Pools & Spas is a stable, locally- and family-owned business that people know and trust. Since Texas is an unlicensed state, anybody can represent themselves as a pool builder.
There is a difference in a pool business that builds one or two pools a year and a company that does volume business building pools based on a foundation of integrity and financial stability. Hobert Pools & Spas takes pride in their long-standing presence in the area and looks forward to providing you and your family with a backyard you can enjoy for years to come while making lasting memories.

Building Your Backyard Oasis
Hobert Pools & Spas will help you bring your dreams of outdoor living to life in your own backyard.
"In addition to building swimming pools," said Duke Loper, sales and operations manager, "we offer complete outdoor living features that include covered structures, outdoor kitchens and fireplaces, putting greens and entertainment areas."
The team at Hobert will help you plan your project from start to finish right on the website with a wish list that allows you to set a budget, choose the size and shape of your pool, what special features and backyard furniture you want, and more. After your initial meeting, you will be presented with a 3D design that allows you to fully visualize your backyard dream.
Pool renovations are also in high demand as homeowners are spending more discretionary income on updating their homes and swimming pools. Hobert Pools & Spas offers complete pool design renovations that may include removing the existing pool to simply upgrading the coping and plaster to current design trends.
The Hobert Difference
Over the years, Hobert Pools has built a strong reputation for its exceptional craftsmanship and attention to detail. The company's design elements and material selections are constantly evolving, ensuring they stay on the cutting edge of industry trends. By remaining abreast of the latest advancements, Hobert Pools can offer its clients innovative and unique designs that set their backyard oasis apart from all the rest.

A Team of Experts
One of the company's greatest strengths is its skilled workforce. Hobert Pools takes pride in employing a team of talented professionals who are not only experienced but also deeply passionate about their craft. Their expertise allows them to transform any client's vision into a stunning reality. From conceptualization to construction, Hobert Pools ensures that each project is executed to perfection by its dedicated and skilled team.
Exceptional Customer Service
Hobert Pools' success can also be attributed to their exceptional customer service. The company understands that every client is unique, and they approach each project with a personal touch. From the initial consultation to the final installation, they collaborate closely with their clients, ensuring that their individual needs and desires are met. This personalized approach, combined with their expertise and professionalism, helps build lasting relationships with their customers.
High-Quality Materials
In addition to their design prowess, Hobert Pools takes great care in selecting the finest materials for their projects. By working with high-quality materials, they can create pools that not only look magnificent but also last for years to come with minimal maintenance. This commitment to using superior materials underscores their dedication to providing customers with the highest level of satisfaction.

Transparency
Another key factor that sets Hobert Pools apart is its commitment to maintaining financial stability and integrity. As a family-owned business, the company values its reputation and prioritizes transparent pricing, fair contracts, and clear communication with clients. Part of the clear picture includes communicating how long it will take to build your pool.
"Build times vary based on the scope of each project and what extra features or additional backyard structures you may want to install," said Terry Leff, construction manager, "but the typical build time for the average project will be between three and six months."
This unwavering commitment to honesty and fairness has earned Hobert Pools the trust and loyalty of its customers throughout the years.
Costs and Financing
During the pandemic, the pool industry experienced unprecedented demand where demand far exceeded the availability of labor and material. Now that things are leveling out, inflation and higher costs are affecting the market. Interest rates have risen along with the price of supplies. For a family who wants to invest in a backyard environment, that may include a pool, the arbor, the outdoor living area, kitchen, and fireplace, the price range starts at $150,000 and increases exponentially based on design features and specific material selections. Five years from now, that cost will be even higher.
Hobert Pools & Spas works with several lenders who specialize specifically in pool market loans that currently offer very competitive interest rates. The financing team at Hobert can help you connect with a lender right from the website where you can fill out an application and get pre-approval.
Hobert Pools has established itself as a premier pool builder in Dallas by consistently delivering magnificent backyard oases since 1975. Boasting a history of financial stability and integrity, their dedication to remaining at the forefront of design trends and utilizing a skilled workforce sets them apart in the industry. With a commitment to exceptional customer service and a passion for creating stunning pools, Hobert Pools & Spas continues to be a name synonymous with excellence.
---
CONTACT
1063 East I30, Suite 101
Rockwall, Texas 75094
(972) 772-3358
HobertPools.com