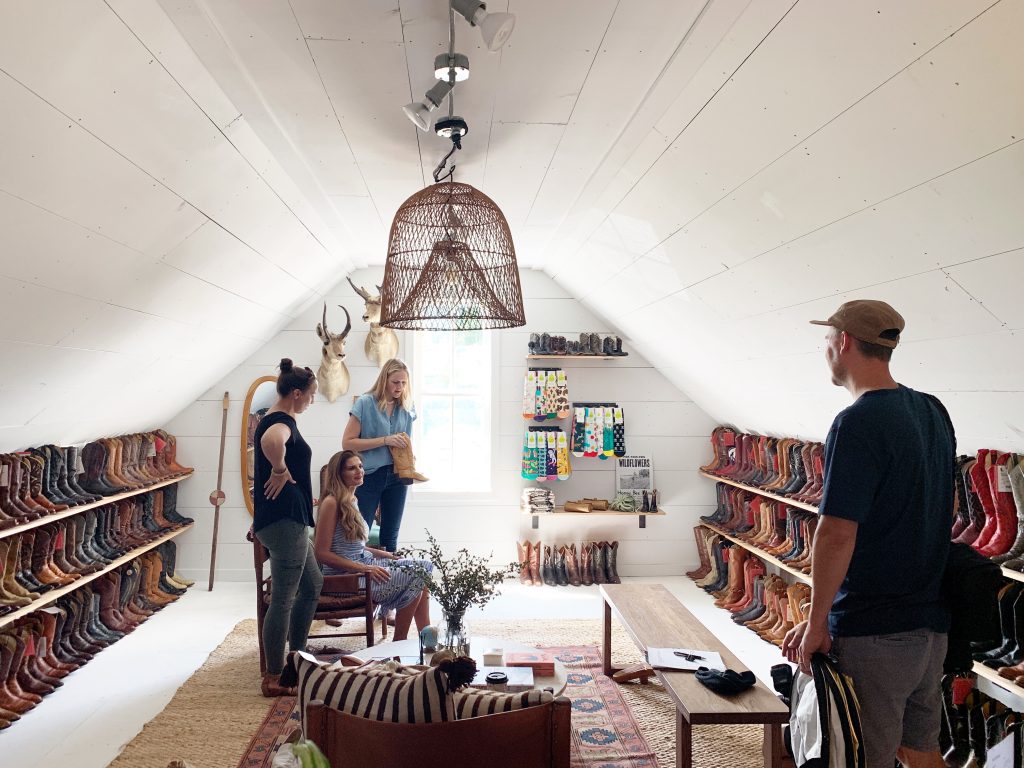 BY COURTNEY WARREN
I'd say I'm a pretty good mixer. I love people, love to hang out, and share good times. But when it comes to The Original Round Top Antiques Fair, which is the ultimate good time to my vintage-loving heart, I must draw the line. It's not that I don't want to share the experience with friends. It's just that it's hard to socialize when I am moving at warp speed from one antiques-filled shop, tent, field, and warehouse to another!
Thousands flock to Round Top, Texas, in April and October each year for what has been billed as the nation's largest antiques and vintage show. Located midway between Houston and Austin near Carmine, you'll wonder how thousands of shoppers can fit in a town with a population of 90. But the fair is actually spread over several small towns along an 11-mile stretch of
Highway 237.
There is a bit of confusion over when it's open because no official body governs the fair. One of the field owners recently posted this online: Round Top Texas Antique Show — only two venues charge admission, and a few charge for parking, but some offer free parking. Some venues are open for two to three weeks, and others are only open for a week. The event has over 65 venues and encompasses about 21 miles. Each venue is independently owned & operated. Clear enough?
Both the April and October shows take place officially over a couple of weeks and unofficially include weeks before and after. Some businesses in the area are now open year-round. The April 2021 show was a huge success, thanks to truckloads of masks and sanitizer. The show from October 25th through the 30th promises to be the biggest yet. How big? Think Canton's First Monday on steroids times the number of Friends reruns on TV. Even if you stay the entire two weeks of the show, you cannot possibly see it all.
Here are a couple of other things to remember from a Round Top veteran. First, this vintage shopping mecca is in rural Texas, so be forewarned that cell phone service is spotty. And it may be tough to find a bathroom that can't be carried away on a truck. But don't let these small inconveniences deter you. If you can soldier through, you will experience the most unique flea market experience anywhere. Are you looking for old neon signage or French linens? Vintage cowboy boots or estate silver? European antiques with glowing patina or rusting American hay rakes? Maybe your collection needs just one more ironstone pitcher. Or bread tray. Or camera.
Paper ephemera? Antlers? Oil portraits? I can't begin to describe the incredible variety of goods I always find at Round Top. I haven't started to see it all, even after years of shopping there — besides, the inventory changes with every vendor's new finds.
Here Are Some Of My Favorite Spots At The Original Round Top Antiques Fair:
Where: Bar W Field Warrenton
Types of finds: Flea market finds, good deals.
Know before you go: Bring cash, comfy shoes, and maybe a hat because the fields get dusty.
Why we love it: You'll find fantastic deals and really interesting pieces.
Where: Roundtop Square, by Royers Cafe
Types of finds: A charming square of small shops and businesses.
Know before you go: There is a separate freestanding Royers Pie Haven location when you need to sit for a delicious snack.
Why we love it: Enjoy a nice afternoon of browsing, a public restroom, and a picturesque old church that makes for a great photo op.
Where: Townsend Provisions
Types of finds: Darling gift shop that also houses an extensive collection of vintage cowboy boots.
Know before you go: If you're hungry, eat next door at Garden Co. In fact, eat there even if you aren't hungry. It is fantastic.
Why we love it: Lots of cute tees and gifts to bring home to friends who missed the trip.
Where: Blue Hills at Round Top
Types of finds: Fabulous booths with higher-end antiques, rugs, art,
eclectic finds.
Know before you go: Parking is free here, easy in and out.
Why we love it: If you need a big-ticket item, this might be a good place to look.
Where: Marburger Farm
Types of finds: Higher-end finds.
Know before you go: If you're a big name or celebrity in home decor, start shopping here. At the last show, Chip and Joanna Gaines bought frames from a vendor friend of mine. This is the only location on the list that charges a ticket price to get in. It's not always open at the same time as other shows, so check before you plan your trip. Currently, the dates are posted for October 26th through the 30th.
Why we love it: Marburger has a little more expensive finds but also things you won't see in other places. If you're up for purchasing a ticket (only $10 per person for general admission), it's worth it just for the experience. Visit Roundtop-Marburger.com for more information.
Where: Excess Field
Types of finds: Industrial, unique pieces.
Know before you go: Shop this in the morning. There is little shade, so hot afternoons can be brutal.
Why we love it: Quirky finds.
Where: Paul Michael and surrounding stores. This collection of indoor antique stores sells high-end, expensive, and unique antiques, including vintage finds, European antiques, old signage, and neon signs.
Know before you go: One of the few that have covering, this is a good one to shop when it's raining. Go around lunchtime and try the huge lunch buffet. Most of these stores take debit and credit cards.
Why we love it: You'll definitely see things you can never get somewhere else.
For more information about the fair visit, RoundTopTexasAntiques.com.