There's beauty to be found everywhere in Texas, but perhaps the springtime blooms of our state flower offer the most thrilling spectacle of all.
In Bloom
Texans wax poetic about the splendor of bluebonnets, but opinions vary about the best place to see them, and it can change from year to year. Many folks claim to know an out-of-the-way patch undiscovered by throngs of bluebonnet seekers, and if you're lucky, they'll share their secret. For those of us who aren't privy to this information, you can spot them from Lake Texoma to Big Bend, but the Hill County is generally considered bluebonnet central. Each year, thousands of people descend upon the area to soak in azure fields of bluebonnets in all their glory.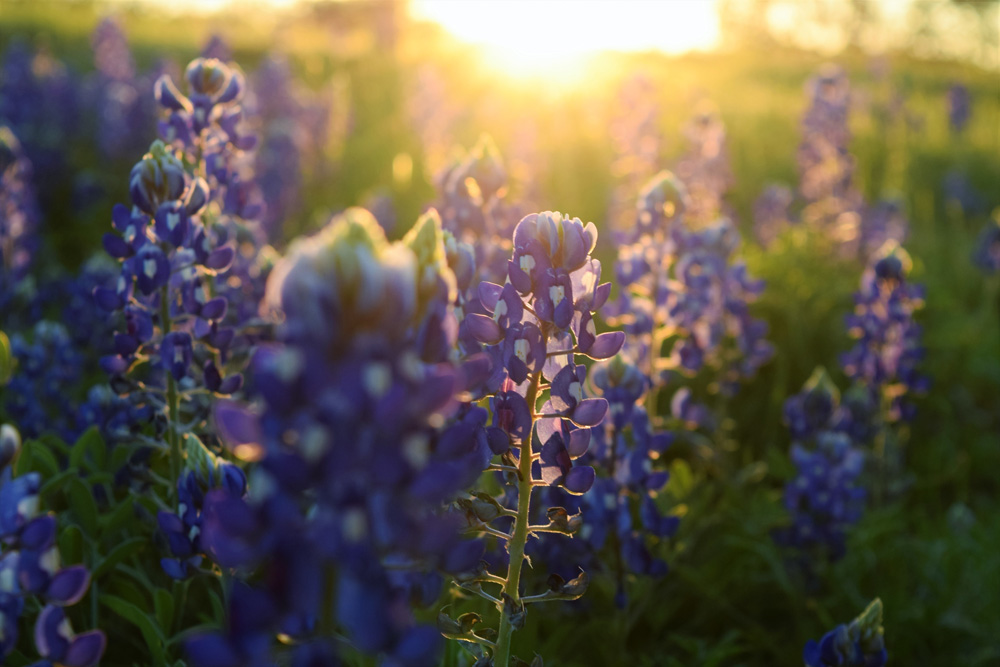 Hill Country
Bluebonnet season in Central Texas, which usually peaks in early April, supplies the perfect reason for a Hill Country getaway. There are a few areas for bluebonnet viewing that are particularly popular.
Known for its wineries, antique shops, and German heritage, Fredericksburg is a great place to see bluebonnets and view extensive wildflower fields. Be sure to visit Wildseed Farms, seven miles east of Fredericksburg, to capture the ultimate wildflower selfie. If you fancy a drive amidst rolling hills popping with color, head out of town on Texas North State Highway 16 to Llano.
Burnet, around 55 miles northwest of Austin and officially recognized by the Texas legislature as the Bluebonnet Capital of Texas, is another place to start our bluebonnet drive. If you love a good reason to celebrate, and who doesn't, the town goes all out during their annual Bluebonnet Festival. Hailed as "the most exciting small-town festival in Texas," it's held the second weekend in April.
After you've checked out Burnet, head south for 13 scenic miles on US 281 to Marble Falls. A bluebonnet map, updated daily, is displayed in the visitor center, taking the guesswork out of where to find the showiest blooms. If you want to snap a postcard worthy photo that's sure to impress, the famous Bluebonnet House in Marble Falls may just be the perfect spot. While in Marble Falls, why not pop into the Bluebonnet Café for a slice of one of their delectable home baked pies? If you're there on a weekday, pie happy hour runs from 3 PM to 5 PM.
Closer to Austin, Muleshoe Bend Recreation Area in Spicewood offers another opportunity to spy your favorite springtime flower putting on a show. Bluebonnets can cover the entire park, which runs along the south side of the Colorado River on western Lake Travis. Pack a picnic lunch. Relax and enjoy the scenery!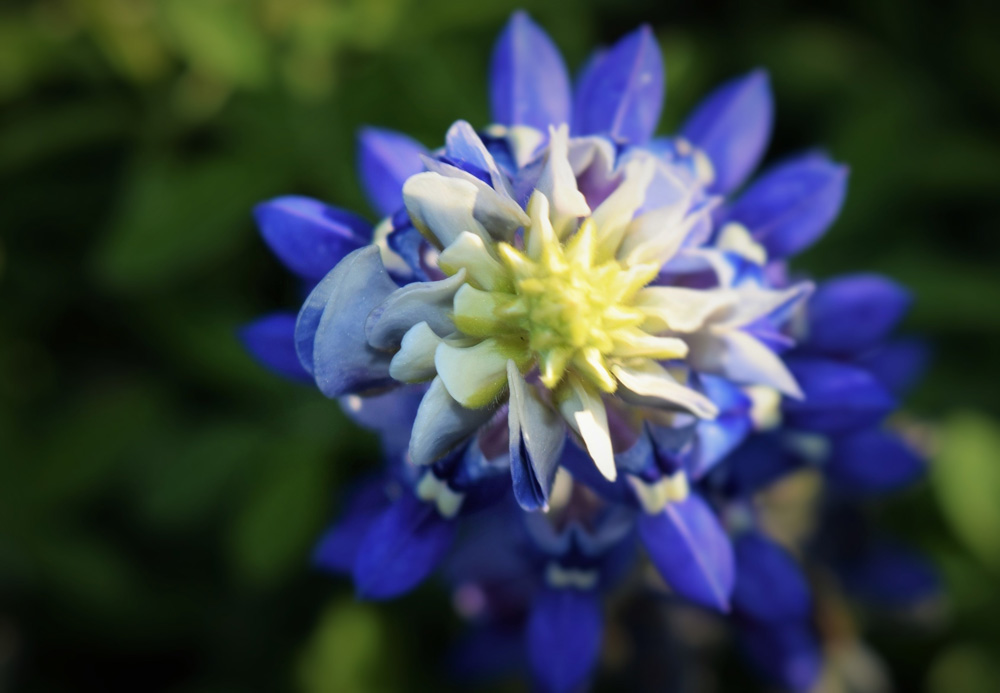 Iconic Hill Country Drive
Willow City Loop, a 13-mile, narrow two-lane private ranch road, is considered by many to be the quintessential bluebonnet drive in Texas. Here, nestled amongst rugged hills, valleys, and creeks, are stunning bluebonnet-filled meadows. You can also see phlox, firewheels (Indian blanket flower), Mexican poppies, and daisies along the way. Please be courteous of private landowners and do not trespass or block the road to take pictures. To get there, search for "Willow City loop map" to pull up a map.
Closer to DFW
Just 35 miles south of Dallas, the official 40-mile Bluebonnet Trail begins in Ennis, Texas. Get your trail map in April at the Ennis Visitor Center or search online and download one. The town pulls out the stops during their annual Bluebonnet Trails Festival. Held this year on April 17, 18, and 19, you'll enjoy arts and crafts, food, wines, live music, and kids' activities, making it fun for the whole family.
North of Dallas around Lake Texoma is another good location to find bluebonnets. They often spread as far as the eye out at the Denison Dam, also known as Lake Texoma Dam. And on FM 423 next to the historic Zion Cemetery in Frisco, the hillside is usually blanketed in bluebonnets.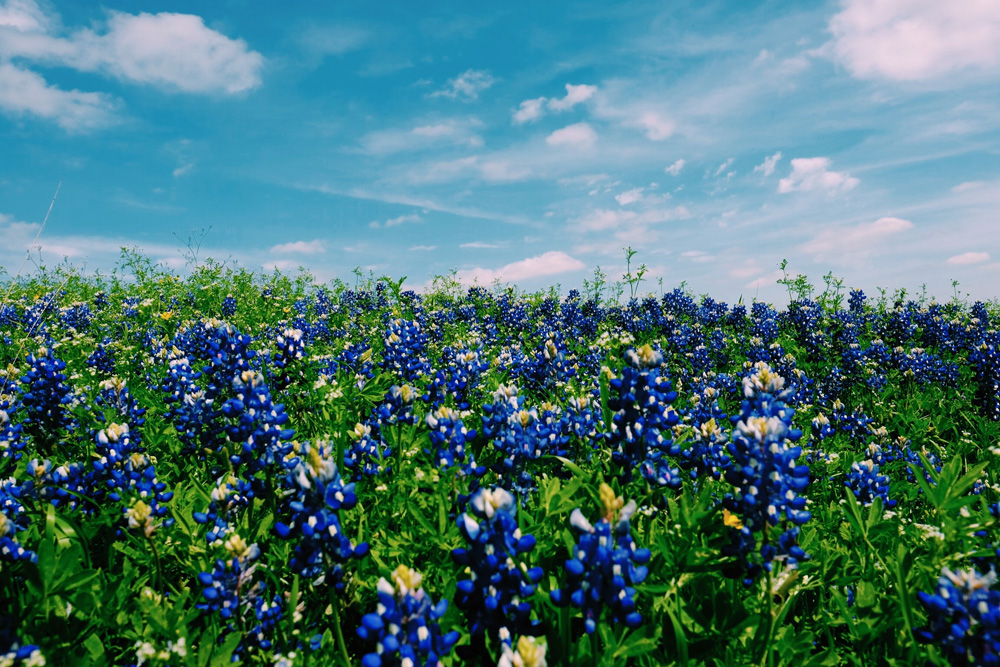 Closer to Houston
Brenham, nestled in the Hill Country foothills between Houston and Austin, boasts some incredible views of bluebonnets and other wildflowers. Look for the Wildflower Watch on the town's website and learn about the best spots to view wildflowers. If you're up for a scenic drive, fields of flowers can be seen around towns surrounding Brenham such as Chappell Hill, which calls itself "the heart of Bluebonnet Country," Burton, and Independence.
Bluebonnet patches may also be spotted in Houston area parks. To name a few on the list—Buffalo Bayou Park, Spotts Park, Rob Flemming Park in The Woodlands, and Terry Hershey Park in Memorial. Out near Sugarland and Katy, blooms can be found in Blessington Farms.
Big Bend National Park
Can't wait until April to see bluebonnets? A different species of bluebonnet than that found in Central Texas blooms through early March in Big Bend. You may also enjoy cacti blooms and clusters of red ocotillos around this time of year or a bit later.
We hope this brief list of places to see bluebonnets inspires you to hop in the car and take a road trip that promises unforgettable views. If possible, go during the week. Even backroads can get crammed with vehicles full of fellow bluebonnet lovers on the weekends.
By Annette Brooks