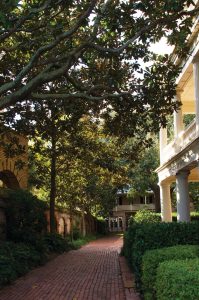 Charleston, South Carolina, easily the crown jewel in the state's treasure trove of historic towns, is known as The Holy City. Steeples pepper the skyline in testament to the fact that, above all else, its founders prized religious freedom. Over 400 places of worship of varying denominations, including one of the oldest synagogues in the nation, confirm their principles of religious tolerance. But I prefer to think of Charleston as The Enchanted City because, during my first short stay, I am so charmed by the people, architecture and atmosphere of this vibrant town where history comes alive I don't want to leave.
My plane touches down mid-afternoon on a Thursday in February and, after a short shuttle ride, I'm walking through the doors of Charleston Place, a gorgeous boutique hotel located in the heart of the historic district. Bellmen quickly attend to my luggage while I take in the elegant double sweeping staircase and massive crystal chandelier that grace the lobby. After freshening up in my room, I head down to the Thoroughbred Club, which I've been told is the hotel's prime people-watching perch. While making a very late lunch of divine lump crap cakes, I decide there is a pleasant formality about Charleston Place. Eight out of 10 men I see wear sport or suit jackets and half of those sport a double-Windsor tie. No one wears cowboy boots.
Walking to dinner my first night, I am absorbed with the old buildings and shop windows along lower King Street. I slow to gaze at a particularly intriguing display of goods when a man walks out of the shop looking every inch the dapper Southern gentleman. He wears pressed gray trousers and a pale blue French-cuff shirt complete with bow tie. As he begins removing the fabric banner beside the door to what I learn is his shop, he comments on the fair weather and inquires if I'm from the area or just visiting. Upon hearing that not only am I visiting, but that it's my first time to his lovely city, he introduces himself—his name is Kevin Isler and he and his wife, Lin, own the shop called Lily. Pointing north, south, east and west he orients me with points of interest, gives me clear directions to my dinner destination, suggests places to stop along the way and assures me I'll be quite safe walking alone after sundown. His genuine hospitality and pride in his city is something I will see repeatedly among the locals during my stay.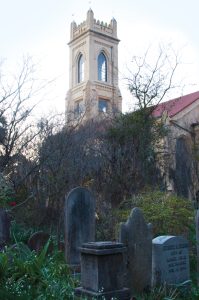 I continue down the street and am distracted by an alley to my right. Looking through the red brick columns that flank the walkway, I can make out a rectangular church turret rising above bare tree branches. An etched stone marker set in one of the brick columns reads:
The Unitarian Church in Charleston
Founded 1787.
Avowedly Unitarian since 1819.
One of the oldest Unitarian Churches in the United States and the oldest one in the South.
I turn and make my way down the uneven brick path and find myself in a secret garden of a graveyard. It's twilight and completely still except for a few sparrows rusting in dried leaves on the ground. I pause, taking in the peacefulness and, while reading the gravestones, realize why this place feels so different. Except for the walkways, which are kept clear for wandering visitors like me, the rest of the cemetery is given over to nature and the native Lowcountry plants reign supreme.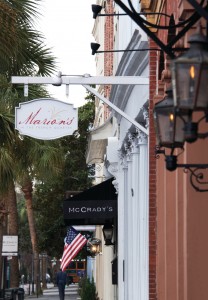 For dinner, I dine at McCrady's, which is housed in a four-story mansion-turned-restaurant built in 1788 by Edward McCrady that was frequented by George Washington and other notable Revolutionary War supporters. Today it's the backdrop for award-wining chef Sean Brock's latest creations. I sit alone in the far corner with a perfect view of the patrons. A young couple sits to my right and, with each course, it's like they peel away another layer of their gastro virginity. He dives into every new offering with gusto; she a bit more tentatively as if not quite prepared for the burst of flavor to come. The wood fire burning in the centuries-old fireplace tosses flickering light across the historic room while the wait staff parades out of the kitchen in starched shirts and black vests, white plates in hand like a well-trained battalion intent upon their mission: Delivering exciting food to each and every patron. If you want the cullinary adventure, the unexpected, the awakening of your taste buds, put McCrady's on your list.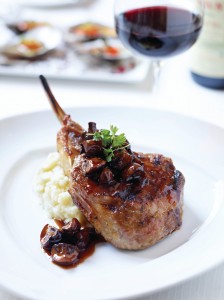 The next day I discover no shortage of places and ways to tour Charleston. First up is a two and a half hour walking tour of some of the city's most renowned restaurant kitchens. Led by Cathy, who has a charming aversion to R's (she says shugah instead of sugar), our group tromps in and out of kitchens big and small, meeting the chefs, learning about their individual approaches to culinary excellence and getting a true behind-the-scenes look at what it takes to prepare a number of amazing dishes.
For lunch I pop in the Dixie Supply Bakery and Café and sample their most popular menu items: tomato pie, salad topped with lightly fried crawfish, Lowcountry shrimp served along side creamy stone-ground grits, while visiting with owners Allen and Kris Holmes. Allen is what the locals call a true Charlestonian and rightly so. His family arrived in the mid 1600s and fought in both the Revolutionary War and the "War of Northern Aggression," as he calls the Civil War. Their tiny hole-in-the-wall café has deservedly caught the attention of Guy Fieri and will be featured on his hit Food Network show Diners, Drive-ins and Dives this March.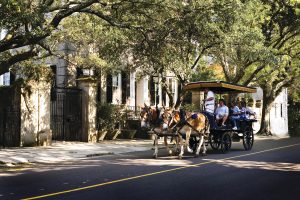 An afternoon shower postpones my planned courtyard garden excursions, so instead I catch a horse-drawn carriage tour of the grand mansions along Charleston's lower peninsula. I take note of the houses I want to return and explore later, one of which is the Edmondston-Alston House Museum. Located at 21 East Battery with a magnificent view of the Charleston Harbor, this historic property has remained in the Alston family since 1838. The current descendants occupy the third floor, which isn't open for visitors. During the house tour I learn that General P. T. Beauregard stood on the second floor piazza and watched the fierce bombardment of Fort Sumter on April 12, 1861, which signaled the start of the Civil War. Gripping the piazza railing, I stand in the same place the general did 151 years ago, gaze out across the calm waters to Fort Sumter and feel goosebumps march up my arms. In Charleston, history is very much alive.
That evening I dine at Fleet Landing, which has a casual relaxed vibe with an easy-going crowd. White sculptural lighting lends a modern air, but the exposed concrete ceiling reminds me that the building wasn't always a restaurant. Used as a hurricane proof disembarking point in 1942 by the U.S. Navy, streams of sailors and supplies poured through the space during World War II.  I'm here on a chilly February night, but I imagine the water front patio is prime real estate during warmer months and would be a great dining option for families.
Saturday morning I'm up early to enjoy a horseback trail ride at Middleton Place, one of several historic plantation properties around Charleston. The taxi drive out from downtown only takes about 20 minutes, but while looking at the thick undergrowth that encroaches on the two-lane road, I'm again reminded of the struggles the first families had settling the land.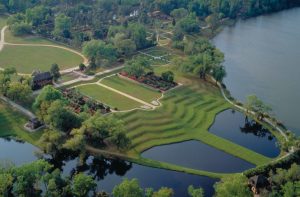 Once there, I walk past a practice paddock on the way to the stables, my riding boots making a pleasant crunching sound on the fine brown gravel drive, and see a lesson in progress. Young boys and girls on ponies canter around the ring on two-point, warming up before taking their first jumps of the day.
Over 6000 acres make up the Middleton Place property, but I just see a small portion of that on the ride. Mark, who owns and runs the Middleton Place Equestrian Center, twists around in his saddle, trusting his mount to steer clear of branches and vines, to educate me on the wildlife that thrives in the area. And thrive it does! The woods are teaming with foxes, deer and wild hogs—all of which lay low during the ride. But along the low wetlands I spot over 16 alligators, several species of ducks, marsh birds and a rare wood stork.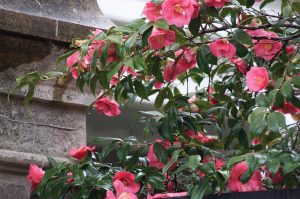 After a fortifying lunch of flawlessly fried chicken served with braised, locally-grown collard greens and green tomato chutney from the Middleton Place Restaurant, I make my way to the gathering area for the garden tour. Henry Middleton began to create the original gardens in 1741 and followed the principles of André Le Nôtre, the master of classical garden design who laid out the gardens at Vaux-le-Vicomte and the Palace of Versailles. During his lifetime and up to the Civil War, the property was true showplace. In February of 1865 Union solders ransacked and burned the main plantation home, leaving nothing but stone ruins which would later topple in 1886 during an estimated 7.3 magnitude earthquake. Without capital to rebuild, the family moved into what had been the plantation offices, and after 60 years of neglect the gardens fell into disrepair. That changed when J. J. Pringle Smith, a direct Middleton descendant, inherited Middleton Place. He and his wife, Heningham, began restoring the gardens. It's said that she could often be found kneeling in the garden, feeling with her hands to find the outlines of the original design. It took them 15 years to return the gardens to their former glory, but when completed in 1941, the Garden Club of America presented them with its highest award and recognized Middleton Place not only as America's Oldest Landscaped Gardens, but also as the "Most interesting and important garden in America."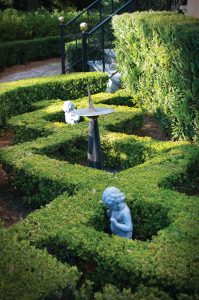 Even though I'm visiting during the usually dormant off-season, many of the camellias are in full bloom thanks to a mild winter. Giant live oak trees with Spanish moss swaying from their branches create a thick shady canopy over portions of the garden. Fragrant paths lead to hidden spaces and formal vistas. White marble statues pose in the corners of hedged lawns and swans float gracefully in reflecting ponds. It's a storybook type of place, one where the hero and heroine of an epic romance would meet for the first time.
For my final dinner I have been invited to experience Charleston Grill, the much-heralded restaurant at Charleston Place. General Manager Mickey Bakst presides over his domain, welcoming guests at the door and cruising from table to table making each and every person feel truly special. It's my last night in Charleston and I'm feeling adventurous, so I take Mickey's advice and opt for the chef's tasting menu. What follows is a series of petite courses and wine pairings designed to show the full range of Chef Michelle Weaver's exceptional talent. Exceedingly fresh ingredients are combined and presented so beautifully that for a split-second I hesitate. Is it too pretty to eat? No! The symphony of flavors I experience isn't the only music in the room. A live jazz ensemble keeps the mood upbeat and, as I look across the room, those who aren't savoring mouthfuls of delicious Lowcountry cuisine are smiling, laughing and thoroughly enjoying themselves.
My time in Charleston draws to its end. As the plane lifts off, I look out the window at the steeples disappearing in the distance and wonder when I will return to this enchanted, holy city. Soon, I decide. Very, very soon.
By Abby Hoeffner