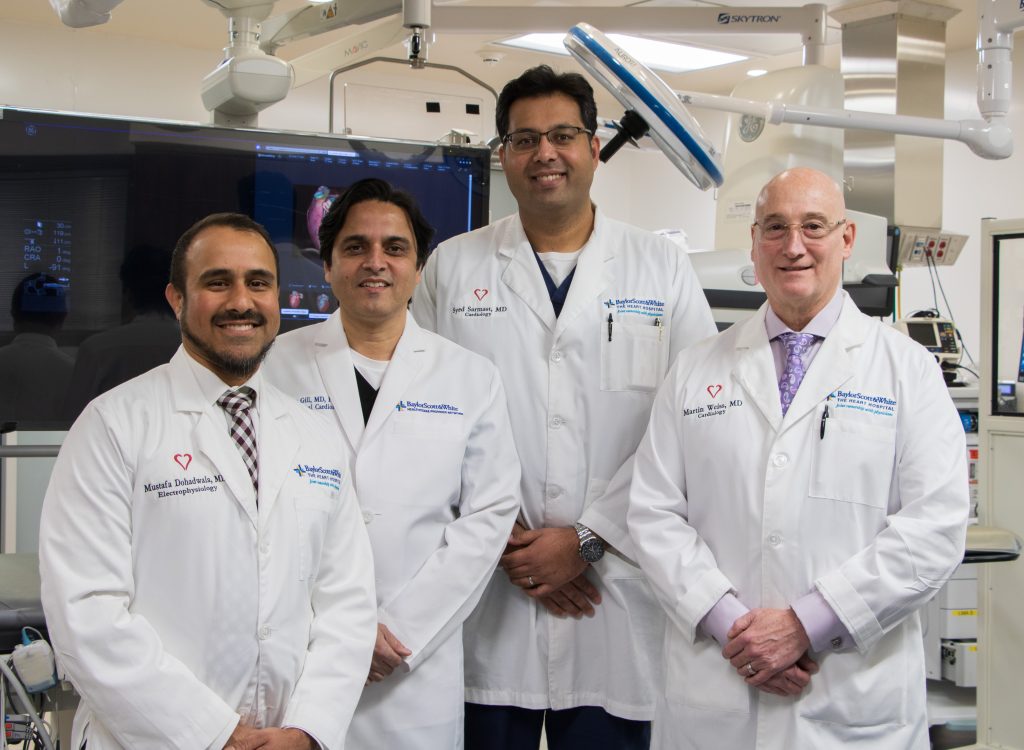 By
Meredith Knight
---
The nation held their collective breath on January 2nd as a 24-year-old young man seemingly in peak physical condition collapsed on the football field suffering sudden cardiac arrest. Cameras rolled as team physicians administered CPR, successfully restoring his heartbeat on the field, then whisked him into a waiting ambulance to rush him to the hospital. What the cameras didn't capture was the cardiovascular team that took the ball from there, diagnosing his condition and administering the emergency and follow-up care he needed. Buffalo Bills fans and opponents alike tuned into the news over the next few hours and days, waiting, and praying then rejoicing when we heard of that medical team's success in saving Damar Hamlin's life and setting him on the road to recovery. Happy endings like that are what cardiovascular medicine is all about. We're fortunate here in McKinney to have renown cardiovascular practitioners right in our backyard.
BSW The Heart Hospital — Plano
For the past 15 years, Baylor Scott & White The Heart Hospital – Plano has brought quality care that patients have come to expect and deserve. Four years ago, they rounded out that care by adding Baylor Scott & White The Heart Hospital — McKinney* offering Allen, 380 Corridor, and Frisco advanced renown cardiac care they need right in their own neighborhood. From preventative cardiac care to critical and chronic care, there's no need to leave the community to receive advanced cardiovascular medicine from renown cardiovascular physicians.
The History
When Baylor Scott & White The Heart Hospital — Plano opened in 2007, they made quality their top priority, practicing uncompromising five-star guest services, offering an archetype of cardiovascular medicine. They were quickly named among the top cardiac and surgery hospitals in the nation by US News & World Report and recently received three stars, the highest possible rating, in all five categories from The Society of Thoracic Surgeons. Baylor Scott & White The Heart Hospital — McKinney opened as an extension of that same commitment to excellence.
The Team
Baylor Scott & White The Heart Hospital – McKinney has a team of preeminent specialists who work collaboratively to offer excellence in noninvasive and minimally invasive cardiovascular care, cardiac catheterization services, electrophysiology procedures, access to clinical trials, emergency cardiac care, and more.
Cardiovascular Prevention and Treatment
Under the direction of Medical Director of Cardiovascular Services Martin Weiss, DO, FACC, BSW Heart – Plano focuses on providing advanced cardiovascular care that's also highly personalized. "From prevention to innovative treatments and technology, we provide quality care supported by a system with a reputation for excellence," he said. "We've been able to build on the excellent protocols already in place at Baylor Scott & White The Heart Hospital-Plano which is known for delivering great patient outcomes and great patient care. But now McKinney residents don't have to travel to Plano to access advanced interventional procedures to fix blocked arteries. We can provide it right here."
Cardiac Catheterization
"When you have a heart attack and need immediate help, you don't want to endure a 30-minute ambulance ride," said Taimoor Gill, MD, FACC, FSCAI medical director of the Cardiac Catheterization Lab. "Whether you wake up with chest pains or are experiencing circulatory problems in your heart, the cath lab treatment team is immediately mobilized and ready to perform emergency catheterization, cutting valuable minutes from treatment time. Then, we collaborate with the cardio care team on the next steps in your care. The McKinney community has access to innovative techniques and advanced equipment right in their backyard. No longer do you have to leave your community to get advanced care."
Diagnostic Testing
"We are able to offer advanced diagnostic testing and imaging to help diagnose and monitor heart problems such as coronary artery disease and head off small problems before they advance to larger ones," said Syed Sarmast, MD, FACC. "With a full range of non-invasive and invasive diagnostic testing we can help physicians on the medical staff create a tailored treatment plan for each patient."
Heart Rhythm Specialist
Clinical Cardiac Electrophysicist Mustafa Dohadwala, MD serves as Medical Director for Cardiac Electrophysiology. "Baylor Scott & White Heart – Plano is very patient-centered," he said. "We hear compliments every day from patients and their families about the care they receive here. We're also able to provide current cardiac mapping technology to diagnose the source of an arrhythmia such as atrial fibrillation and collaborate to develop a treatment plan."
In addition to advanced cardiovascular screening and treatment, Baylor Scott & White The Heart Hospital – McKinney focuses on you and your health with a five-star hospitality experience within an advanced medical facility believing that a comfortable guest is a guest that heals more quickly. Find out more about the quality and highly personalized care at BSWHealth.com/HeartMcKinney.
*Joint ownership with physicians
Cardiac Emergency Care

Catheterization Services

Access to Clinical Trials

Electrophysiology

Inpatient Cardiac Care

Non-invasive Cardiovascular Care

Outpatient Cardiac Care

Supportive Palliative Care

Vascular and Endovascular Surgery Available

Access to heart surgery
Physicians provide clinical services as members of the medical staff at one of Baylor Scott & White Health's subsidiary, community or affiliated medical centers and do not provide clinical services as employees or agents of those medical centers or Baylor Scott & White Health.
©2023 Baylor Scott & White Health.
---
Contact
5268 West University Drive
McKinney, Texas 75071
(469) 814-3278
BSWHealth.com/HeartMcKinney