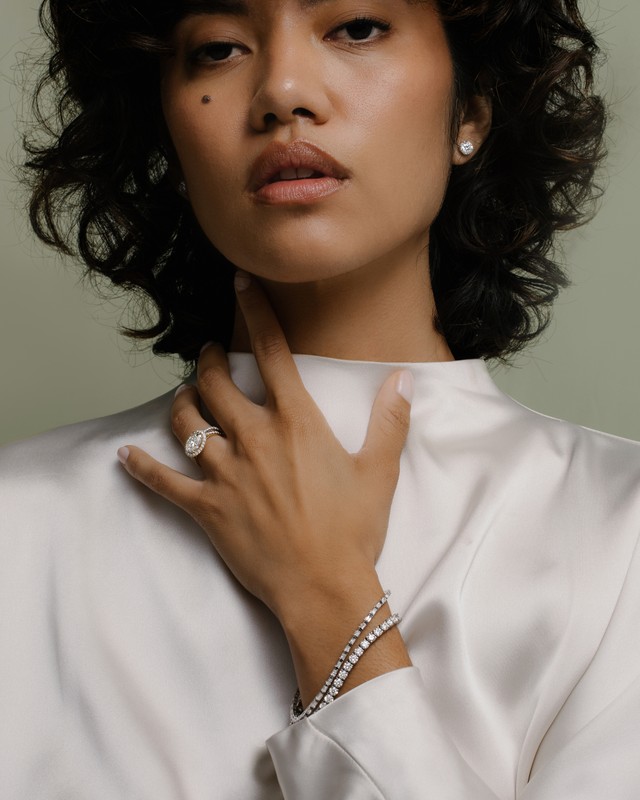 ---
There was never a more stunning way to care for the planet than with a head-turning, eye-catching diamond. Known to represent more than the wearer's sophistication or the tender devotion between two people, the classic stone shoots to the heart of meaning. It represents taste, style, and love. Today, it can also represent purpose and kindness to the planet.
As technological advancements make it a possibility, people who care deeply about planet Earth are choosing lab grown diamonds for their collections. These elegant diamonds combine romance and glamour with a gentle, values-based approach to both the natural environment and shared humanity. With completely unique features and benefits, the personal choice to explore diamonds created in a lab becomes a happy discovery of indelibly beautiful jewelry. The lab grown diamonds from Clean Origin offer an unparalleled opportunity to extend the arrow of conscious consumer choice in many directions.
From brilliant teardrop pear to dazzling princess, lab grown diamonds are available in every shape. Refracting radiants and commanding emeralds are popular options. They require expert craftsmen and gemologists, and they are chemically, physically, and optically Identical to diamonds created by the natural environment. Both lab grown and mined diamonds require detailed care to produce the perfectly polished, precisely cut form in which they are worn, and even diamond jewelers strain to tell the difference between sparkling lab grown diamonds and their mined counterparts. Lab made diamonds even emit fluorescence and possess inclusions like non-lab diamonds, but the diamond created by the Earth is unpredictable. Thus, lab diamonds offer a more consistent color. They are also judged by the exact same standards as a diamonds; Color, precise cut, clarity, and carat. Clean Origin offers only the diamonds that meet high standards for each. Whether your choice is for a smaller diamond or a bigger bling factor, the diamonds from Clean Origin are tailor-made with each order.
"Nearly all of the diamond engagement rings we deliver are made to order specifically for each customer by master jewelers," said Clean Origin co-founder Alexander Weindling. "We don't sell 'off the rack' like most jewelers."
A Piece from Clean Origin is Distinctive and One-of-a-Kind.
For lab grown diamonds, there are zero damaging mining practices tainting your emblem of chic polish or adoring attachment. "Natural" diamonds mined out of the ground create energy and labor-intensive practices, while lab created diamonds grow using high heat and pure carbon in a controlled setting. Thus, along with being a timeless treasure, your lab grown diamond piece is significant as a responsible and Earth-friendly alternative to mined diamonds.
Lab grown diamonds don't harm local ecosystems by displacing land in the way that diamond mining does. The labor practices often in question for natural diamonds simply do not exist with lab created gemstones. These truly conflict-free rocks offer peace of mind for many. And for a lab diamond that looks and feels nearly identical to a natural one – but is vastly more responsible in planetary impact – the price is 30 to 50 percent less.
Clean Origin is excited to contribute to a positive planet with diamonds sourced from labs around the world. With inviting physical showrooms across the United States – including two new stores in the Houston area – Clean Origin is proud to serve as a representative of safe-planet practices as well as divine diamond lovers both in person and virtually.
The Clean Origin commitment to good citizenship extends even to the gorgeous precious metals used in their diamond bands. These white, yellow, rose gold, or platinum settings are recycled and certified by the Responsible Jewelry Council.
In every way, your Clean Origin purchase carves a way forward toward the best outcomes for the planet. And for every single Clean Origin purchase, a tree is planted, restoring soil, biodiversity, and absorbing greenhouse gas. If there were ever a jewelry dealer whose passionate mission could inspire buyers, it's this one.
"I think their kids and grandkids will be able to tell people how 'with it' people who bought lab grown diamonds back in the early 2020s were," said Alexander Weindling. "They will be proud that their ancestors put the planet before profits."