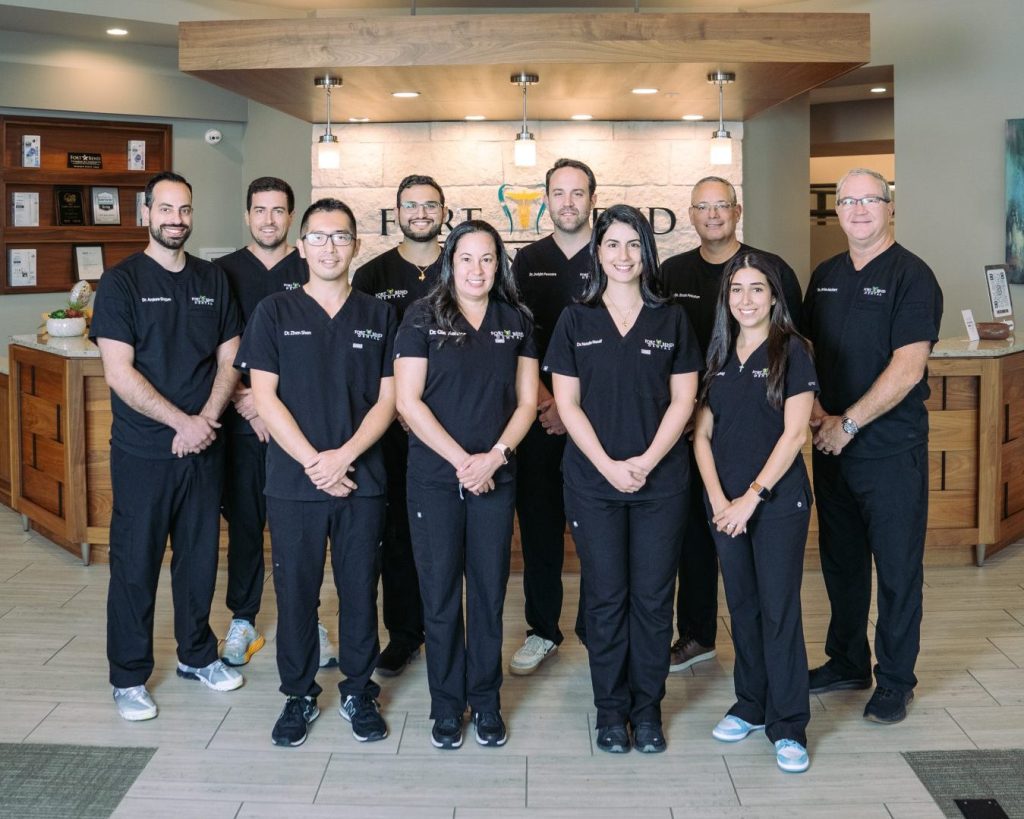 "We are so blessed in our community to have such an amazing collection of general and specialty dentistry care all under one roof."
– Dr. DWIGHT Peccora
---
A family looking for the perfect dental experience has its pick of the litter these days. Dentist offices of all shapes, sizes, and service options dot nearly every major intersection in ever-evolving Fort Bend County and the Greater Houston area — choose one, and you're bound to pass by a dozen more on the way there. But everyone agrees there is one anchor practice, one that is rooted in the community by its unmatched patient care, familiarity, size, reach, popularity, scope of services, and a team of dentists and staff who give you countless reasons to smile again.
For over 36 years, Fort Bend Dental has established itself as the anchor brand for comprehensive and quality, relationship-focused whole-health dentistry in our community. Amid a sea of smaller offices with limited services and history in the area, Fort Bend Dental stands proud as a standard-bearer. Ask any patient, and they'll gush over how they can have any dental need under the sun resolved by the same friendly faces every time and all under one roof.
And that's not even the kicker. With a team of over 60 people, 10 dentists, and three locations — yes, three locations — Fort Bend Dental has redefined what it means to be your neighborhood dentist.
"It's that feeling patients get that Fort Bend Dental is coming to their neighborhood," Dr. Dwight Peccora said. "We've strategically placed our practices so that people don't have to come far to see us. And we've been here for a long time. They get to see their dentist — not someone who just happens to be there that day. It's not, 'Oh, another dentist has pulled up around the corner.' People are saying, 'It's so nice that I don't have to drive so far to see Fort Bend Dental.'"

Accountability to Each Patient
Fort Bend Dental is unique in that it seeks to grow based on the needs of the community. As Fort Bend County grew, Fort Bend Dental established strategic locations to support those coming from the outskirts of the county all the way to the Missouri City location to receive the quality of care provided by Fort Bend Dental. Today, Fort Bend Dental maintains their location in Missouri City, as well as their location in Richmond off Grand Parkway near Pecan Grove and the existing office that exists off Highway 90 in the old Oak Bend Professional Building will be moving to Rosenberg at the intersection of Highway 59 and TX 36 by September 2023.
"We are driven based on the needs of the community. It was our community that said, 'Hey, we're growing in this area, and we need a Fort Bend Dental' and 'Now, we're growing over here, too. We need a Fort Bend Dental,'" Dr. Peccora said. "We wanted to personalize the accountability piece. That's the reason why our model is like this. We are going to meet them where they are and serve them the way they want to be served."
He added, "We were also very focused on having doctors, hygienists, and an entire team at every location who live in that area. It's capturing that feeling of having a genuine connection and doctor-patient relationship that seems to be lost in today's healthcare system. Patients can walk in and feel at home."
Each location is a self-contained unit, meaning that patients can get the same level of care at the location of their choice without the worry of being referred to another specialist on the other side of town. From general dentistry such as routine cleanings to 3D-guided implants, Invisalign, restorative treatment, same-day dentistry, and IV sedation, Fort Bend Dental does it all.
A Gambit of Doctors
Fort Bend Dental's dentists include Dr. Brian Machart (Partner, Attending FBD Missouri City), Dr. Dwight Peccora (Partner, Attending of the Department of Surgery), Dr. George Jabbour (Partner), Dr. Scott Pinkston (Partner, Attending FBD Richmond), Dr. Gia Kenner (Attending FBD Grand Parkway), Dr. Zhen Shen (Attending of the Department of Endodontics), and Dr. Andrew Dugum (Attending of the Department of Periodontics), Dr. Karen Beshay, Dr. Natalie Nassif, and Dr. Danny Adler. They are committed to providing the best possible care, and their diverse talents span decades in the industry. Overall, Fort Bend Dental also has a low turnover rate, which means from the dentists to the hygienists, and everyone in between, it's a staff that will always be there for you and your family.
"This is a diverse county, and our team represents just that," Dr. Peccora said. "We also have doctors who are near retirement age all the way down. We have some people walk in and say, 'I want the old gray-haired dentist,' or 'I want the newer guy.' The idea is to have the doctor that you want and feel comfortable with. And being in one of the fastest-growing counties in the nation, it's something we feel is necessary here."

A Team That Wants to Be Here
Nothing was overlooked in the balanced blend of comfort, innovative technology, and personalized care that you will find at Fort Bend Dental. These are your neighbors and friends, and they want to give you the smile you deserve.
"We've just got an excellent team. We are really blessed," Dr. Peccora said. "They love being here, and they drive past 20 other dental offices on the way. They do it because they want to be here, they want to grow, and they know they'll learn a lot."
Services
Dental implants and implant-supported dentures

Advanced technology

Veneers

Full smile makeovers

Invisalign and traditional braces

Dental bridges

Same-day crowns

Emergency dentistry

Children's dentistry

TMJ

Extractions

Wisdom teeth removal

Root canal therapy

Gum contouring

Sleep apnea treatment

Sedation options

Teeth whitening

Botox therapy

Preventative dentistry for the entire family

No insurance? No problem! In-house membership plan
---
Fort Bend Dental Locations
Missouri City
3717 Township Lane
Missouri City, Texas 77459
(281) 499-3541
Richmond
1601 Main Street, Suite 209
Richmond, Texas 77469
(281) 342-6178
Grand Parkway
7417 West Grand Parkway South, Suite 140
Richmond, Texas 77407
(281) 232-8300