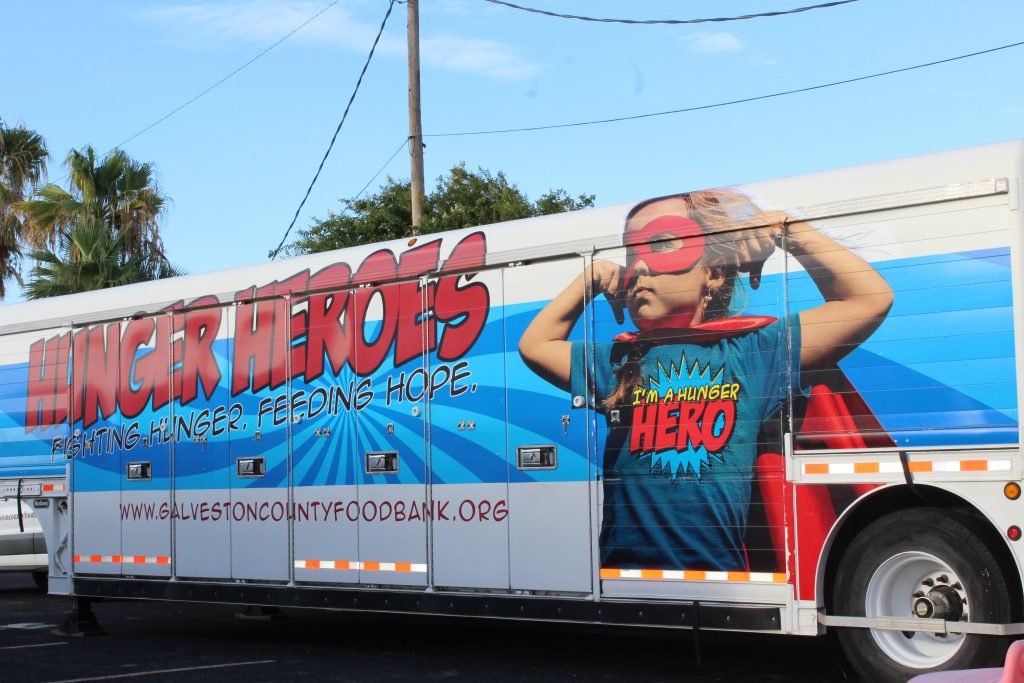 By Chery Rusdal
---
The Galveston County Food Bank is on a mission to "lead the fight to end hunger in Galveston County." The food bank believes no one should go hungry. They aim to help community families with food insecurities and take the worry of providing food 'off the table' so they can focus on finances or other needs within the household. The start of a new 2022 – 2023 school year can put a financial burden on many struggling families. Kelly Boyer, the program supervisor for the food bank, said, "The fear of not having enough food can be scary and destabilizing to a family…. we seek to alleviate this fear," she said.
One of the ways that the Galveston County Food Bank helps ensure food-insecure children is through their children's program, Kids Pacz, which provides a kid-friendly weekly food pack to supplement summertime meals while children are out of school." One thousand seven hundred fifty children signed up for this past summer. The numbers have been exceptionally high; we think it is due to increased food and gas prices."
Ms. Boyd added. During the school year, the food bank has a backpack buddy program. The food bank partners with 35-45 area schools to provide weekly food packs to needy students. The backpacks are sent home on Fridays to supplement weekend meals. Ask your school principal, school counselors, or the communities in school representative if they participate in the Backpack Buddy program. If not, ask them to consider contacting the Galveston County Food Bank to learn how to be involved with this fantastic program. Ms. Boyd also encourages struggling families to speak up " We have a saying at the food bank." she said. We are all a paycheck away from needing assistance." she added.
The food bank also needs volunteers for food sorters, mobile food distribution, and box builds for children and senior programs. Kelly Boyer believes that the food bank volunteers are their "bread and butter'. "We cannot accomplish our mission without the countless organizations, families, and individuals that donate their time to the cause," she said.
---
The Galveston County Food Bank is registered as a 501 (c)(3) non-profit organization. Contributions are tax-deductible to the extent permitted by law.
For more information GalvestonCountyFoodBank.org
Pantry Information:
624 4th Ave. N., Texas City, 77590
9 AM – 3 PM (Tuesday-Thursday); 9 AM – 12PM (Friday)
Business Operations:
624 4th Ave N., Texas City, 77590
Office Hours: 8 AM – 4 PM (Monday-Friday)
(409) 945-4232