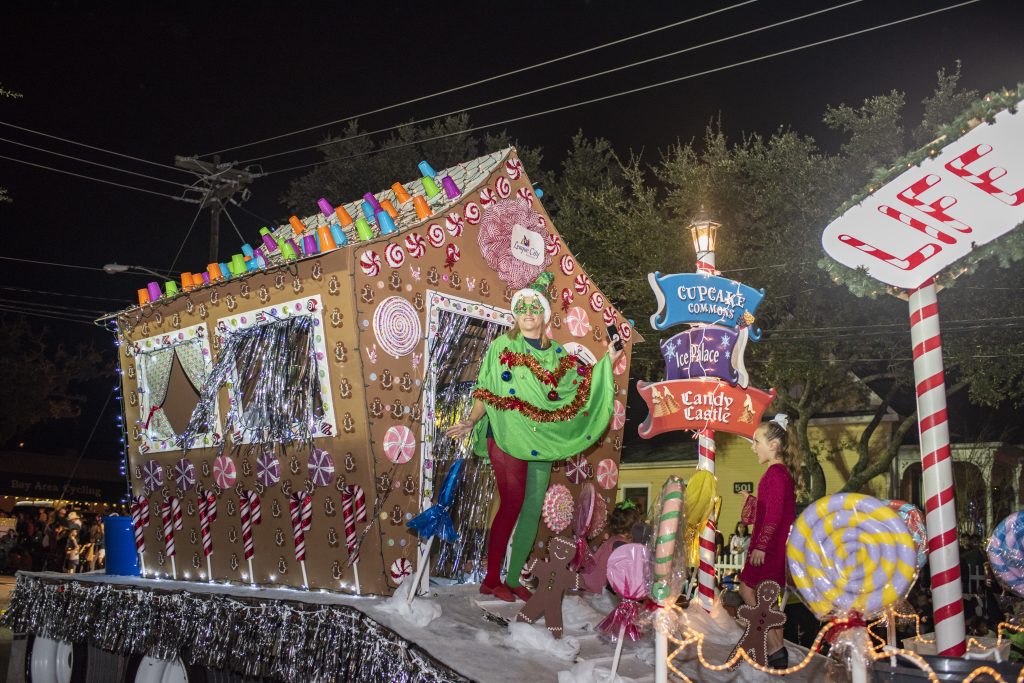 BY ANGE MERTENS
There is nothing like walking down Main Street on Holiday in the Park Parade night under those beautiful butler oaks and seeing the joy on the faces of all the little children. League City Proud Organization has been bringing magic to Main Street every year for 24 years.
Several years ago, the League City Heritage Foundation wanted to have a fundraiser, and Janice Hallisey came up with a parade idea. Janice, along with her husband, Mayor Pat Hallisey, Tommy Cones, Angelo Arolfo, Mary Anne Malfa, and a handful of volunteers, organized the first and highly successful parade. The Budweiser Clydesdale's majestically returned to Main Street. Soon after, The League City Proud Organization became a 501c3. In 24 years, the event has grown dramatically along with the city, but it still keeps its small-town charm and hometown holiday heart.
This past year and a half have been taxing for us individually and trying on us as a community. The League City Proud organization is all about the love for society and their community, so leaders decided not to hold the event last December.
This year, the three-day event will be back better than ever because our community needs to have something good to look forward to. The 2021 parade theme is "It's a Wonderful Life," which is something positive for our kids to remember. Entrants can decorate their floats with concepts from the movie "It's a Wonderful Life in League City."
"One of League City's original families that came to the city in the 1880s will be this year's Grand Marshal Family. Descendants of the Winfield-Hobbs family have a proud heritage in the city, and LCP is honored to have them lead the Grand Night Parade. Previously, many first families have led the parade, including descendants of the Butlers, Hintes, Hewitts, and Groce families." Janice Hallisey said.
Holiday in the Park will take place December 3rd – 5th. Parade and vendor information can be found at leaguecityproud.com, and check out The League City Proud Organization on Facebook at facebook.com/TheLeagueCityProudOrganization.