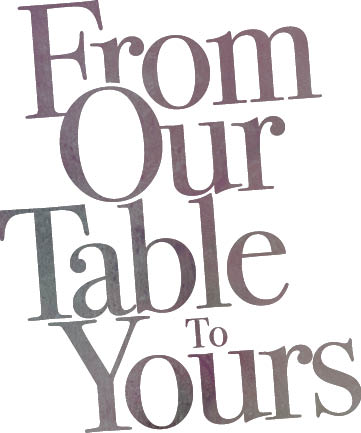 Every family has their own traditions when it comes to get-together food—the recipes that get brought out when it's time share stories and celebrate another year together. Our tradition at Living is sharing a few of our own recipes old and new with you, and we're back with another handful. Slide up!
Let us know if our recipes are a hit!
The Most Awesome Chocolate Fudge
Honey Baked Ham with Spiced Apples and Peaches
---
The Most Awesome Chocolate Fudge, Keri Hampton, Client Services Manager
"My family begs me to make this fudge every year—it's divine! I like to experiment, and I've found this recipe to be very easily customized. Substitute the milk chocolate chips for an equal amount of Andes mints or peanut butter chips, or instead of nuts, try crumbled up toffee. There are a lot of fun possibilities!"
1 7-ounce jar marshmallow crème

1½ cups white sugar

²/

³

cup evaporated milk

¼ cup butter
¼ teaspoon salt

2 cups milk chocolate chips

1 cup semisweet chocolate chips

½ cup chopped nuts (optional)

1 teaspoon vanilla extract
Line an 8"x8" pan with plastic wrap. In a large saucepan over medium heat, combine marshmallow crème, sugar, evaporated milk, butter, and salt. Bring to a full boil, and cook for 5 minutes, stirring constantly. Remove from heat and pour in the chocolate chips. Stir until chocolate is melted and mixture is smooth. Stir in nuts (if using) and vanilla. Pour into prepared pan. Chill in refrigerator for 2 hours or until firm.
---
Butterscotch Breakfast Rolls, Mimi Filbin, Senior Account Executive
"These delicious pull apart rolls are a family favorite, super easy to make, and prepared the night before. Place in the oven Christmas morning and they'll be ready to serve by the time you're done opening presents."
1 package Rhodes frozen rolls (about 20-24)

1 package regular butterscotch pudding (not instant)

½ cup dark brown sugar
½ cup chopped nuts

¼ cup melted butter
Place frozen rolls in a greased bundt or tube pan. Sprinkle each ingredient over rolls and let rise or leave overnight. Bake at 350°F for 30 minutes. Rub top of rolls with butter before turning out of pan immediately.
---
Christmas Strudel, Erica Lyle, Senior Account Executive
"This was my mother-in-law's recipe. You can change it up with a variety of different fillings if you're after either sweet or savory. It slices up into 1" pieces and can also be frozen for later. Have a merry Christmas!"
3½ cups flour

pinch of salt

1 cup milk

½ cup margarine, melted
1 packet yeast

¼ cup warm water

4 tablespoons sugar
Proof yeast in a cup with warm water and sugar. Melt margarine (or your choice of oils) and add milk in a measuring cup. Add the yeast mixture to the milk mixture and stir. In a large bowl, combine flour and salt, then make a well in the flour and pour in the liquid, stirring until incorporated. Cover with a damp cloth and let stand in a warm place to rise. After rising, divide the dough into two pieces and roll out into an oblong shape. Cut 1" slits on the long edges. Add your choice of fillings. (Some ideas: sausage with green chili peppers, chopped ham and cheddar, pie filling and cream cheese.) Fold the short ends toward the middle, fold the long ends in, and braid the slit pieces. Tuck the final piece to seal the loaf. Bake at 350°F for about 45 minutes, or until golden brown.
---
Dessert Potatoes, Linda Needham, Senior Account Executive
"When my children were young, I tweaked a simple potato casserole recipe for them—they loved them so much that my son Mark started calling them 'dessert potatoes,' and that's what they've been called since then. No holiday is complete without them, and I always make an extra dish just for Mark."
5 medium potatoes, peeled and cut

8 ounces sour cream

8 ounces cream cheese

1½ cups cheddar cheese, grated
3 tablespoons butter

½ teaspoon salt

½ teaspoon pepper
Boil the potatoes until fork tender, then mash or whip in a buttered casserole dish. Mix together with the other ingredients, then bake at 350°F for 30 minutes or until hot and bubbly.
---
Sugar Coated Pecans, Linda Jost, Senior Account Executive
"While I was enjoying my first Thanksgiving with the Jost family in St. Louis, I saw that they had a table of desserts, but no pecan pie! I was so distraught that the next year I started bringing pies. When my dad developed diabetes, I stopped with the pies so as not to tempt him… but these sweet pecans still bring that holiday taste."
4 cups pecan halves

1 egg white

1 cup sugar
1½ teaspoons ground cinnamon

½ teaspoon salt
In a large bowl, beat the egg white and a tablespoon of water until frothy. Stir in the pecans, sugar, cinnamon, and salt, and mix until nuts are evenly coated. Spread onto a lightly greased baking sheet, and bake at 300°F for 30 to 45 minutes, stirring every 15 minutes, until golden. Cool and store in a tightly covered container.
---
Easy Shrimp Étouffée, Lucy Krogman, Account Executive
"We received this recipe from a family friend in New Orleans in 1985, and it's been a favorite of our family and friends ever since! It's even better the next day."
1 pound shrimp, peeled, deveined, and cut into thirds

1 large onion, chopped

4 green onions, chopped

2 tablespoons parsley

1 small can tomato sauce
1 can chopped tomatoes with green chilies

2 cans golden mushroom soup

½ stick of margarine

3 tablespoons flour

½ teaspoon minced garlic

4 cups cooked rice
In a large pot, melt margarine, add flour, and mix in onions, garlic, and parsley to flour while still white. Cook until add-ins are clear, then add tomatoes and tomato sauce, mushroom soup, and two cans of water. Cook for 20-30 minutes, then add uncooked shrimp and cook for 20 more minutes. Remove from heat, cover, and let stand to season. Serve over rice and with saltine crackers and butter.
---
Honey Baked Ham with Spiced Apples and Peaches, Jennifer Langley, Senior Account Executive
"My family loves this ham, and we always make it around the holidays. It's important that the ham be uncured, humanely raised, and without nitrites or any kind of sugar. It can be difficult to find a grocery store ham like this, but it makes a big difference in the flavor. You can buy them locally from farms, or some online retailers."
3 pound sugar-free ham

3 large organic Granny Smith apples, cored and sliced

3 organic yellow peaches, pitted and sliced

1 cup raw organic honey, melted

2 teaspoons cinnamon
2 teaspoons mustard powder

½ teaspoon ground cloves

¼ teaspoon nutmeg

¼ teaspoon allspice

½ cup water
Preheat your oven to 350°F. Rinse the ham under cold water and pat dry, then place in a roasting pan. Mix the honey, cinnamon, cloves, nutmeg, and allspice in a bowl. In a separate small bowl, mix mustard powder and water until combined. Add mustard water to honey and spices, and mix well. Using a basting brush, baste your ham with the glaze. Spread the fruit around the ham in the roasting pan, then baste fruit and ham with glaze. Bake until the ham reaches an internal temperature of 150°F, adding more glaze every 20-30 minutes. Remove and tent with foil. Let stand for 15 minutes, then slice and serve with spiced fruit.
---
Lemon Pound Cake, Lucy Krogman, Account Executive
"I found this recipe in Tiger Beat magazine 44 years ago… it was the cake that Donny Osmond's mom would make to feed all of her sons! It was the very first cake I ever made, and I've never come across anyone that doesn't love it and request I make it again for their birthday. It's super easy, and a really good tried and true recipe!"
For the cake:
1 yellow cake mix

1 lemon pudding mix

4 eggs

½ cup cooking oil

1 cup milk
For the glaze:
3 lemons

1 cup powdered sugar
Mix all the cake ingredients for 3 minutes on low speed, then 5 minutes on high speed. Pour into a tube pan that has been greased with shortening and a little flour. Bake for 1 hour at 325°F, then remove and let cool for 30 minutes. Remove cake from pan and poke holes throughout down the middle, sides, and through the top. Juice the lemons and mix with the powdered sugar. Taste it as you don't want it to be too tart. Glaze cake by spooning the mixture over and into the holes, going back to add more as needed.